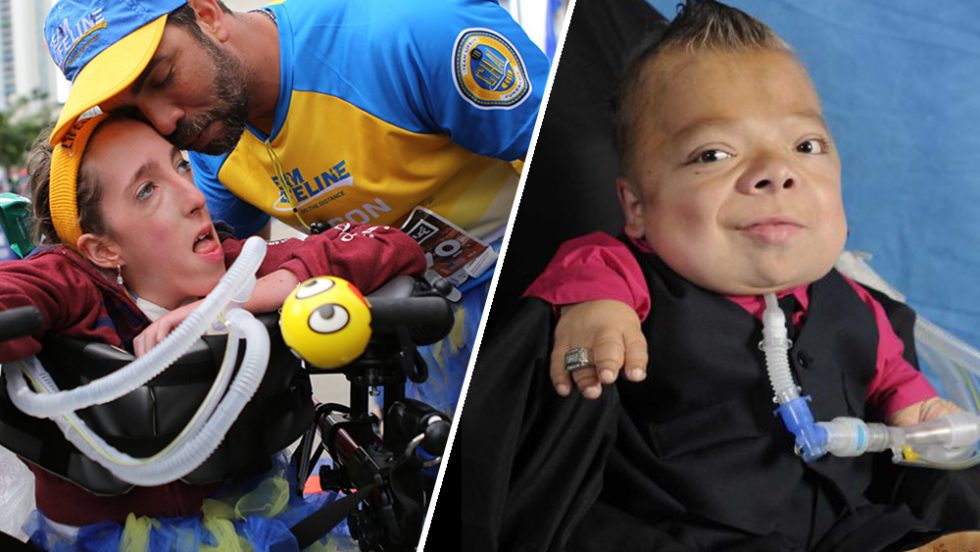 This life-changing new scholarship helps students with physical disabilities continue their higher education at Adelphi.
Christopher Alvarez and Peri Finkelstein stand out among Adelphi students for their ability to overcome physical challenges. Now they've achieved another distinction as the first two recipients of John J. Gutleber Memorial Scholarships.
Created this spring in honor of the late Adelphi alumnus and member of the University's board of trustees, the scholarships are awarded to graduates of the Henry Viscardi School in Albertson, New York, a school which provides a traditional educational setting for students with severe physical disabilities.
"Receiving scholarship assistance is important to me because although my parents work very hard, it is difficult for them to pay for both my and my sister's higher education," said Alvarez, a communications and economics major who will enter his senior year this fall. "I am eternally grateful for this opportunity."
Alvarez, who was born with a rare form of thanatophoric dysplasia, is an activist and social media star with more than 340,000 Instagram followers. A staff member of The Delphian, the University's student newspaper, his goal is a career in journalism.
Peri Finkelstein is a rising sophomore who came to Adelphi with a variety of scholarships as well as a spot in the Levermore Global Scholars program, which prepares students for leadership roles through seminars, internships and service projects at the United Nations. As a marketing major, she has served on boards of nonprofits and is the director of marketing for Team Peri, which has raised more than $500,000 for the nonprofit Chai Lifeline, to help her and other young people with serious pediatric illnesses and their families.
"The goals of Team Peri have become my life's work, and marketing is definitely my life's calling," said Finkelstein, whose determination to meet the challenges of muscular dystrophy is exemplified by her participation in the Miami Half Marathon with Chai Lifeline's Team Lifeline, despite being on a ventilator.
The Gutleber scholarships were established in May 2019 with a $900,000 donation. The Adelphi University Board of Trustees will match the annual payout of the endowment in perpetuity, doubling the impact of the scholarship program. Gutleber scholarships are full scholarships and are renewable.
John J. Gutleber earned his bachelor's degree in 1968 and MBA in 1970, both from Adelphi. Before passing away in 2018, he had most recently been president and chief executive officer of Castagna Realty Company, based in Manhasset, New York. He was actively involved in his community, including as a board member of the Long Island Association. He was also a board member of The Viscardi Center, which established the Henry Viscardi School in 1962. Adelphi has had a long partnership with the school, one that has given education majors at the University the opportunity to do field work at Viscardi.
"The achievement that I am most proud of is being accepted to college and having the ability to pursue my dream career," Christopher Alvarez said. "This was a once far-fetched dream, but the Henry Viscardi School taught me to be outspoken, brave and not afraid to stand up for myself. With a degree in communications and economics from Adelphi, I will continue to pursue my love for journalism to bring people's stories to life."