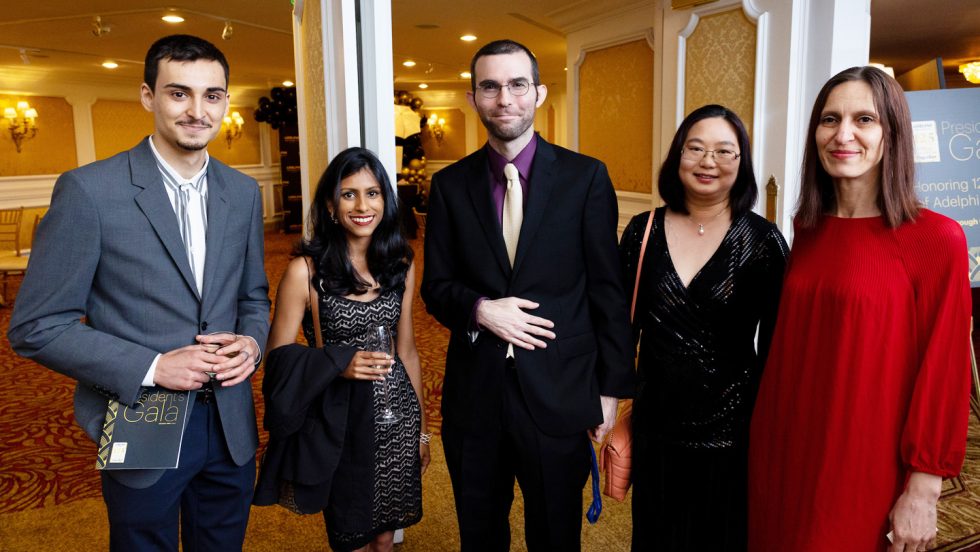 Since 1957, when it became the first university-based professional school accredited by the American Psychological Association (APA), the Gordon F. Derner School of Psychology has been at the forefront of clinical psychology training.
As Derner celebrates 65 years of pioneering leadership, it is entirely fitting that it also celebrates the 10th anniversary of its Patrick L. Ross Fellowship Fund, which is marking its first $1.25 million milestone.
Under the leadership of Dean Jacques Barber, PhD, Derner's Alumni Council established the Ross fellowship fund in 2012 to honor the dedication to graduate education of veteran professor and associate dean Patrick L. Ross, PhD, on his retirement.
"Derner has a longstanding legacy in training clinical psychologists from diverse backgrounds," said J. Christopher Muran, PhD, Derner School interim dean and professor. "The Ross fellowship fund supports that."
Over the past 10 years, the fund, according to Dr. Muran, has provided financial assistance to approximately 50 promising first-year doctoral students in need. "It promotes diverse representations and supports the training of PhD students from underserved communities," he remarked.
Invaluable Support
"Receiving the Ross aid was a reminder that I have promise—and having that support goes a long way," said doctoral student Neelam Prashad, who expects to receive his degree in 2026.
The City College of the City University of New York graduate added, "As an immigrant to the United States, I was originally working and supporting my previous academic pursuits due to limitations in aid. Academically, this fund meant that I could worry a little less about where I might get funds to pursue a degree that is so important to me."
While Prashad has yet to decide whether he will pursue a postgraduate career in a clinical or academic setting, he identified a central goal: "to provide support to underserved communities in issues related to mental health."
Paying It Forward
Adelphi graduate Travis Nair '21, who is also working toward earning his doctoral degree in 2026, is grateful for the first-year support he received from the fund. "It's allowed me to follow my goal of pursuing clinical psychology and continuing at Adelphi," he explained. "It helped tremendously in my transition into Derner's rigorous doctoral training by easing my concern over tuition costs—and thus allowing me to focus my attention and energy entirely on my academics."
For Nair, who is interested in both postgraduate academic and clinical work, the aid has been "inspirational. I hope to be able to give back and pay forward the support given to me by contributing to this fund and similar programs in the future once I am able to, as well as assist students of historically underrepresented backgrounds through means such as the Mentoring Future Psychologists program."
Making a Difference in the World
Anita D'Amico PhD '84, is the vice president of products at Synopsys Software Integrity Group and among the 16 alumni, faculty and professionals who serve on the Derner Advisory Board.
She has also supported the Ross fund since its inception.
"People who earn a PhD in psychology make a profound difference in understanding our world and changing lives.," she explained. "So, it's critically important that Adelphi's diverse body of doctoral students reach graduation day and begin changing lives throughout all of our communities.
"The Patrick L. Ross Fellowship Fund, which was founded in honor of my incredible mentor, is designed to do just that," she continued. "Pat touched each Derner student's life in over 40 years of teaching. And today he continues to impact the lives of current and future students through the Ross fund. It's why I've supported the fund for the past decade."
Your gift to the Patrick L. Ross Fellowship Fund will help Adelphi students change lives.