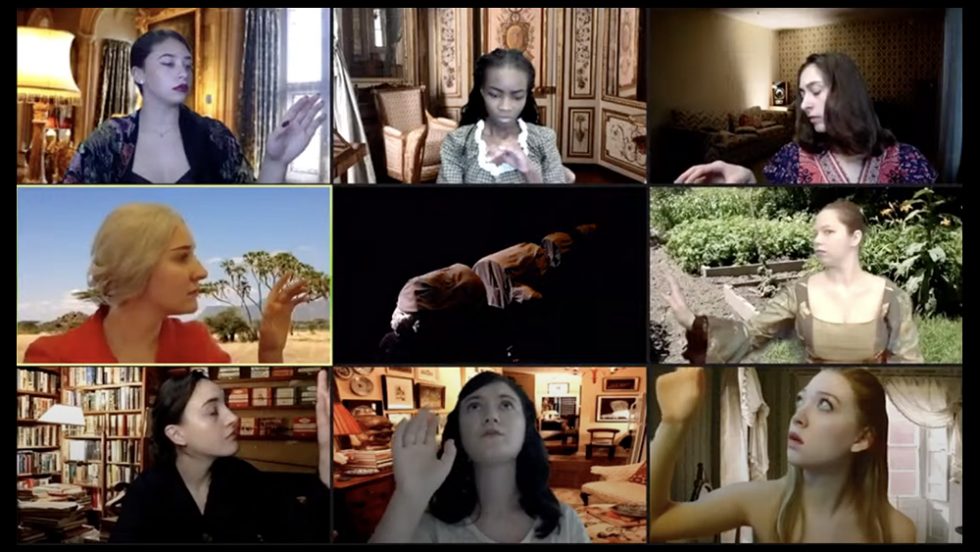 Staged 100 percent virtually, under pandemic production limitations, This Odd Geometry of Time, about the lives of historical female figures, has just been named a Kennedy Center regional winner.
As the ongoing pandemic continues to challenge the way theater is taught, performed and viewed, Adelphi alumnae and performing arts students have risen to the challenge, creating a fully virtual production that has garnered awards and a performance on a national stage.
This Odd Geometry of Time, written by Megan Lohne '04 and directed by Shoshanah Tarkow '06, debuted in a live-streamed performance on YouTube in October 2020. Taking the form of a nature documentary whose focus shifts and moves through the 260-year lifespan of a Russian bowhead whale named Galina, the unique drama explores the subjects of climate change and feminism through the experiences of Galina and several prominent women.
The production incorporated virtual backdrops, original artwork including a 12-foot puppet, and technological innovations created by Adelphi community members.
Virtual theater—a futuristic alternative
The entire production was produced and performed virtually in a hybrid fashion, with student cast members performing alone in their homes or in the studios and offices of the Adelphi University Performing Arts Center.
Haley Franke, an award-winning acting major now in her senior year, starred in the role of the famed primatologist and anthropologist Jane Goodall. Franke said that, while there is nothing like the thrill of performing in front of a live audience, transitioning to the virtual stage was a unique artistic experience.
"We've found a great alternative to live theater during this awful pandemic," said Franke, who has performed in other virtual productions with Lohne. "The apps and platforms we created are one of the great things that came out of the experience."
"Participating in fully virtual productions was, and still is, so exciting," said Matthew Pezzulich, an Adelphi junior who served as the production's assistant director. "It allows for a hybrid of film and theatrical practices to merge into one. And playing to the audience has a whole new meaning when you can make eye contact with every viewer just by looking into your camera."
As assistant director, Pezzulich assisted Tarkow by reading lines, reviewing scenes with actors, cleaning up moments of blocking, and leading the integration of certain technical aspects like green screens into the production. He also designed the website for the production, creating the promotional art (with whale drawn by Laura Ryan '19) and character historical videos that provided biographical information on all the characters in the play.
"The production was a validation of the skills we have learned at Adelphi," Pezzulich said.
Awards and Performance at The Kennedy Center's American College Theater Festival
After its warm reception in the fall, This Odd Geometry of Time was invited in January to appear before a larger audience in The Kennedy Center's virtual American College Theater Festival (KCACTF). The KCACTF is an annual national program involving students from colleges and universities across the country.
The piece was performed alongside productions in the festival's Region 2, competing with works from southwest New York, Pennsylvania, New Jersey, Delaware, Maryland, Washington, D.C., northern Virginia, West Virginia and Ohio.
"I think This Odd Geometry of Time was selected for the festival because it was created specifically for a virtual landscape," Lohne said. "It wasn't just another play meant for the stage that was presented on Zoom."
In addition to having the honor of performing at the festival, the production has earned a number of awards and nominations from KCACTF. Franke, who starred in the show, won the Musical Theater Intensive Scholarship Award. Her fellow Adelphi students Daynah Richburg, Emma Scholl, Alexis Barros and Madelyn Barkocy were nominated for prestigious Irene Ryan Acting Scholarships. Several students who worked behind the scenes were also awarded certificates of merit, including: Carson Ferguson and Natalie Piperno for puppetry; Carrie McElroy; Nicole Sponaugle, Brian Donaghue and Kimmarie McCrann for stage management; Fiona Govin for lighting design; and Chloe Yoo for her virtual background designs, created from her home in South Korea.
This Odd Geometry of Time is currently being considered for the KCACTF's national awards, which will be announced this spring.
Innovation, hybrid theater is here to stay
"I think the theater answered a call to arms when the pandemic began," Lohne said. "Especially at this pivotal time, the virtual theater has been vastly beneficial to both the Adelphi community and other educational institutions. Not only can the students continue to hone their craft during quarantine, but they have the ability to perform before other students and audience members across the United States and internationally."
As the constraints of social distancing continue to impact the theater community, Tarkow believes that adapting and innovating the traditional experience is crucial for moving forward. "The current moment has proven that technological innovation is not only a viable option for artists, but a necessity," she explained.
For more information on This Odd Geometry of Time and other works by Megan Lohne visit newplayexchange.org/users/9271/megan-lohne and to discover more about the company she created with Shoshanah Tarkow, Like Fresh Skin, visit likefreshskin.org or oddgeometryoftime.com.
To learn more about the 2021 KCACTF, visit kcactf2.org/2021-festival-52-information-page.