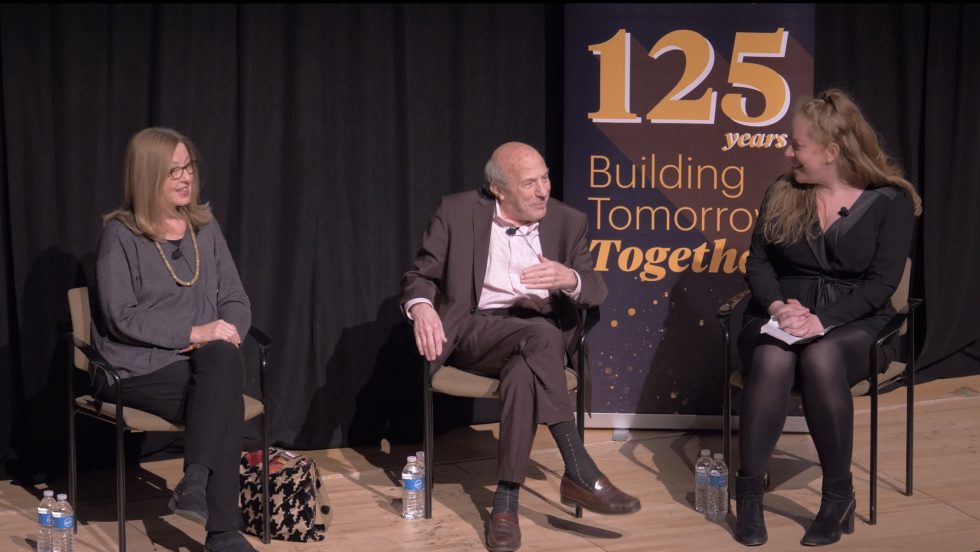 Among Adelphi's most renowned alumni worldwide is Jonathan Larson '82, the creator of the beloved and influential musical RENT, one of the longest-running shows on Broadway.
But before there was RENT, there was tick, tick … BOOM! A new production of Larson's autobiographical musical was recently adapted as a Netflix film, directed by Hamilton creator Lin-Manual Miranda, a longtime Larson fan.
The synergy is telling. RENT and Hamilton, along with Hair, are the "three touchstones of American musical theater in the last 50 years," Nicholas Petron, MA '70, professor and chair of the Department of Theatre, has said. "All three inexorably altered the shape of musical theater."
To celebrate the film—and Larson—Adelphi offered a sneak preview screening, followed by a panel discussion about the composer that included Petron.
Joining him were some of Larson's classmates: filmmaker Victoria Leacock Hoffman; Maggie Lally '82, associate dean of faculty programs in the College of Arts and Sciences and an associate professor in the theater department; and Kerry Prep '79, an adjunct faculty member in the theater department.
Billed as "a discussion about Jonathan's time at Adelphi," the 45-minute conversation was guided by Jennifer Tepper, theater historian and creator of The Jonathan Larson Project. It offered warm and insightful remembrances that demonstrated how crucial Adelphi was to Larson's evolution as a musician and artist—and how he influenced those around him as well.
"I think everyone on the panel would agree that Jonathan's time at Adelphi was critical to his growth as an artist, and many of the sparks that guided him the rest of his life were ignited here," said the event host, Blyth Daylong, executive director of the Adelphi University Performing Arts Center. "His family has said repeatedly that the two places they credit the most with Jonathan's success are Adelphi and the New York Theatre Workshop, where RENT was first staged."
What Made Larson So Special?
Panelists related how, even in a talented cohort, Larson stood out. As first-year students together, Lally noted, he was always front and center in their 8:00 a.m. movement class.
Petron tells how Larson started his acting audition by going right to the piano, and that his first impression was, "Who is this guy? He's a firecracker!"
Whether performing or writing music, Larson was always practicing his craft. As the film depicts, he would write songs about mundane things, such as sugar, which he called exercises, Prep said.
Adelphi gave Larson multiple opportunities to collaborate and begin to build artistic relationships that continued through his short career. Hoffman provided a lyric to his most famous song, "Seasons of Love" and her videos of Larson are featured in the film.
Larson's connection with Stephen Sondheim, the composer and lyricist, began at Adelphi, when, at Prep's urging, he wrote to his idol. Sondheim wrote him back.
"That was the beginning of their mentoring relationship," Prep said.
It continued until Larson's untimely death in 1996. One of the final scenes of tick, tick … BOOM! features Sondheim's encouraging answering machine message to the Larson character that the composer wrote and recorded for the movie. Sondheim died on November 26, 2021, just a couple weeks after the movie's world premiere.
Today the lineage of American musical theater that centers on Sondheim flows from his mentor, lyricist Oscar Hammerstein II, to Larson and Miranda. Each man has been deeply innovative and profoundly influential in the art form, Daylong noted.
The Larson Legacy Continues
Adelphi feels a strong responsibility to continue that legacy, Daylong said. Under his leadership, the University hosts a retreat for the New York Theatre Workshop's fellows every summer. Larson's college friends helped fund the American Theatre Wing's annual Jonathan Larson Grants. Each year, two of those recipients come to campus through the Larson Legacy Concert Series to showcase their work and talk with students.
"We want to help nurture the next generation of musical theater creators here at Jonathan's college home," Daylong said.
One of those creators is Matthew Pezzulich, a senior in the Honors College who is majoring in theater arts: design/technology. He was one of a handful of Adelphi students invited to attend the star-studded New York premiere of tick, tick … BOOM! on November 15. The next night he went to the campus sneak preview and follow-up discussion.
"The panel had me over the moon," Pezzulich said. "I was like, the amount of knowledge that is on the stage right now is just so exciting. I liked hearing a little bit more of the department's history. What is great is that it's still able to fight for students to go out and create their own pieces, whether during school or after graduation. The legacy is still there."
Pezzulich came to Adelphi because of what he called his "obsession" with tick, tick … BOOM! He had seen a revival of the show when he was in high school. Inspired, he started reading more about Larson and the Adelphi theater program.
"I thought, the amount of support that Jonathan Larson got from this program while he was there!" Pezzulich said. "Some of the same faculty are still there. That's incredible. And if these people were able to help cultivate and set this artist on the right path, in some way, shape or form, why would I ever say no to that? That's what made it my top choice."