Ingrid Howell '10, MA '18, hopes to land a position at FEMA—and a future in emergency management—through Adelphi Online.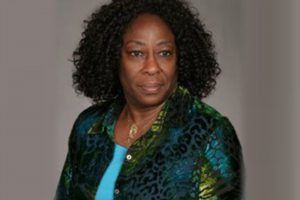 While planning her retirement as a tax specialist, Ingrid Howell '10, MA '18, decided against a quiet life—and decided, instead, to jump into disaster management.
"I started thinking of what I would ideally like to do and I decided that, given my volunteer experience with conference management as the public affairs officer for Caribbean Medical Providers Practicing Abroad, my personal experience at my home during Hurricane Sandy in New York and reading about what took place with Hurricane Katrina, that I would like to be able to help in some capacity whenever there is a disaster."
Howell, who is working toward a Graduate Certificate in Emergency Management (EM) from Adelphi Online, said her particular career focus has been on Florida and the Caribbean region. She is originally from Trinidad and Tobago, so she knows from experience that "the Caribbean is very natural disaster-prone. There are serious natural hazards every year, if not in one country, then another, so there is a need for well-prepared disaster responders who are able to deploy with little notice whenever disaster strikes."
Howell, who earned an MA in Community Health Promotion in 2018 from Adelphi's Ruth S. Ammon School of Education (now named the College of Education and Health Sciences), plans to take the Certified Health Educator Specialist Exam in October. She sees that as a complement to her MA and EM credentials.
Aboard the USNS Comfort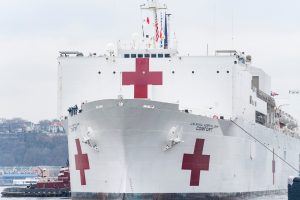 Howell's capstone project for her EM graduate certificate focused on her September 2019 service aboard the USNS Comfort (T-AH 20) during its Caribbean Continuing Promise mission, specifically involving patient outreach and assistance in Trinidad and Tobago.
David R. Williams, EdD, clinical assistant professor and director of the emergency management program, said, "We were thrilled for her to have such a quality capstone experience, as practical application of emergency management principles into any and all disciplines is a central feature of the Adelphi EM program."
It took considerable persistence to find a way onto that ship, however. In fact, Howell said, "It was a nightmare getting in touch with anyone willing or able to make it happen. Dr. Williams could attest to that." She succeeded only "because of two separate conversations with two former colleagues of the U.S. Ambassador to Trinidad and Tobago, Joseph Mondello," Howell said. "They were excited to let me know they knew him personally once they learned that I was from Trinidad. Both spoke highly of him, saying he was very nice. When I saw Comfort was deployed to the Caribbean, I wrote to him explaining my practicum and my desire to do it with Comfort."
Once she overcame that challenge, she said, "My experience with USNS Comfort was one that I will never forget. I saw the helicopters picking up and dropping off supplies, the soldiers setting up the incident command centers, triaging and treating patients, transferring critically ill patients to a local emergency room, preparing patients and their caregivers for next-day surgery on the Comfort. The level of professionalism and team spiritedness among soldiers was superb. I say 'soldiers' but they are healthcare professionals as well."
Those aboard include seasoned emergency and disaster preparedness responders and military-trained ("not just the Navy") medical professionals. "The crew is a mix of civilians and military personnel."
To help during the COVID-19 outbreak, the Comfort in March 2020 came to New York City, then the pandemic's U.S. epicenter. It departed April 30, after having treated 182 patients.
The hospital ship houses 1,000 patient beds and state-of-the-art medical equipment and diagnostic facilities, Howell said. "The military has a strong public health division and emergency management department," she added.
About the Emergency Management Program
In 2003, Adelphi became one of the first higher education institutions to offer emergency management course work—and now has 200-plus alumni. Today, besides the graduate certificate, the program offers master's, bachelor's and associate degrees in emergency management, all fully online since 2008.
In the Spring 2020 semester, the emergency management program had 38 students (14 undergraduate, 24 graduate), Dr. Williams said. The College of Nursing and Public Health and the College of Professional and Continuing Studies (CPCS) had jointly administered the program until recently, when "CPCS began assuming full responsibility for the program," he added.
Since the COVID-19 pandemic, Dr. Williams said, "Anecdotally, I have seen an increase in inquiries and admissions to the program. Fall 2020 numbers are looking good for this period of social transition."
That's not surprising to him since, as Dr. Williams said, "emergency management graduates have the ability to work in virtually any field. Sporting venues, concerts, business, hospitals, schools, government, hospitality, religious institutions and virtually any place you can think of where people gather needs to consider and apply emergency management principles."
As for Howell, "My dream would be to work with the USNS Comfort in the Southern Command region or the USNS Mercy." Quite an amazing career change for a retiring tax specialist.