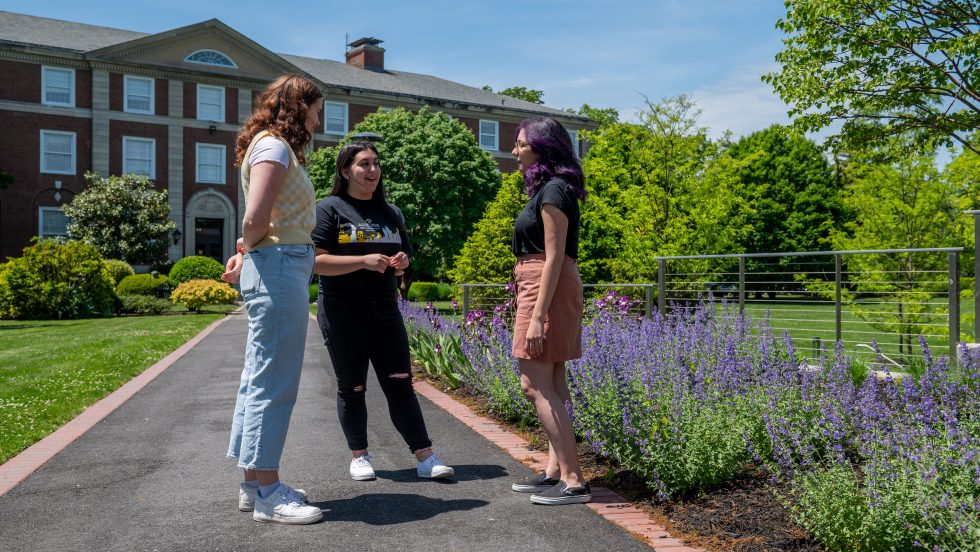 Dear Adelphi Community,
We look forward to welcoming you for a new academic year at the end of August. In advance, I'd like to share an update on the University's planned COVID-19 policies for the Fall 2022 semester.
I'm thankful for our community's support and care as we continue to make your safety and well-being the priority at Adelphi. Your diligence has helped us maintain a remarkably low rate of COVID-19 cases, despite our area's often heightened community transmission level. Combined with a high vaccination rate among our students, faculty and staff, I feel optimistic that this semester will be rewarding, with almost all COVID-19 restrictions rolled back.
We will continue to base our plans and policies on the most current scientific data, Centers for Disease Control and Prevention guidance, and all state and local requirements regarding COVID-19. Additionally, our Health and Wellness team continues to monitor new variants, community transmission levels, vaccine recommendations, and all official guidance for ongoing review and refinement of our policies. Should any changes occur, we will keep you updated via email and Adelphi's COVID-19 website.
Below are the planned COVID-19 policies and protocols for all Adelphi locations, effective through December 2022.
Masking
Wearing a mask is optional at Adelphi, with a few exceptions, listed below.
We recommend wearing your mask indoors and in crowded environments, whether on or off campus.
Exceptions to the mask-optional policy:
Please continue carrying an acceptable face covering with you in case you are asked to wear one. We appreciate your support of every individual's choice and comfort level about masking. Free masks are available in various locations at Adelphi.
Vaccination
Our vaccine policies remain in effect.
To be considered fully vaccinated by Adelphi, an individual must provide proof of having completed all doses of a U.S. Food and Drug Administration (FDA)-authorized or World Health Organization (WHO)-listed COVID-19 vaccine AND at least one booster shot. The University does not require a second booster dose at this time.
To submit proof of vaccination, booster doses and test results, visit the Health Portal on eCampus and follow the instructions to upload. Documentation can also be emailed to the Health Services Center at covidclearance@adelphi.edu or faxed to 516.877.6008.
Students
The University's student immunization policy includes a COVID-19 vaccine and booster dose.
The deadline for new, incoming students to complete and submit COVID-19 vaccination documents for Fall 2022 is August 29.
Employees
All Adelphi employees must either be fully vaccinated or submit weekly COVID-19 tests. At-home tests will satisfy this requirement.
New employees must complete and submit proof of full COVID-19 vaccination (or their first weekly test) within seven days of beginning employment.
Daily Health Screening
We have discontinued the requirement for daily health screening via the mobile app.
You should continue to be mindful if you develop any of the COVID-19 symptoms listed below. Do not come to Adelphi if you are sick.
Fever or chills
Cough
Shortness of breath or difficulty breathing
Fatigue
Muscle or body aches
Headache
New loss of taste or smell
Sore throat
Congestion or runny nose
Nausea or vomiting
Diarrhea
If you test positive or were exposed to COVID-19, call Health Services at 516.877.6000 for guidance on your next steps.
Surveillance Testing and Contact Tracing
We have discontinued random surveillance testing of our on-campus community.
As we no longer require daily screening via the mobile app, Adelphi will no longer conduct random surveillance testing of the on-campus community. However, our dashboard will remain active to display any reported positive COVID-19 cases in our community.
We continue to perform contact tracing at the University level. We also continue to support the Department of Health's efforts to contact trace COVID-19 exposures and positive cases that occur (or are reported) among our Adelphi on-campus community.
Meetings and Events
All in-person meetings and events can be planned and attended without restriction.
No occupancy limits exist in our classrooms, shared spaces or meeting venues. However, virtual gatherings using Zoom, Google Meet and other platforms are widely accepted and safe alternatives to leverage when appropriate.
Cleaning and Disinfecting
The University continues a schedule of robust cleaning and filter replacement.
We follow Department of Health protocols to disinfect Adelphi locations impacted by a confirmed positive COVID-19 case.
Visitors
The Adelphi campus and our residence halls are open to all visitors.  
If you have questions or concerns, please email healthandwellness@adelphi.edu or call Adelphi's COVID-19 hotline at 516.877.3012.
Sincerely,
Gene Palma
Vice President of University Wellness, Safety and Administration