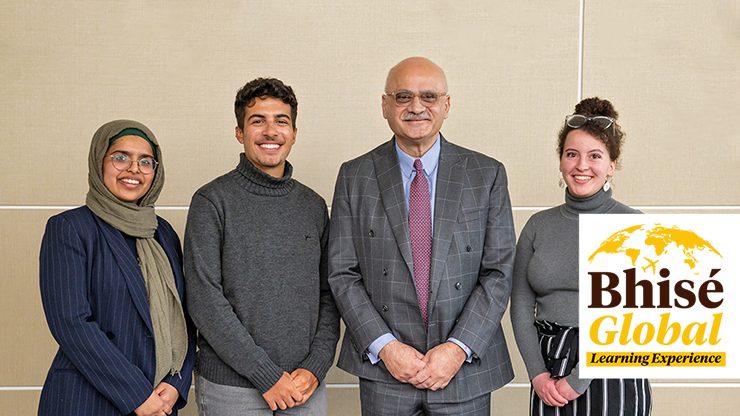 "No matter how much information there is in Google, one needs the ability to ask questions, because education is an interactive experience. I believe in hands-on learning and mentorship programs."
Those are the words of Bharat Bhisé, MBA '78, who recently funded the Bhisé Global Learning Experience 2023: India, an intensive, all-expenses-paid study tour, paired with a semester of on-campus cultural and academic opportunities. The program launches in January 2023, with eight select members of Adelphi's Levermore Global Scholars (LGS) program embarking on this life-changing experience to expand their global mindset.
"Adelphi's commitment to global awareness is exemplified by the mission of its Levermore Global Scholars program," Bhisé said. "These values closely align with my strong belief that young people must be exposed to different countries and cultures to broaden their horizons and gain new perspectives. It's a critical part of being able to succeed in today's world."
"The Levermore Global Scholars program has always wanted to offer the kind of immersive and intensive overseas and on-campus experience that Mr. Bhisé's sponsorship has made possible for this upcoming semester," said Katie Laatikainen, PhD, LGS program director and professor of political science.
Bhisé, founder and CEO of Bravia Capital, credits Adelphi with being the first step in his career. He is now an investor and leader in the global transportation, leasing and logistics industries. His funding of the Global Learning Experience—and his work as the executive in residence of the Robert B. Willumstad School of Business—are prime examples of the support we receive from our alumni in furthering our educational mission to provide transformative experiences and promote global awareness.
A 10-day immersive experience abroad
The first part of the program includes a 10-day immersive trip to India in January 2023. Students will attend lectures, go to dinners hosted by Indian families, and visit major locations, including New Delhi, Mumbai and Goa. Participants will also take excursions to landmarks such as the Taj Mahal and Parliament, and visit other informative sites, including local nongovernmental organizations, healthcare facilities and businesses.
"The immersion experience will connect our students with the Indian people and culture to explore the country's global role in business, politics, the arts, women's empowerment, the environment, and health and wellness," said Thomas Kline, EdD, vice president of University advancement and external relations.
Callum Ferguson, a junior ethics and public policy major, is one of the eight students selected for the program. Ferguson grew up in a small town in Nebraska and had never left the country or been to New York before attending college. Looking to expand his horizons, he discovered Adelphi and was sold on it based on the LGS program.
Soon, he'll be off to India to expand his horizons even further.
"I'm most excited about meeting new people," Ferguson said. "I love seeing how other people live, and experiencing a whole different culture is going to be amazing. It's an incredible opportunity I never thought I'd have."
A specialized program of on-campus events
Throughout the Spring 2023 semester, all LGS students can engage in a specialized curriculum focused on India, along with extracurricular activities and trips to foster global learning. The entire on-campus community will also be invited to learn more about Indian economics, politics and culture through additional themed events and lectures.
The whole experience will culminate in Adelphi's 20th annual Scholarship and Creative Works Conference in April, where participants in Bhisé's program will share the results of their semester-long research.
Ferguson, for example, will be focusing on how financial resources can help the people of India. He said, "I'm studying how implementing a universal basic income would help people in the community and provide a boost in the economy."
Going forward, Dr. Kline hopes that the Bhisé Global Learning Experience will be the first of many similar programs geared toward helping students become global thinkers and leaders.
"Adelphi's deep values of diversity and global awareness are ideally reflected in the program that Mr. Bhisé has gifted to our students and University community, " Dr. Kline said. "Additionally, his extraordinary generosity further advances one of our Momentum 2 strategic plan's main goals—to strengthen Adelphi's distinction for academic excellence through valuable experiential learning opportunities."