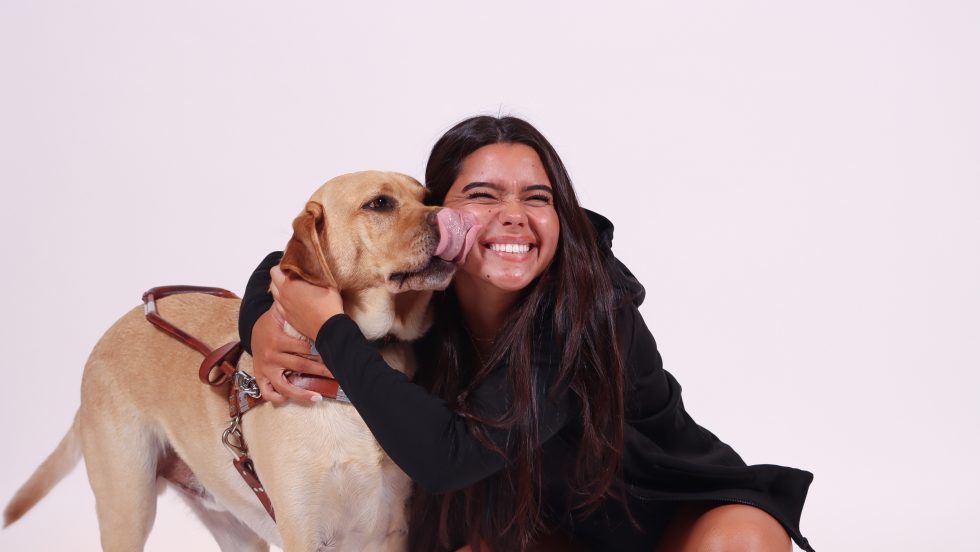 Anastasia Pagonis is a rock star. The 18-year-old swimmer, who is blind, brought home a gold medal and a bronze medal from the Tokyo 2020 Paralympic Games, and she holds a world record for the sport's 400-meter freestyle event.
Now she's a sophomore at Adelphi majoring in sport management and a member of the University's swim team, which is led by Marc Danin, her longtime swimming coach.
Pagonis' path to swimming success hasn't been easy. She began losing her eyesight at age 11 and was diagnosed with genetic retinal disease and autoimmune retinopathy. She had been a soccer player, but her limited vision forced her to give up the game. She switched to swimming because she could still see well enough to stay in her lane and not hit the sides of the pool. "I fell in love with swimming," she said.
By the time she was 14, though, her vision had deteriorated so rapidly that she was legally blind. No longer able to swim, she fell into a deep depression.
"I didn't even want to live anymore if I couldn't swim," Pagonis said. "I was suicidal." She got help with an outpatient therapy program and, with the support of her parents and a therapist, she found her way out of the darkness.
"Once I got through that, I was ready to get back in the pool," she says. "I've always been bubbly, energetic and athletic."
Pagonis was ready to return to swimming, but she couldn't find anyone to work with her. "Nobody wanted to train the blind girl," she said.
Coach Danin—and a remarkable canine—to the rescue
Enter Marc Danin, who owned a swimming club near Pagonis' home on Long Island. He was willing to give coaching Pagonis a shot. Their first lesson didn't go well. Danin put Pagonis on a leash to keep her from hitting the sides of the pool when she finished each lap. "It was a disaster," Pagonis said.
"I had no idea what I was doing when we started," Danin admitted. "I thought it would be easy, but it wasn't. It was hard."
Danin stuck with it. So did Pagonis. Danin blacked out his swim goggles so he couldn't see and did some laps in the pool. "I wanted to understand what Anastasia's experience in the water was like," he said. He did some research and learned coaches tapped their blind swimmers with a stick wrapped in a pool noodle to let them know they were getting near the end of the pool. He also taught Pagonis how to count her strokes so she knew where she was in the pool. Thousands of laps and many months later, Pagonis finally had her swimming groove back.
"Marc taught me how to swim again," she says. "I had my confidence back."
But then another confidence builder came into Pagonis' life, one that gave her something she cherished just as much—her independence. It was her guide dog, Radar, who was provided her by the Guide Dog Foundation, a nonprofit with headquarters on Long Island. Radar became her constant companion, not only at home but at the pool, where he became her team's mascot—a role he now plays at Adelphi.
Pagonis wasn't content to just swim. She swam fast and well. Less than two years after quitting swimming because she couldn't see, Pagonis starred at the Paralympics in Tokyo, winning a gold medal in the 400-meter freestyle and a bronze in the 200-meter medley. She then won three gold medals at the 2022 World Para Swimming Championships in Madeira.
Choosing Adelphi—and a career direction
Soon after the games, which were held in the summer of 2021 due to the pandemic, Pagonis enrolled at Adelphi as Danin became coach of the women's team. The arrangement suited Pagonis perfectly, as she wanted to stay close to her longtime coach. "I've been with Marc for years, and he's honestly been the rock of my swimming career. I couldn't leave him."
Pagonis also found the support she needed to succeed at Adelphi, which is one of the top 50 colleges in the United States for students with disabilities, according to College Consensus. "My adviser, Greg Bouris [director of Adelphi's undergraduate sport management program], has helped me with technology to get through my classes. And Adelphi supplied me with tappers to help me swim."
Tappers are like spotters. "They stand by the pool when I swim and give me a bump on the head to tell me the walls are coming up and I need to turn around," Pagonis says. "I'm super thankful for Adelphi and all they have done for me."
Pagonis is majoring in sport management. She wants to be a sports agent for women and athletes with disabilities. "We don't get the right amount of money and sponsorships," she says. "We don't get what we deserve, and I want to change that."
A powerful advocate for people with disabilities
Pagonis is also working as an advocate for people with disabilities. She has 2 million followers on TikTok, where she shares short videos about her life.
In one video, she explains how she does her makeup. "I don't have a mirror," she says, before showing how she put rubber bands on her cosmetics so she can tell her mascara from her eyeliner. Another is titled "Blind Girl vs. Door" and shows her icing her face after running into a door. And, of course, she has a video about Radar.
Her videos are funny, engaging and relatable. "I want to normalize blindness and disability," she said. "I want people to understand we're normal. We just can't see."
An important part of her advocacy, of course, is continued success in the pool. Pagonis hopes not only to win new titles at Adelphi but internationally as well at the 2023 Para Swimming World Championships in Manchester, England, and the Paris 2024 Paralympic Games.