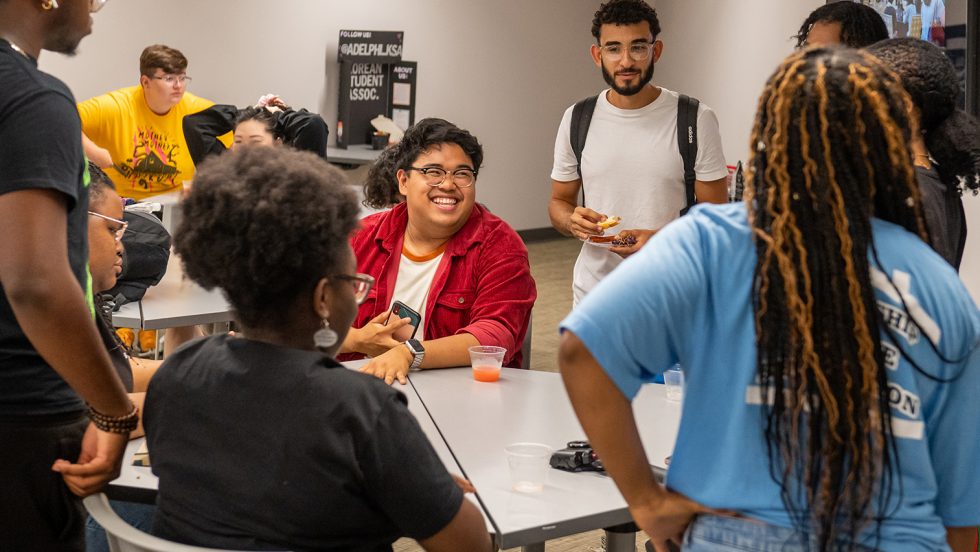 Our fifth consecutive Higher Education Excellence in Diversity (HEED) Award is a great honor for all Adelphi students, faculty, staff and alumni as we work together to advance change.
For the fifth year in a row, Adelphi has received a prestigious national award for its efforts fostering diversity, equity, inclusion and belonging on campus.
Adelphi is one of only 103 colleges and universities in the United States to receive a 2022 Higher Education Excellence in Diversity (HEED) Award. The honor is granted by INSIGHT Into Diversity, the oldest and largest publication focused on diversity in higher education.
"It is such an honor to be recognized in a prominent way for the work that the entire community is doing toward advancing diversity, equity, inclusion and belonging on campus," said Jacqueline Jones LaMon, JD, vice president of diversity, equity, inclusion and belonging at Adelphi. "It's really work that is being done in Adelphi's individual schools and colleges, and throughout the administrative units, that has made this possible. I'm very humbled by the work that's taking place and honored to be a part of it."
Adelphi's strategic plan for 2015–2021, Momentum, charted a path for the University to become a model of diversity and inclusion. Now, guided by Momentum 2, Adelphi will continue to expand its efforts to welcome and support all students, faculty and staff.
"The fact that we continue to receive the HEED Award means we're not just maintaining a level of commitment to diversity and inclusion, but actually exceeding where we were the year before," LaMon said. "That's most exciting for me—that this is an ongoing commitment of an ever-changing community."
An array of new initiatives
Here's a look at some of the notable new and recent initiatives that helped Adelphi earn a 2022 HEED Award.
Adelphi just launched a new Multicultural Center on campus as a hub for diverse programming and resources. It's an inclusive place where all students can feel at home, explore their identities, and celebrate and learn from one another. The center will be supported by coordinator Robby Fahrenholtz, whose specific role involves building a comprehensive and respectful calendar of events for our diverse community. Adelphi's multicultural student organizations will also be encouraged to use this center to meet and collaborate.
The Office of Community Concerns and Resolution opened last fall to serve as a single point of contact for receiving and processing complaints and reports of harassment, hate, racism, bias and inappropriate conduct. It provides an easily accessible and safe place for students to share any concerns and receive support.
The faculty-led Academic Diversity Implementation Team and student-led Equitable Adelphi Action Team were created in Fall 2020 to help identify and dismantle racism at Adelphi. Their goals include implementing diversity training, launching anti-bias workshops, decolonizing curricula and addressing microaggressions. These teams are also complemented by the existing diversity councils that support the work of the deans in each Adelphi school and college.
"Each council can speak on a more granular level about what's taking place specific to their school," LaMon said. "It gives them a space for collaboration and conversation, so they can create activities and initiatives that will address any challenges."
Adelphi made a major adjustment to its merit scholarship policy last year, no longer requiring recipients to meet a minimum GPA to retain their scholarship. This permanent policy change will allow students the ability to choose challenging courses without worrying that a lower grade might endanger their scholarship.
"Even if a student happens to have a bad semester or a crisis occurs—like we've seen with the pandemic—they can rely on their aid remaining intact without worrying that they'll lose it," LaMon said. "This change can go a long way in bridging certain equity gaps."
A continuing commitment
Five HEED Awards later, the diversity, equity, inclusion and belonging team isn't slowing down any time soon. In fact, they're continuously dedicated to building programs that can help everyone feel seen and supported.
In the near future, for example, LaMon expects Adelphi to be named an official Hispanic-Serving Institution by the U.S. Department of Education. She also looks forward to meeting the changing needs of the community by offering more online and flexible programming.
"We're listening to our community to hear what is needed and to respond to that," she said. "There are several new initiatives on the horizon, and our new strategic plan, Momentum 2, will only strengthen our commitment to diversity, equity, inclusion and belonging throughout the University. We are looking forward to that."