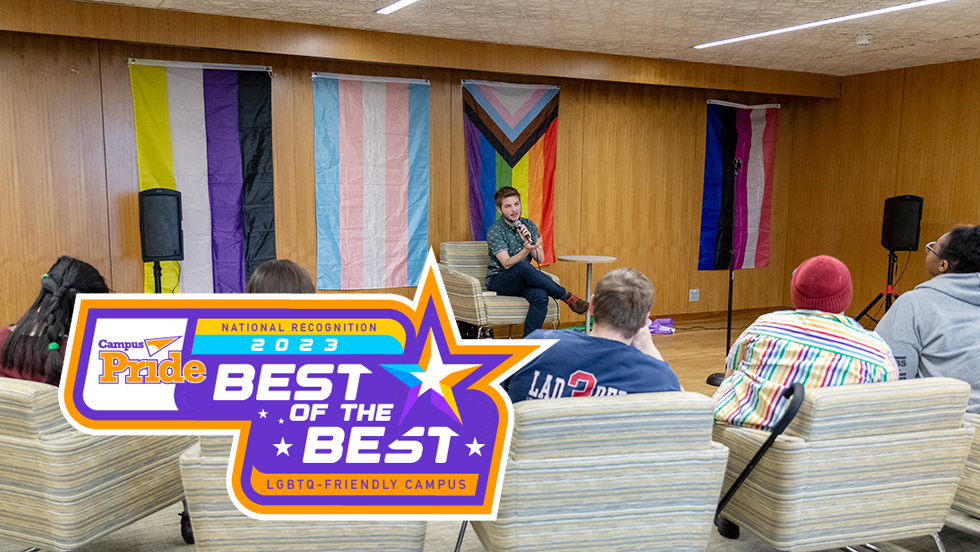 "Our LGBTQIA+ Task Force has done a lot of work over the years to get here."
When Samuel Sey was studying biology in his home country of Ghana, he noticed something about the scientific papers he read: Most of them were authored by researchers in America.

Jacqueline Olvera, PhD, director of Latin American and Latinx Studies and associate professor of sociology, and students spent an eye-opening summer with the hardworking, entrepreneurial women who sell tamals on street corners.

As the insect gains a foothold in the Northeast, Adelphi is prepared to stamp out this threat.

Adelphi was known for our commitment to student success well before the release of the 2024 U.S. News & World Report rankings. But our new rankings—including huge jumps into the top 100 Best Value Schools, Social Mobility and First-Year Experiences categories—shows that Adelphi's mission to change lives is gaining national attention.

Adelphi University is the highest-ranked private university on Long Island on the Forbes 2023 America's Top Colleges list.

The 2023 Women's Leadership Conference, Themed "Defining Leadership for Our Lives, Our Careers and Our Communities," Broke Attendance Records While Aiming to Break Glass Ceilings and Preconceived Ideas

Anabel Ojeda, now a junior, got valuable experience using technology to further the understanding of the behavior of tumor cells at Columbia University's Herbert and Florence Irving Institute for Cancer Dynamics.

After Adelphi helped him land a coveted internship at JetBlue Airways, MBA candidate Anthony Lettiere '23's career is taking flight.

Adelphi excels in several 2024 U.S. News & World Report rankings including Best College, Social Mobility, Best Value, First-Year Experiences and Undergraduate Nursing.

The special issue, guest edited by Sean Bentley, PhD, associate professor of physics, captures the engineering behind the historic telescope—and has received an award for excellence in design.

Ganesh Pandit, DBA, professor of accounting and law, shares extensive tips.

The National Science Foundation (NSF) Division of Undergraduate Education has awarded Adelphi University and Principal Investigator Andrea Ward, PhD, associate provost for research and special projects, a $2.49 million grant for the "Ensuring STEM Student Success Through an Integrative Support Program."

Whether they're caring for patients, working in underserved communities, solving computational problems, launching new businesses or teaching overseas, Adelphi's students are supported by those who came before them.

Adelphi University has been ranked a 2024 Best College in the United States by The Wall Street Journal (WSJ)/College Pulse.

Adelphi student-athletes kicked off the 2023–2024 year by taking care of some important business: getting their individual and team photos taken for use on the Adelphi Panthers website and Adelphi social media accounts and to be used by media outlets reporting on Panther prowess.

Gordon F. Derner School of Psychology adjunct professor Matt Aibel relates performance to therapy, teaching—and is rediscovering the joys of being back on stage.

Dear Adelphi Students, Faculty and Staff, Welcome to the fall 2023 semester—I hope you had a great first week! I'm always thrilled to see our campuses filled with new and familiar faces as we begin another exciting academic year. This year is particularly special with the arrival of the largest and one of the most…

This fall, Adelphi University welcomed a new set of dedicated, diverse and distinguished faculty members.

The STEM-designated MS in Business Analytics program at the Robert B. Willumstad School of Business creates female leaders in the growing data industry—giving them an edge in leadership and strong business careers. This program is now being honored by INSIGHT Into Diversity for building equity for women who are still underrepresented in tech fields.

Research by Michael D'Emic, PhD, paleontologist and associate professor of biology, is the cover story.

This semester, the Robert B. Willumstad School of Business announces promotions and work anniversaries, welcomes new faculty members and thanks faculty and staff leaving the School for their efforts and dedication.

In Adelphi's first general education redesign in decades, faculty have reimagined the general education curriculum to be a pathway for self-discovery. Each step on the PATH helps students explore their strengths, engage with the world and embrace their career potential.

Susan Dinan, PhD, dean of the Adelphi University Honors College, is now also serving as president of the board of the National Collegiate Honors Council. Explore her vision for our own Honors College, and read about the direction she sees honors colleges heading in the future.

Senior Honors College student MacKenzie Pina joined a prestigious dig at Sibiloi National Park in Kenya over the summer. Her experience there is an example of Adelphi's emphasis on undergraduate research. "I could not have been better introduced to fieldwork if I had asked," she said.

Virtual fall and spring workshops provide tools and strategies so that CAS faculty can help students succeed in the classroom.

Adelphi University's largest first-year class ever became "official" on Sunday at the annual Matriculation ceremony at the University's Center for Sports and Recreation.