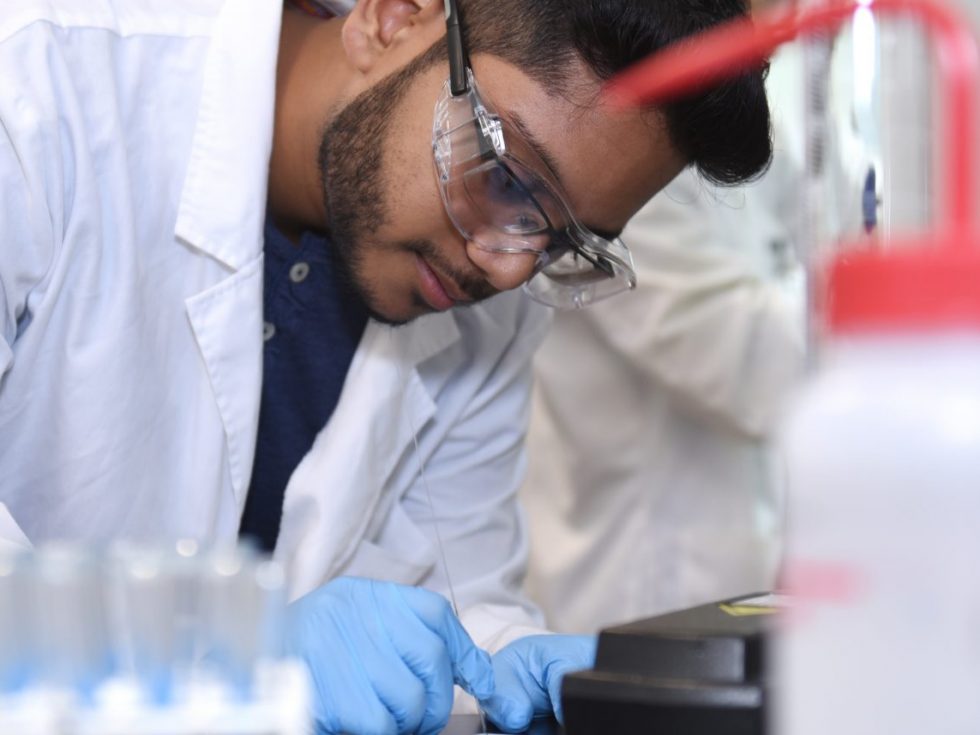 In Fall 2022 Adelphi opened the new Office of Undergraduate Research and Creative Works to further our emphasis on and support of student research.
Lance Houston, JD, joined Adelphi University in August as Title IX coordinator and director of equity and compliance. Houston is well versed in compliance and Title IX, the federal civil rights law enacted in 1972 and expanded in 2020, that protects individuals in educational settings from discrimination based on sex and gender.

For the fifth consecutive year, U.S. News & World Report has ranked Adelphi University a Best College among national universities. The University was also included in several of its other prominent 2023 rankings, including Best Value Schools, Best First-Year Experiences, A+ Colleges for B Students and Top Performers on Social Mobility. For the first time this year,…

For Ray Hughes '83, chief of campus safety and emergency management, the possibility of an active shooter on campus isn't the unthinkable, it's something to think about and be prepared for, in collaboration with fellow institutions.

On Adelphi's busy campus, there's a place where students, faculty and staff can find a moment for prayer or reflection and meet with others to worship, enjoy a meal or share ideas.

In Fall 2022 Adelphi opened the new Office of Undergraduate Research and Creative Works to further our emphasis on and support of student research.

An active-shooter situation is expected Friday at Adelphi University – but this one has the potential to save lives.

Yula Serpanos, a professor in communications sciences and disorders, shares her thoughts on at-home hearing tests.

Kees Leune, PhD, assistant professor of mathematics and Computer science and IT security officer, weights in on the rise in cyberattacks and how to combat them.

"How do we experience being alive?" That's the question Igor Webb, PhD, professor in Adelphi University's Department of English, explores in his latest book, Buster Brown's America: Recollections, Reveries, Reflections—and incorporating This Old Writer: A Journal of a Plague Year. "In everyday life, we don't experience being alive in the same way," said Dr. Webb. "It's not…

Marissa Abram, PhD, assistant professor in the College of Nursing and Public Health, co-authors on an article on best practices for treating Trauma.

Adelphi's Don Center upcoming panel event on risk management is featured.

Adelphi's partnership with West Hempstead School District through The Education Innovation and Research Program, is mentioned.

Adelphi University has earned the exceptional achievement of a five-star rating on the Campus Pride Index—a nationally recognized measure of LGBTQ+ friendliness and inclusivity. Campus Pride also chose Adelphi as one of the Top 40 Best of the Best LGBTQ-Friendly Campuses.

The COVID-19 pandemic—and the more recent rise of monkeypox—have brought an often overlooked field into sharp focus: public health. At Adelphi, the work of our Master of Public Health (MPH) students and faculty has become even more important , and they have stepped up to serve.

Most colleges have programs to get incoming first-year students acquainted with the campus. Adelphi takes that idea one step farther with a program that gets new students acquainted with the University's commitment to serving the surrounding community.

Former Soviet President Mikhail Gorbachev's speech at Adelphi in 1998 is mentioned.

Recent facilities updates at Adelphi's Garden City campus, including the new Multicultural and Mindfulness spaces, are featured.

Kees Leune, PhD, assistant professor of mathematics and computer science, believes everyone benefits when a classroom is more diverse. It's a belief he shares with Salvatore Petrilli '05, EdD, now associate dean for academic operations and general education in the College of Arts and Sciences, and that led them in 2016 to rethink the undergraduate computer science curriculum.

Dear Adelphi Students, Faculty and Staff, I am pleased to welcome everyone to Fall 2022 on Adelphi's campuses to continue our 126-year tradition of student success. This academic year marks the launch of our Momentum 2 strategic plan, which will guide our University through 2027 with increasingly innovative goals. Our mission to transform the lives…

The news of Adelphi being included on Campus Pride's Best of Best list.

Dear Adelphi Community, Adelphi University's Health and Wellness team continues to closely watch the outbreak of monkeypox, which was recently declared a global and national public health emergency. Additionally, New York state's governor declared a disaster emergency to ensure the state has the resources to respond. As with all public health matters, we are monitoring the situation…

Dear Adelphi Students, Faculty and Staff, I'm pleased to have an opportunity to introduce myself to you, as Title IX Coordinator and Director of Equity and Compliance at Adelphi. I'm thrilled to be part of such a vibrant and diverse academic community. Since my start in early August, I've been engaging with many campus partners…

Industry-steering alumni share their insights and perspectives on the future.

Jacklyn Brown '21, MBA '22, has taken the lead on the Panthers' field hockey team, in the classroom as a business management and marketing major, and in the community.

Adelphi University has been named to Campus Pride's annual Best of the Best Colleges and Universities for LGBTQ+ Students in the United States for creating a safe, welcoming environment for students, faculty and staff alike.

Adelphi recently lost a truly remarkable former member of our faculty: Abe Shenitzer, PhD, professor of mathematics, who survived the Holocaust to go on to a noteworthy career as a mathematician, translator and advocate who spoke publicly about his experience, passed away at the age of 101 in June 2022.

Time management is an area in which Gabriel Silva, a rising senior, excels.

In addition to teaching, Derner faculty members engage in scholarship and research. Here are recent highlights of their work.

Throughout our 125-year history, many of Adelphi's women leaders were the only women in the classroom, boardroom or corner office—and had to blaze a trail for the women who followed in their respective fields.

Don Center director Gita Surie, PhD, is establishing the center as a knowledge hub and valuable resource for the University as a whole through programs that focus on innovative technologies and decision sciences.