International students who plan to study at Adelphi University need a Form I-20, "Certificate of Eligibility for Nonimmigrant Student Status".
Once accepted, international students must obtain a Form I-20 "Certificate of Eligibility" from the Designated School Official, located in International Services. The Form I-20 is required for the purpose of studying at Adelphi University, and to apply for the F-1 student visa. You must also obtain a Form I-20 for any eligible dependents you plan to bring to the United States with you.
I-20 Types
Please see the following I-20 categories to determine which document type you must request.
Students outside the country not in valid F-1 status and intend to obtain a valid F-1 visa to travel to the U.S. prior to your program start date to begin or resume your studies following a break in status.
Students currently enrolled or on authorized practical training at a SEVP-approved school in the U.S. and eligible for a SEVIS transfer.
Students currently enrolled at Adelphi University completing your academic program listed on your current I-20 and plan to enroll in a new academic program in the next available semester.
Students currently in valid status in the U.S., and intend to file a change of status application with USCIS.
Students currently in the U.S. following an F-1 status violation within 5 months, and intend to file a reinstatement application with USCIS.
I-20 Deadline
The deadline to request the Form I-20 is based on the individual document type, anticipated semester, and estimated visa wait time.
Initial Status

 

– A completed I-20 request must be received no later than July 15 for the Fall Semester, or December 15 for the Spring semester.
Transfer Status

 

– A completed I-20 request must be received prior to the first day of classes, provided the student is in active F-1 status and eligible for a valid SEVIS transfer.
Change of Educational Level –

A completed I-20 request must be received within 60 days of the current program completion date and prior to the new program start date.

Change of Status

 

–

The deadline will be determined by the Designated School Official based on extenuating factors which include current applicant status, estimated wait time, and study restrictions.

Reinstatement

 

–

The deadline will be determined by the Designated School Official based on eligibility for a reinstatement, estimated wait time, and other factors.
The following requirements must be provided by the student prior to the deadline to be eligible for the Form I-20. Incomplete requests, or requests received after the deadline will not be considered for processing.  
Proof of Admission –

Official University Admissions Letter or Official Academic School Readmission Letter

I-20 Request Form

 

– This form must be completed by the student providing accurate information as listed.

 

I-20 Request Form
Passport Information Page

 

–

Copy of valid passport information page

Proof of Financial Ability –The student is responsible for meeting the cost of attending Adelphi University and providing evidence showing sufficient financial resources to live and study in the United States as listed on the International Student Budget Sheet. These expenses include being able to cover the cost of tuition and fees, living expenses and insurance, books, travel, and miscellaneous expenses. Scholarships are available on a very limited basis and allocated during the admission process. Student's who plan to self-support will be required to show the total amount of funding for the entire program duration.

Affidavit of Support – This form must be completed and signed by the students financial sponsor indicating the total amount of funds in USD provided for study. The funds indicated must be equal to or less than the amount available in the accompanying bank documentation.
Official Bank Documentation – Dated within 6 months of submission, indicating liquid funds available in the name matching your financial sponsor as listed on the Affidavit of Support Form. If the funds are listed as a business, an additional letter from the company's financial officer must be included authorizing release of funds for studies.
Scholarship of Financial Award – Official university award letter indicating the amount of funds provided.
Program Progression I-20 Request
A student who is currently enrolled in an AUI pathway or language program and is progressing must apply for a new I-20 with International Services. Without obtaining a change of educational level I-20, the student will not be eligible to study.
Obtaining Your F-1 Visa
A student visa is required for study in the United States. After you have received y our I-20, you must use it to obtain an F-1 visa at a U.S. consulate and then enter t the U.S. with the F-1 visa and your I-20. Learn how to apply for your F-1 visa.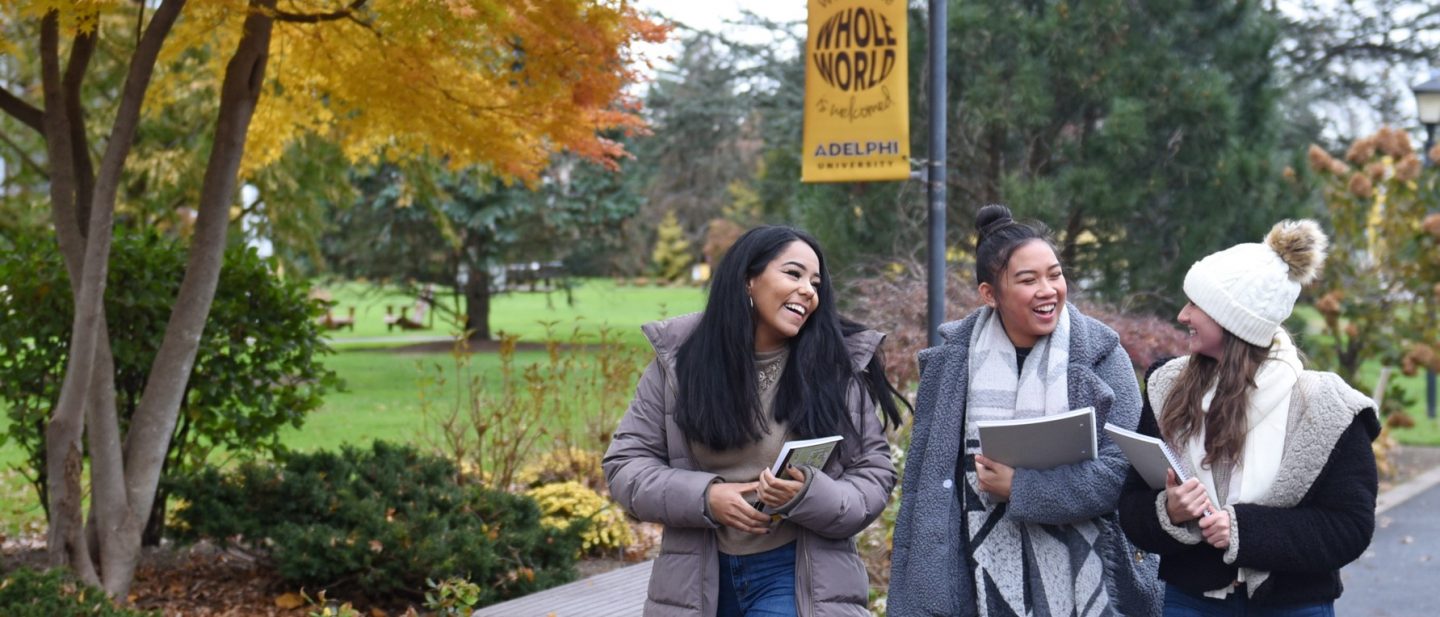 Accepted International Students
Secure your seat at Adelphi by the deadline in your acceptance letter. If there is no listed date within your acceptance letter, we recommend submitting your deposit and I-20 application by December 15 for the spring semester or July 15 for the fall semester.