Pre-College Peer Advisers
The Adelphi University Pre-College Program immerses high school students in collegiate life, academically and socially, preparing students for the next step in their educational journey.
Adelphi looks forward to resuming its in-person Summer Pre-College Program in Summer 2022. This summer, we encourage you to explore our Virtual Pre-College Certificate Program, a 4-day non-credit experience where you'll participate in academic and college-readiness workshops!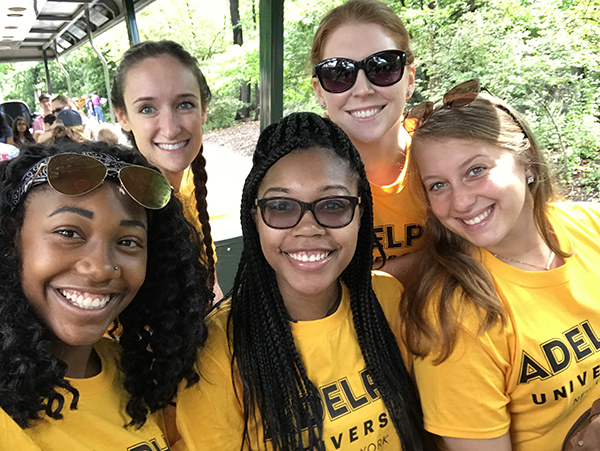 The role of a Peer Adviser is to serve as a positive role model for the high school students in the Pre-College Program and be a strong representative of your major or academic area of interest, as well as Adelphi University overall.
Peer Advisers for the 2020 Pre-College Program must be available from:
Science, Medicine and Health: Monday, July 13 – Sunday, July 26, 2020
Medical Research: Friday, July 17 – Friday, July 24, 2020
*Hispanic Community Partnership Program, Tuesday, July 21 – Saturday, July 25, 2020
Gender and Sexuality Studies: Friday, July 24 – Friday, July 31, 2020
Liberal Arts Learning for Honors Students: Friday, July 24 – Friday, July 31, 2020
All Other Courses: Friday, July 17 – Saturday, August 1, 2020
Peer Advisers are hired on a rolling basis; the online application form is available now!
*The Hispanic Community Partnership Program is run through the Office of Diversity and Inclusion. Please note that the responsibilities and stipend may be different from those listed here.
Compensation
For the duration of their residential programs, Peer Advisers are provided with a premium double or triple room with AC and private bathroom and full meal plan. Peer Advisers will also receive a $500 per week stipend following the Pre-College Program in mid-August.
Qualifications for Employment
Peer Advisers must have a cumulative GPA of 3.0, must have completed at least 24 credit hours (of which 12 must have been completed at Adelphi), must be in good academic and disciplinary standing, and must have relevant coursework associated with a Pre-College Program course.
The 2020 courses include:
Acting and Musical Theater
Art and Technology
Business and Entrepreneurship
Computer Programming and VR
Digital Video and Drone Technology
Gender and Sexuality Studies
Human Rights and Social Movements
Introduction to Nursing
Liberal Arts Learning for Honors Students
Medical Research at Northwell Health
Psychology and Pop Culture
Science, Medicine and Health
Teaching and Teacher Education
Trauma Management Through Social Work
Please note that Peer Advisers will not be hired without approval by the instructor of the course for which the applicant has applied to lead.