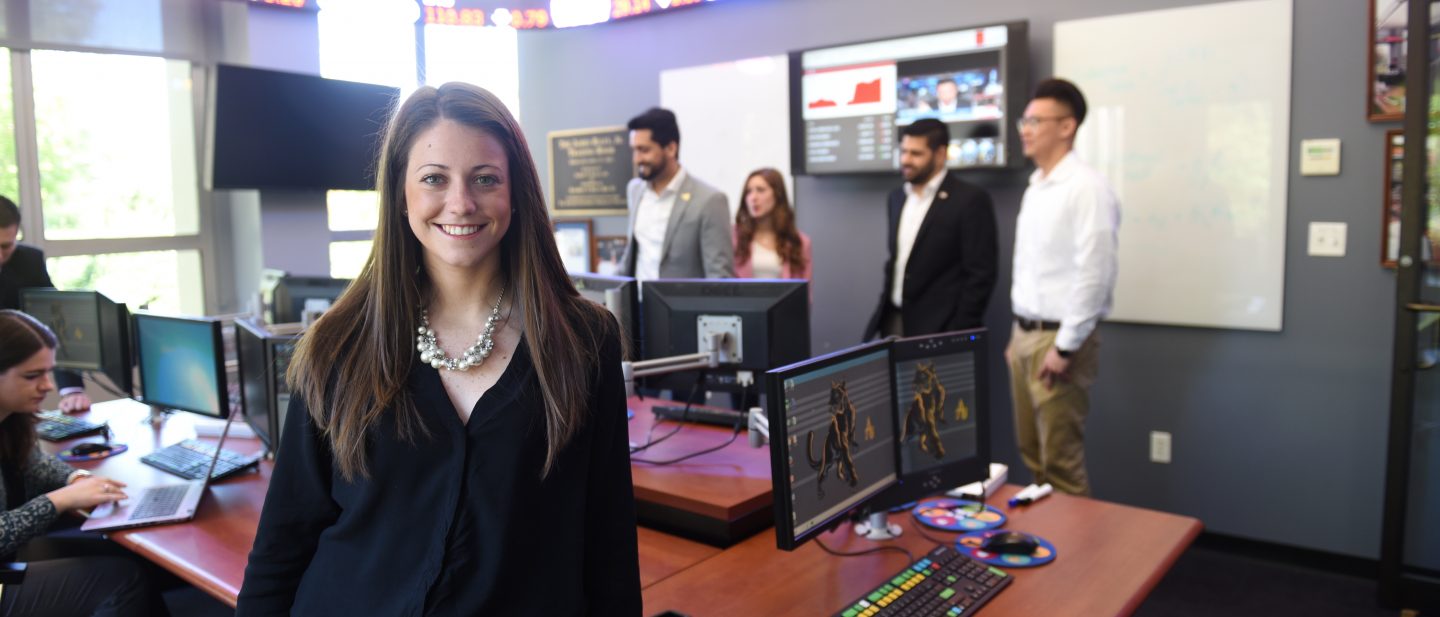 The School of Business Willumstad Winning Edge
You want a business degree that gives you the skills to step into a successful career. We use a streamlined, innovative approach to educate tomorrow's business leaders.
Our personalized programs give you the skills, credentials, connections and hands-on experience you'll need to get ahead. They're taught by world-class business leaders and scholars who are passionate about unlocking your leadership potential.
And we're on New York City's doorstep, giving us access to and resources from the most dynamic center of business in the world.
Whether you're looking to launch a career in finance, accounting, management, economics or marketing, Willumstad has what it takes: motivated students, engaged professors, internships and an opportunity to join a global network of alumni and employers.
Together, they're the Willumstad Winning Edge.
Why Willumstad?
Explore the six ways we'll give you an edge on your path to success.
1. A Powerful New Approach to Career Readiness
At Willumstad, we'll help you carry into the real world what you learn in the classroom. Our students board the fast track to success in their first semester, when our co-curricular specialist personally advises you about career-building activities. In cooperation with our Center for Career and Professional Development, we offer all the help and advice you need: résumé-writing workshops, interview practice, individual career coaching and even a business etiquette dinner.
We ensure that you enter the workplace with an internship, job-shadowing experience or mentorship before you graduate. Our team of career-oriented professionals will guide you to experiences that fit your interests.
Through our Internship Office, you'll gain hands-on job experience and the chance to earn credits toward a degree at the same time. Adelphi has close ties to companies and organizations all over the New York City area—like IBM, Marks Paneth, KPMG, Morgan Stanley, Credit Suisse, Merrill Lynch and EY—that recruit our students for internships, giving you opportunities to build résumé-ready experience and expand your network. Our Internship and Mentorship Program, featuring a dedicated internship director, will guide you through every step, from research to creating a standout résumé to landing a position.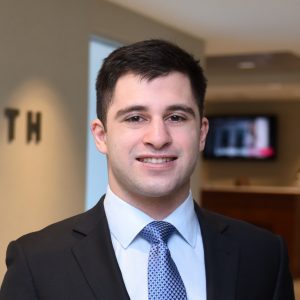 2. Real-World Tech Credentials to Kick-Start Your Career
Start your business career with a visible advantage, equipped with Microsoft certification. This worldwide industry standard is a valuable addition to any résumé, showcasing your technology skills and broadening your career opportunities.
Adelphi's Garden City campus is an authorized certification site for Microsoft Office Specialist and Microsoft Expert in Excel credentials. These widely recognized certifications lift you above other job applicants—one of the many ways we sharpen your Willumstad Winning Edge.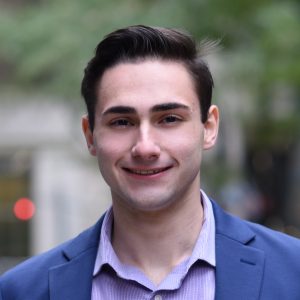 3. Academics With an Innovative Approach
Set your sights on a rewarding business career with sophisticated courses in accounting, finance, economics, marketing and management, created by industry leaders and top scholars.
We offer small classes with personalized attention from world-class professors with the knowledge, integrity and insight to give you a winning edge in tomorrow's business world. You'll get clear, forward-thinking instruction on business techniques and strategies for the 21st century.
Project-based classes pose real-world challenges for you to solve.
The Willumstad Winning Edge includes:
Finance students manage a portion of Adelphi University's endowment through the Student Investment Fund. You'll review the fund's $350,000 portfolio, prepare investment analyses and present recommendations to University and business leaders.
Finance students will research and analyze investment instruments on our Bloomberg terminals—the same specialized equipment that finance professionals use—in the James Riley, Jr. Trading Room.
Under the guidance of marketing leaders, you can design semester-long projects with corporate partners like GEICO, 1-800-Flowers.com and UPS to develop branding and communications plans, launch new products, and make cost-saving recommendations.
A Willumstad education extends far beyond the classroom to a carefully selected lineup of leadership opportunities, corporate internships and partnerships, and campus events that attract market-leading executives, government leaders and scholars.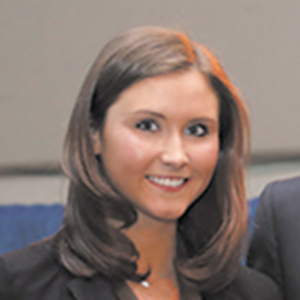 4. Learning for Leadership: A Critical Business Skill
We offer opportunities for growth and responsibility that you won't find anywhere else—all part of our personalized approach to learning with world-class faculty.
Leadership opportunities open to undergraduates include:
Willumstad Leadership Scholars Program, a highly selective program for seniors that provides the opportunity to work on a cross-disciplinary team, think creatively, research a university issue and then present findings to Adelphi leaders.
Beta Gamma Sigma Global Leadership Summit, a prestigious annual conference for select high-achieving students from top business schools around the world.
Business Plan Competition, an annual Shark Tank-stylecontest for the chance to win cash prizes to fund your ideas.
University Trading Challenge, where students compete with teams from other universities. Experience an incomparable simulation of real-world trading while demonstrating your ability to analyze, strategize, make decisions and give presentations.
Women's Leadership Conference, a networking event for recruiters, business leaders, alumni and students. Presentation topics include negotiation, entrepreneurship and innovation in the workplace and women in leadership roles.
Student-led clubs and organizations, help you build your professional network and gain leadership experience with a career focus.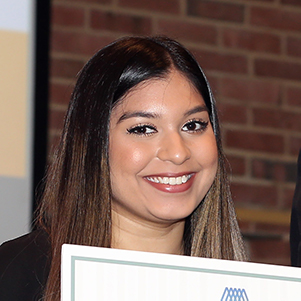 5. A Global Network to Help You Connect
As a student, you'll join an energetic, diverse student body drawn from across the nation and around the globe and start connecting right away at campus events and social mixers led by executives, government leaders and scholars. Online, you'll learn to leverage the world's largest business networking platform as we help you develop an effective customized LinkedIn profile. And you'll be eligible for Alumnifire, a networking group exclusively for Adelphi students and alumni. As you step into your business career, you'll find Willumstad connections everywhere you go—evidence of the Willumstad Winning Edge.
Our graduates benefit from a powerful network of more than 35,000 alumni at top organizations worldwide. You'll connect with managers, executives and entrepreneurs from top firms, and attend Practitioners' Perspective lectures or through student-led club meetings with guest speakers.
Our alumni often return to campus to share their stories. Recent alumni lecturers include:
Loretta V. Cangialosi '80, senior vice president and controller, Pfizer Inc.
Michael Hurley '06, MBA '09, strategic account manager, App Annie
Nicholas Iadevaio Jr., vice president for human resources, L'Oréal USA
Curtiss Jacobs, co-founder and managing partner, Uptown Advisory Group
Katherine Quintana Malone '09, MBA '10, senior global compensation analyst, Latham & Watkins
Students also have the opportunity to connect with upperclassmen through our Peer-to-Peer Coaching program. To participate in this program, contact Lori Cary at lcary@adelphi.edu.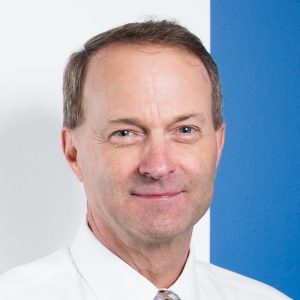 6. Personalized Learning From Top Faculty
Willumstad professors are leading scholars, entrepreneurs and executives with a passion for teaching. They'll give you the personalized attention and guidance that set our programs apart.
They are your mentors and guides through our high-impact, hands-on courses. They'll encourage you as you develop skills and gain knowledge, and they'll help you find internships and shadowing opportunities that prepare you to succeed. We place students into internships—which are either paid or for academic credit—in more than 200 organizations nationwide and around the globe.
Willumstad faculty members are top innovators and researchers, known for their expertise in key business disciplines. They'll help you explore and solve complex issues just like the ones they've faced in the business world.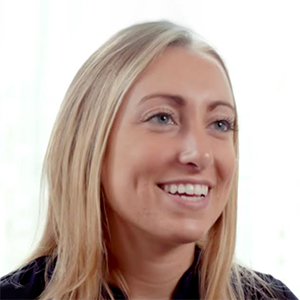 Location
Hagedorn Hall of Enterprise, 106