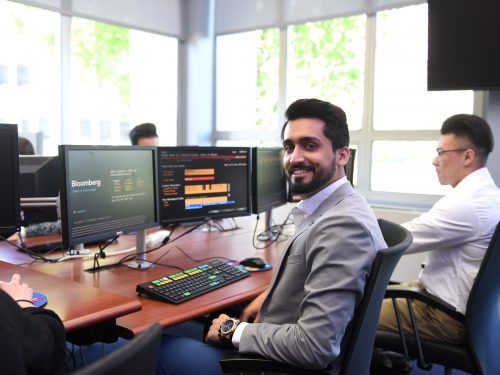 James Riley Jr. Trading Room
We offer on-site, real-life experience in the financial world.
Our high-tech trading room is equipped with the same Bloomberg terminals used by Wall Street financial professionals. These terminals are used by students for advanced research and analytics, and all finance majors earn their Bloomberg Market Concepts certification.
Students in our Student Investment Fund course work under the supervision of a faculty member to make recommendations for how to invest the money in the Student Investment Fund. The fund, now part of the University's endowment, was started in 2008 with funding from James Riley Jr., a retired Goldman Sachs & Co. managing partner and a benefactor of Adelphi. Its current value is over $475,000.
What Our Students Have to Say
Location
Hagedorn Hall of Enterprise, 121