Opened in 2008, the Center for Recreation and Sports and Performing Arts Center have been awarded LEED Certification by the U.S. Green Building Council.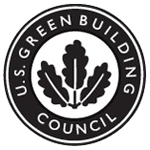 A LEED Commissioning agent was involved in these projects from the planning stages, ensuring that a wide array of environmentally-friendly features were included in the design and construction of both buildings.
Primary among these features is the geothermal heating and cooling system. Used in these buildings, as well as in Adelphi's newest residence halls, the system reduces Adelphi's fossil energy use by approximately 20% .
Many of the components of the LEED Certification Program relate to indoor climate control. Different rooms in each building can call for heat or cooling at the same time, and each room has its own thermostat to regulate the temperature settings within the room.  The system has also proved to be much less costly to maintain then a conventional heating or cooling system, and ensures that ozone depletion and our effect on global warming have been kept to a minimum.
Additional features of Adelphi's LEED-certified buildings include:
Implementation of a construction waste management program that achieved 86% diversion of demolition and construction waste from landfills.
Use of 60% certified wood harvested from responsibly managed forests.
Use of regionally produced materials from within 500 miles of the campus to decrease the consumption of fossil fuels by suppliers when materials are delivered to the campus.
Energy Use and Conservation
Purchase of Renewable Energy Certificates to offset 70% of the project's electrical use.
Use of a high reflective roof material to minimize heat island effect and, in turn, reduce cooling loads in the summer season
Use of high efficiency light fixtures that incorporate daylight harvesting sensors to reduce energy use.
Use of high performance glazing that has been specially treated to maximize natural light while minimizing heat loss and transmission.
Use of skylights and glazing to maximize indirect natural light and reduce the need for artificial light.
Use of water efficient faucets, shower fixtures, dual flush toilets and a weather-based irrigation system to reduce water use by more than 30%.
Learn more about Adelphi's efforts to reduce and improve energy consumption on campus.
Indoor Environmental Quality
Smoking is not allowed in buildings or within 25 feet of the entrance to any building, outdoor air intakes, and operable windows. Learn more about Adelphi's Fresh Air Campaign.
Use of low emitting paints and carpets, urea-formaldehyde free wood, and the implementation of a construction indoor air building flush-out to assure a healthy environment for building users.
Ventilation system is monitored in all buildings for most spaces.
Resources for Building Occupants and Visitors
On-site bicycle storage, changing rooms, and dedicated hybrid vehicle parking spaces to discourage automobile use.
Implementation of a recycling pilot program that will apply to all new facilities, including disposal units provided for storage and collection of recyclable materials in all buildings. Learn more about Adelphi's recycling initiatives.
About the USGBC and LEED-Certification
Adelphi is a member of the U.S. Green Building Council (USGBC), the nation's foremost coalition of building industry leaders working to promote buildings that are environmentally responsible, profitable and healthy places to live and work. In order to promote this, the USGBC has developed the Leadership in Energy and Environmental Design (LEED) program. The LEED Green Building Rating System® is a voluntary, consensus-based national standard for developing high-performance, sustainable buildings. All new construction on campus will be designed as LEED-certified projects.
Location
Klapper Center for Fine Arts, 122