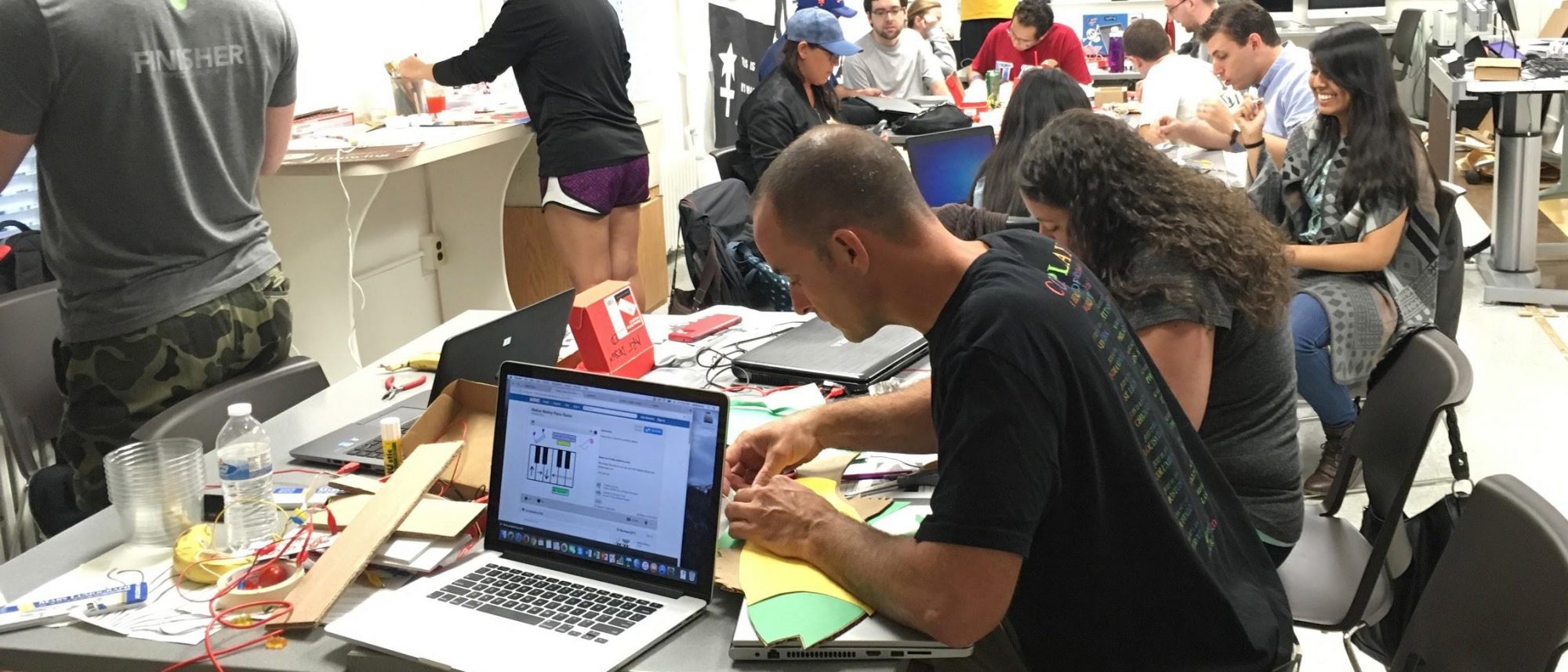 We're preparing the next generation of science, computer science and math teachers.
Through scholarship support, the New York Noyce STEAM Pipeline Program at Adelphi/NSF Robert Noyce Program is designed to encourage individuals with a background in science, computer science or math and/or trained in STEM fields to consider a teaching career in math or science education.
Program Highlights
This program allows qualified individuals to earn an MA in Education and a New York State Teaching Certification for grades 7-12 in biology, physics, earth science, chemistry or math.
Concentrations in STEAM Teaching
Learn creative teaching methods that combine art and design with STEM (Science, Technology, Engineering, Math) problem-solving principles.
Financial Support
Students will receive a $30,000 scholarship paying full tuition for the 13-month graduate program.
High-Quality Education
This core program leads to the MA in STEAM Teaching and Learning and prepares scholars for initial certification in teaching grades 7-12 within the science or math disciplines. Computer science education candidates earn the initial certification to support grades K-12 learning.
Situated Teaching and Learning
A focus on engaging Scholars in learning to develop robust skills in curriculum design through STEAM approaches embedded with program coursework, workshops, residencies, and internships (i.e. out of school experiences as well as school-based field experiences).
Integration of Non-Formal Learning Experiences
Scholar participation with an informal learning center during which Scholars will work closely with a community-based organization in preparing and implementing STEAM-related field experiences for students in grades K-12 in a paid internship.
Support and Mentoring
The program will support scholars through participation in a Scholar Learning Community (SLC) for the first two years of teaching serving as an opportunity to continue building professional teaching skills through STEAM, collaborate with others in deep reflection of their practice and build a trusting community and network of Adelphi Noyce scholars.
New York City
This program is located at the Adelphi Manhattan Center.
Program Goals
The New York Noyce STEAM Pipeline: Preparing Next Gen Science and Math Teachers program is framed by the following goals:
Enhance and broaden strong partnerships between K12 school partners, university faculty and administration, and regional informal learning environments;
Increase the number and retention of highly qualified students from underrepresented groups that graduate with a math or science teaching degree;
Increase the use of STEAM (STEM + Art/Design) practices in classrooms to augment and enhance math and science curriculum aligned to either The Next Generation Science Standards/NGSS and The National Council of Teachers of Mathematics.
How to Apply to the New York Noyce STEAM Pipeline Program
We'll guide you every step of the way. Submit the following:
A completed application for graduate admission. Applicants should indicate their interest in the "New York NOYCE Grant" (prompted on the application) and

MA in STEAM (STEM + Art/Design) Teaching and Learning degree

Official transcripts from all institutions attended
Proof of a bachelor's degree earned at an accredited four-year institution
A personal essay(prompted on the application)
Two letters of recommendation from academic or professional sources
Résumé
Manhattan Institute for STEM and the Imagination (MIXI)
The Manhattan Institute for STEM and the Imagination (MIXI) is housed at the Adelphi University Manhattan Center.
MIXI periodically hosts STEM-related events that are open to the public and also would be of particular interest to faculty and also current or prospective students of the Ruth S. Ammon College of Education and Health Sciences' master's programs in STEAM Teaching and Learning.