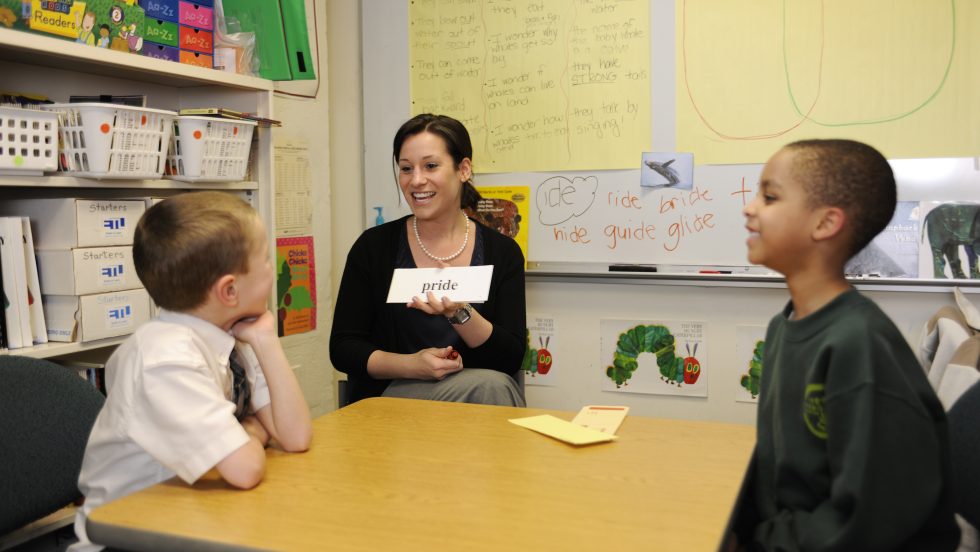 The New York City Department of Education (NYC DOE) has awarded Adelphi University a $9 million Teaching Fellows Program grant. The six-year grant, $1.5 million each year, will prepare an estimated 900 teaching fellows for New York City public schools at Adelphi—about 150 per year.
Since 2000, the New York City Teaching Fellows Program has been collaborating with selected universities and colleges to prepare teachers with alternative routes, addressing teacher shortage areas in New York City school districts. The programs offered include teaching English as a foreign language (TESOL) and bilingual education, science education faculty, special education (including autism), and childhood and adolescent education.
"Adelphi is influencing alternative teacher preparation by providing quality education programs," said Xiao-lei Wang, PhD, dean of Adelphi's College of Education and Health Sciences. "This grant will help strengthen collaboration between Adelphi and the NYC DOE and serve as a model for future teacher preparation."
There are three types of teaching fellow programs being offered at Adelphi's Manhattan Center:
Alternative Teacher Preparation Route:

 

This program prepares those who do not have a degree in teaching. Rather than completing a traditional teacher education program prior to entering the classroom, teaching fellows pursue a master's degree in education while teaching full time in a New York City public school.
Advanced Certificate in a Specific Content Area:

 

Teachers currently working in New York City schools can take an advanced certificate in a specific content area (such as science education/math, TESOL or special education).
Traditional Educational Program:

 

Students will go through Adelphi's regular teacher education programs.
The new teaching fellows program is geared toward students studying science education, special education, and TESOL/Bilingual areas and will be taught in a cohort model. Only those recruited for this program by NYC DOE and the Adelphi Office of University Admissions will be able to enroll. In addition to the grant to Adelphi, which allows for enhanced courses and other services, NYC DOE will subsidize tuition for all teaching fellows.
The first cohort of teaching fellows for Adelphi is scheduled to launch in January 2022.
Learn more about the NYC DOE Teaching Fellows Program.
The Adelphi University College of Education and Health Sciences aims to prepare educators and health professionals to be leaders in our global society through student-centered undergraduate and graduate curricular, experiential and research opportunities. The College offers programs across two schools: the Ruth S. Ammon School of Education and the School of Health Sciences.
The School of Education in Adelphi's College of Education and Health Sciences offers outstanding undergraduate and graduate programs in education, including the STEP Accelerated Five-Year Program, while the School of Health Sciences offers degrees from the Department of Communication Sciences and Disorders, as well as many fields within the Department of Health and Sport Sciences. Learn more about Adelphi's College of Education and Health Sciences at adelphi.edu/education.