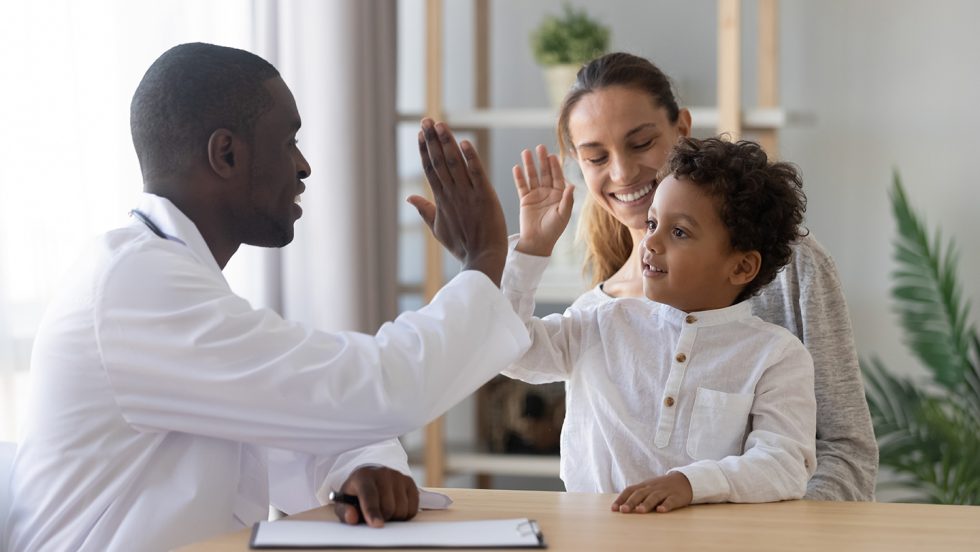 The​​​​​​​​ Health Resources and Services Administration (HRSA) has awarded Adelphi University's School of Social Work and College of Nursing and Public Health a grant to train 120 graduate students in behavioral healthcare.
The four-year grant of $480,000 a year will focus on training and placing students in organizations that serve children and adolescents in under-resourced communities.
The program, Interdisciplinary Education and Training Experience (IDEATE) Fellowship—Integrated Behavioral Healthcare for Children, Adolescents, and Transitional Youth in New York, is in partnership with Concert Health, America's leading behavioral health medical group, and Northwell Health, New York's largest healthcare provider. Concert and Northwell will host most of the students during their clinical rotations.
"Nursing practitioner and graduate social work students will be jointly placed in clinical rotations in behavioral healthcare sites where they will receive coordinated training with actual clients and supervised by trained nursing/social work supervisors," said Manoj Pardasani, PhD, dean of the Adelphi School of Social Work. "We're very grateful for the support of both Concert Health and Northwell and of course for the grant itself. It will allow us to better serve our students, help develop a critical workforce for the future and, by extension, serve communities who really need these services."
Dr. Pardasani notes that the pairing of nurse practitioner and social work students fosters an important interdisciplinary approach to providing health services—and the geographic diversity is enhanced by the social work students who have been studying at Adelphi's Garden City campus, along with centers in Manhattan, Poughkeepsie and Hauppauge.
The project will begin this fall with 30 master's degree students from nursing and social work, with a total of 120 students completing the training over the four years. Each cohort will participate in the program throughout one academic year.
"Well-trained behavioral health practitioners are integral to meeting the demand for mental health services, especially in underserved areas," said Marissa Abram '08, PhD '17, assistant professor in the College of Nursing and Public Health and associate project director for IDEATE. "The collaborative-care model provides a mechanism for holistic care where the patient can have their medical, mental health and substance abuse conditions managed together. This is important as medical and mental health are intertwined and both are vital to a person's overall well-being. Psychiatric nurse practitioners provide a variety of services that include treatments such as medication management and psychotherapy."
Dr. Abram noted that she and project director Chrisann Newransky, PhD, assistant professor of social work at Adelphi, are excited about the interprofessional training the students will receive. The nurse practitioner and social work students will receive training that is cutting edge and reflective of the "real world." "Students will interact and collaborate with each other in both didactic and clinical learning experiences," she said. "Training will be focused on best practice and include contemporary topics like caring for diverse populations and telehealth care."
In addition to supporting students in their professional development and post-graduate placement, the program also identifies needs at healthcare organizations and facilities in underserved and low-income areas and brings students and training to those communities.
"The key to increasing access to behavioral health services is to expand behavioral health treatment in integrated settings," said Virna Little, LCSW, PsyD, co-founder and chief operating officer of Concert Health. "Training nurse practitioners and social workers to practice in integrated settings and to use evidence-based treatments like Collaborative Care will dramatically increase available behavioral health services for safety-net populations. We're excited to be working with Adelphi to build the nation's premier training program for the next generation of clinicians."
Concert Health will be providing placements for students of both disciplines in underserved communities. The students will receive hands-on training from faculty with expertise in working in integrated settings, weekly specialized didactic seminars and specialized online learning modules.
The grant funder, HRSA, is an agency of the U.S. Department of Health and Human Services located in North Bethesda, Maryland. It is the primary federal agency for improving access to healthcare services for people who are uninsured, isolated or medically vulnerable.
Interested students are encouraged to learn more about the program. For additional information, email Dr. Newransky (cnewransky@adelphi.edu)  social work and Dr. Abram (mabram@adelphi.edu) in nursing.