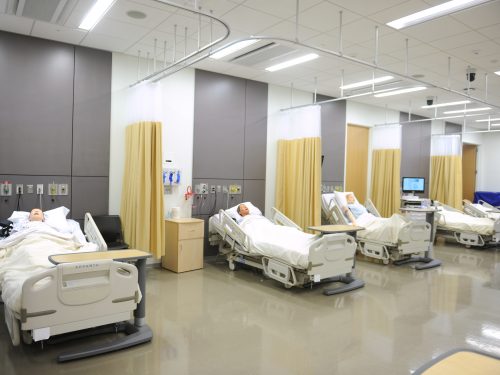 Clinical Education and Simulation Lab (CESiL)
Simulate practical experience, right on campus.
Providing a wealth of opportunities, the Clinical Education and Simulation Lab (CESiL) is where we translate theory into practice. The center includes:
a 22-bed lab
one fully functioning community health room (set up as a one bedroom studio apartment)
seven clinical exam rooms
one pediatric exam room
two classrooms fully wired for testing and web conference
four high fidelity mannequins
20 low fidelity mannequins
birthing mother mannequin
pediatric, newborn and child mannequins
an obesity suit
Our skills laboratory simulates the hospital setting with all appropriate and supportive supplies and equipment, which includes advanced patient care mannequins and simulators and many other innovative educational devices.
In addition to regularly scheduled classes held in the nursing laboratory, open laboratory skills sessions are held regularly with a clinical coordinator, providing all students with an opportunity for reinforcement of clinical learning.
The Nexus Building is the new home to the College of Nursing and Public Health, featuring ultra-modern simulation labs.