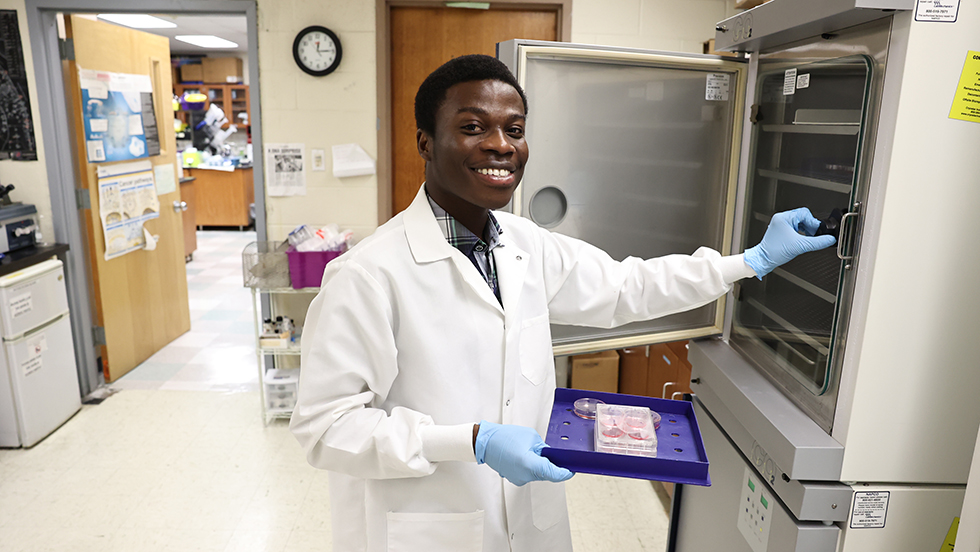 MS student Samuel Sey spent the summer conducting research as one of Adelphi's competitive Jaggar Community Fellows. Unique to Adelphi, Jaggar internships advance student careers with paid internships while supporting important nonprofit missions.
When Samuel Sey was studying biology in his home country of Ghana, he noticed something about the scientific papers he read: Most of them were authored by researchers in America. He soon realized that, to move his career and life forward, he needed to earn his master's degree in the United States.
"America is unique when it comes to education and research," Sey said. "I really wanted to get that exposure, that experience in my field."
Sey applied to Adelphi's MS in Biology program based on a friend's recommendation, and he received the funding to attend. "If it wasn't for Adelphi, I wouldn't have been able to even come to the U.S.," he said. "I also chose Adelphi because the curriculum and training for their master's program is very intuitive and comprehensive. It's structured for me to be able to pursue the research that I want to."
In fact, Sey just completed his summer as a Jaggar Community Fellow in the Institute for Nursing at Northwell Health, the largest healthcare provider in New York state. Now in its 14th year, Adelphi's competitive Jaggar Community Fellows Program provides top students with paid summer internships at nonprofit organizations. Boasting a 4.0 GPA, Sey was just one of three graduate students chosen for the 2023 session.
Helping humanity at Northwell Health
Sey initially wanted to become a doctor, but discovered his interest in cancer research and biology while earning his bachelor's degree in Ghana. "I wanted to help humanity, and I know cancer research is a big field in America," he said. "I thought maybe through my work I could bring out a new discovery, even win a Nobel Prize."
Once at Adelphi, Sey applied for the Jaggar Community Fellows Program so he could gain experience at a nonprofit and earn money in the process. Other 2023 fellows interned at organizations like the American Cancer Society, the National Urban League, and the Cradle of Aviation Museum.
"As an international student, I didn't have the means to take an internship for credit," Sey said. "The Jaggar program was a better choice for me and it allowed me to do something worthwhile in my field."
At Northwell Health, Sey assisted new nursing hires with onboarding and orientation procedures. He led a pilot study to help digitize the Institute's inventory and free up storage space. And he conducted a literature review to source research papers about social determinants of health in nursing education.
"I learned a lot through that project," Sey said. "I was able to discover more about how to find scientific papers and which strategies to use."
Sey also credits the Northwell Health community with helping him adjust to American culture and feel a sense of belonging. "Within the first few days of working there, I realized that this was a very welcoming place," he said. "I was there to work, but I also felt like we were a family. Everybody's checking up on you, saying, 'How are you doing? What are you working on? What are your ideas?' And it was simply amazing."
Conducting research on the shores of Long Island
Sey also embraced opportunities to conduct hands-on research at Adelphi. In fact, he took a course in behavioral ecology—outside of his concentration—just to build his research experience and skills.
In that course, Sey and a fellow student studied the behaviors of the Asian shore crab (Hemigrapsus sanguineus), an invasive species that most likely was brought to Long Island by ships emptying their ballast tanks. The newcomers are wiping out native crab communities and creating an ecological imbalance. So the students tested a controlled, biological method of eliminating the species: cannibalism.
"No crabs died in our test sample, but some lost their limbs and their pincers, suggesting that some form of cannibalism may have occurred," Sey said. "We then realized this could be tested in other locations on Long Island."
Sey and his colleague analyzed and presented their findings through their Research Day poster, "The Role of Sex Ratio and Prey Item Abundance on the Invasive Hemigrapsus sanguineus."
A love for teaching unlocked
Sey became an assistant teacher as part of his scholarship agreement with Adelphi. While he was initially skeptical about the job, thinking it would just involve grading papers and taking notes, he grew to love it. "Whenever you are able to help a student learn something they didn't know, it's completely priceless," he said.
Sey also recalls returning to campus last winter after finishing his first semester as a teaching assistant. He was still feeling a bit lonely and adjusting to life in the United States when some students spotted him.
"They were yelling my name and came running to me to give a hug," he said. "They said, 'Oh, we miss you so much. We wish you were going to be our TA again!' And I realized how important my position was to the students. I'd never felt so glad that I was able to help people in that way."
After graduation next year, Sey hopes to earn his PhD in cancer research, going on to work in a clinical setting and, of course, teach as an adjunct at a university. But first, he plans to enjoy every moment of his last year at Adelphi.
"I want to create more connections—with other professors in the department, other students, people at the career center," he said. "The community has just been amazing. As somebody who's not from here and doesn't have any family here, I am just so grateful for Adelphi. I think this is a blissful place to stay."