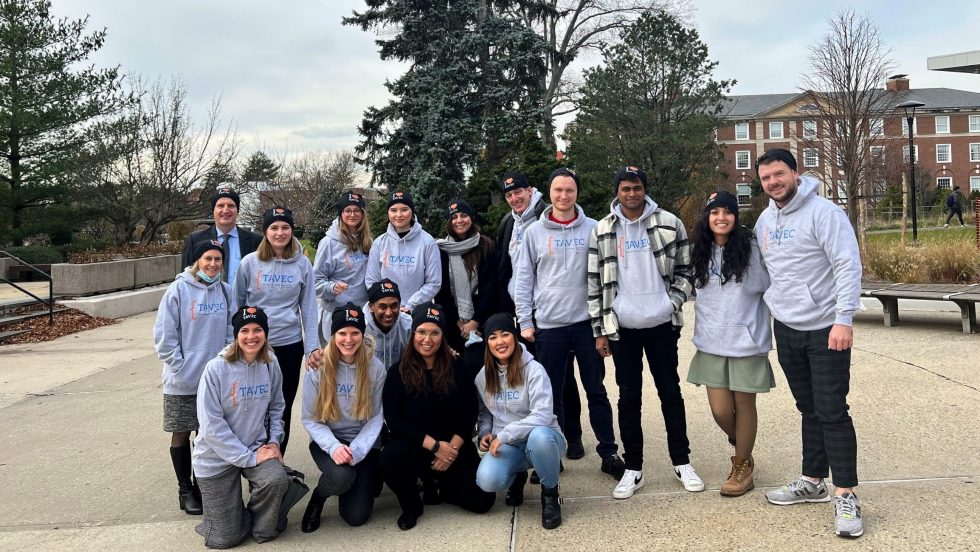 What began as a virtual collaboration in 2020 and turned into a successful international exchange will move to its next phase this month.
Over Adelphi's 2022 spring break, two faculty members and three students from the Robert B. Willumstad School of Business will travel to Cologne, Germany for a second round of exchanges in the successful TAVEC collaboration with Hochschule Fresenius.
The TAVEC project is the brainchild of Priya Nayar '05, an Honors College graduate who serves as director of the Fresenius University of Applied Sciences study center in New York City and manager of the school's North American operations and business development. Her idea: pair two Adelphi business classes with two Fresenius classes teaching the same topic, allowing faculty and students to conduct joint projects to be presented at an online juried competition. Winning students would have the opportunity to travel to the other country to meet their counterparts.
A grant from DAAD, the German Academic Exchange Service, helped to fund the pilot of this exchange. Given the demonstrated value and success of the program, Adelphi and Fresenius agreed to provide funds for it to continue.
During their visit to Germany, Adelphi's faculty and staff will attend a welcome gathering, sit in on classes and tour the campus. Students will meet their virtual classmates and project partners in person. Faculty members will also join planning meetings with their Fresenius counterparts. The group will visit StartPlatz, a business startup incubator and accelerator, and have a free afternoon to tour Cologne.
The week of their return to the United States, their Hochschule Fresenius counterparts will visit Adelphi, and in addition to attending classes and touring the campus, will have free time in Manhattan and attend a professional sports game.
These journeys follow an October 2021 trip during which five Adelphi students, two administrators and one faculty member spent a week in Germany and a December 2021 visit to Adelphi from Fresenius' president, three faculty members and nine students. The visit included classes, a presentation in the Innovation Center, and tours of the Manhattan Center and the Clinical Education and Simulation Lab in the College of Nursing and Public Health.
"We're so excited about the continuation of our unique collaboration with Hochschule Fresenius," said Susan Briziarelli, PhD, associate provost for faculty support and global affairs. "The academic and cultural impact of this partnership is apparent each time our two institutions interact. It's inspiring to see how much our faculty and students learn from each other, from across the globe."