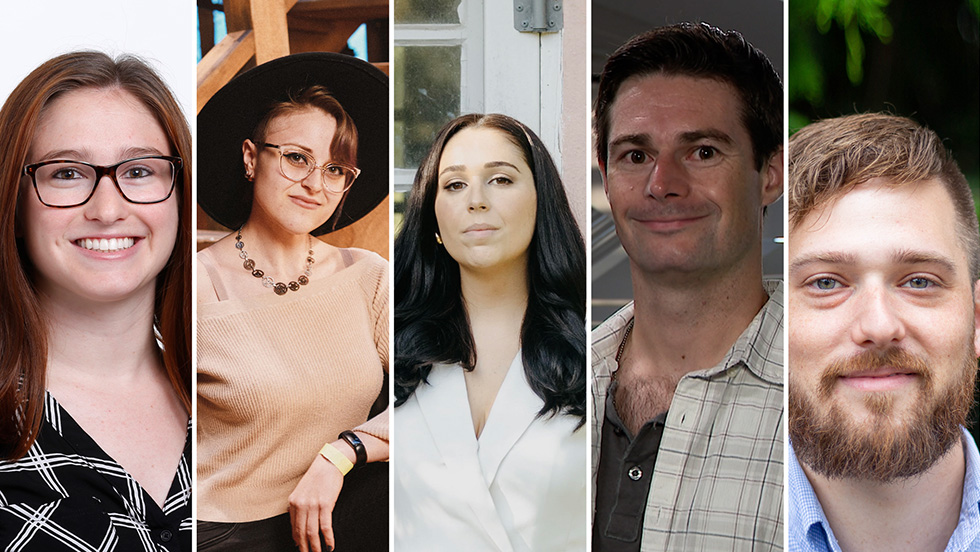 From TV to politics to nonprofits, these five alumni find common ground in their Adelphi experience.
It's not unusual for communications students to express their parents' concern that their major will set them on a path to unemployment. But the truth is that the options in the field are quite creative and lucrative—as long as students take advantage of the core skills needed to succeed that are offered in the Adelphi University Department of Communications.
The job opportunities might not have been clear when they were still students, but in the case of these five alumni, it was the unexpected skills they learned in the classroom that set them on the path to their current careers.
From learning a passion for storytelling, to working behind the scenes in the control room, to taking advantage of internships and the mentoring opportunities from professors, these Adelphi communications students were able to land work in politics, nonprofits, news and television.
Meet these recent communications graduates and learn how they've used their degrees in their respective fields.
Mara Bush '14, Producer, ABC News
Mara Bush '14 is a producer at ABC News, a position she earned by advancing through her multiple internship experiences at Adelphi. She said she started at Public Access Television, then her current employer, who offered her a job right after graduation. "I started out as a production associate at ABC News and I worked my way up to the producer position I'm in now," she said.
Bush credits the communications department's curriculum for providing hands-on experience starting first year.
"I learned firsthand how to use the camera and lighting equipment and I took editing classes in the Mac Lab using editing software that is used in the industry," she said. "Through college I focused on filmmaking. I didn't know at the time that my passion for storytelling would land me a career in the news business. But those production skills I learned during my four years studying film at Adelphi turned out to be valuable for what I do today."
Jess Campitiello '19, Digital Communications Specialist, Cornell Tech
Jess Campitiello '19 currently works on the strategic communications team at Cornell Tech, Cornell University's Manhattan-based graduate campus for technology, business, law and design. As the campus' digital communications specialist, she manages and maintains everything from the Cornell Tech website, blog, newsletters, graphics, photography and social media to overseeing campus merchandising, advertising, videography, brand usage, online analytics and department finances.
"I credit my pathway to success to the amazing mentorship and education I received during my time at Adelphi," said Campitiello, a member of the Honors College who earned her BA in communications with a concentration in journalism and public relations, as well as the Frank Leonard Award and membership in Lambda Pi Eta. "The professors in the communications department were integral in guiding me toward a career where I could truly succeed. Were it not for their support, I would never have learned where my strengths lie, nor that I have the capability to do anything I set my mind to if I have enough confidence in my skills."
Chelsea Lombardo '19, Producer, CNBC
Chelsea Lombardo '19 said her love for being in live television was born in Blodgett Hall's own TV studio, where she progressed as a student, a teaching assistant and even the founding president of the television production club. Lombardo currently works as a producer on two of CNBC's dayside shows, The Exchange and Power Lunch. She puts multiple segments to air each day by researching topics, booking guests, writing anchor scripts and working in the control room to help navigate the flow of programming.
Lombardo said it was adjunct professor Brenda Laux's Television Newsroom classes that really opened her eyes to a whole new career path and prepared her for professional work.
"I was always interested in working behind the camera, but never realized just how many cool jobs there are in a TV control room," she said. "From learning how to write a TV script to technical directing a show, I felt like I was constantly learning new skills that I could execute in the real world. When I started my first news internship, my supervisors were pleasantly surprised to see just how much I already knew about production. And I owe all of that to my time at Adelphi."
Andrew Ryan '16, Photographer, Editor and Truck Operator for News 12 Long Island
Andrew Ryan '16 landed his first full-time job at Verizon Fios1 News right after graduation. He said there are two Adelphi experiences that he credits for that.
"I attended a university career expo where I was able to network with industry professionals and speak directly with journalists who were sent by their stations to cover the event," he said. "I stepped out of my comfort zone of only taking movie, film and editing classes and registered for other media and TV focused courses. Learning new skills and applying them to a different medium is precisely what helped me get to where I am today."
Ryan currently works as a photographer, editor and truck operator for News 12 Long Island and has covered major news stories as they've occurred on Long Island. In 2021, he won his first New York National Academy of Television Arts & Sciences (NATAS) Emmy for a political feature that he worked on and he has since been nominated three more times.
"The main lesson I hope current students learn is to never say no to a new opportunity. It may seem difficult, intimidating and uncomfortable, but learning practical skills and experience in college is the most opportune time to prepare for the future," Ryan said.
Brett Spielberg '13: Director of Strategic Communications and Advancement at The Waldorf School of Garden City
Brett Spielberg '13 is currently director of strategic communications and advancement at The Waldorf School of Garden City, where he manages the school's communications and development, overseeing all aspects of communications, fundraising, events and strategic initiatives. Spielberg said that despite majoring in journalism and serving as editor-in-chief of The Delphian, he's never actually worked as a journalist. His first job after graduation was as a copywriter at the public relations firm Zimmerman/Edelson, Inc. (now ZE Creative Communications), and from there he went into politics, working in the administration of Nassau County Comptroller Jack Schnirman and then as director of communications for the New York League of Conservation Voters.
But through all of that, he said the background he got at Adelphi laid a solid foundation, from professors emphasizing how important it is to network to being open to different career opportunities that came his way.
"Studying journalism at Adelphi is where I set myself up on a good career path," said Spielberg, who also owns his own full-service communications consulting company 1991 Solutions. "So many of the lessons from Adelphi's communications department, from working with Professor [Liza] Burby on The Delphian to manage the publication, to production classes with Professor [Terrence] Ross, to studying propaganda with Professor [Sal] Fallica [PhD] that tied so many core skills together. When I had the opportunity to work in government on the policy side, I saw myself applying the fundamental lessons of what I learned beyond just writing a press release; it was about effectively communicating with thousands of different people. I learned that if you work in communications, you must become the expert at whatever you're doing, and you need to be able to pivot at a moment's notice."
Spielberg said that experience and his current work have been opportunities to bring together a lot of the skill sets he learned in the communications department. "I learned that anything could be part of the job and if you're an effective communications person, you're able to collaborate with and manage others at a high level," he said. "I still write press releases and photo captions and articles for our publications. But I also manage a team, and that involves communication. The main thing I really learned from communications is how to talk to and connect with people from all different walks of life."
---
—Liza Burby is a freelance writer as well as an adjunct professor of communications at Adelphi University and faculty adviser for Adelphi's student newspaper, The Delphian.