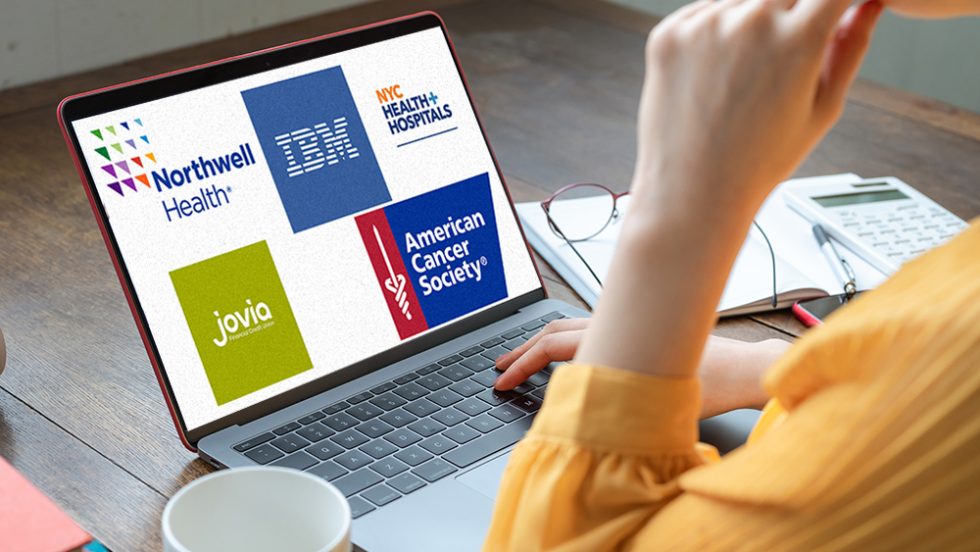 While the pandemic has temporarily put an end to most on-site internships, Adelphi's Innovation Center is helping both enrolled students and those taking a gap year to get hands-on, résumé-ready career experience remotely.
Internships are an integral part of an Adelphi education. But how can Adelphi students get them—and the career experience they provide—when the pandemic has forced most offices to close?
Enter Adelphi's Innovation Center, which launched in early 2020 to give students opportunities to work collaboratively on real-world projects for partner companies and nonprofits. Adapting to the current situation, the center is now providing virtual internships for enrolled students as well as for those taking gap years.
It is also integrating projects into a regular part of Adelphi's curriculum, bringing problem-solving experiences directly into classrooms via teleconference.
The center, which is headquartered in a 2,000-square-foot space in Swirbul Library, began arranging virtual internships even before the start of the current academic year. When the pandemic forced the cancellation of every internship planned for students in the Jaggar Community Fellows Program, the center helped design virtual projects and find 11 new nonprofit partners, including the American Cancer Society, the Brooklyn Chamber of Commerce and SEPA Mujer, an organization supporting women who immigrated from Latin America. Forty-four Jaggar fellows participated in the internships.
The center also helped develop summer internships for the Robert B. Willumstad School of Business. "We designed a virtual for-credit internship program for business students," said Zeynep Atabay, the center's operations manager. "We placed around 10 students into projects and managed those closely."
Creating a unique gap-year experience
With many students opting to take a gap year during the pandemic, the Innovation Center jumped to create programs for those who wanted to get career experience and earn academic credit for it. Its Gap Year Experience includes virtual projects for small groups of four to eight students, who work collaboratively on initiatives for companies including IBM, Northwell Health and Bayside Brewery.
One of the students in the program this fall was Phuong Pham, who earned her MBA from Adelphi in 2019. Planning to add an MS in Supply Chain Management, she chose to work on the Bayside Brewery project to gain some practical experience.
"I chose Bayside Brewery because when I looked at the project scope, it was tailored toward supply chain management and e-commerce, which fits my résumé perfectly," she told The Garden City News. "I think the program has improved my leadership, analytical, organizational and time management skills and has helped me learn more about my field, which is supply chain."
Bringing career experience into the classroom
One of the most interesting initiatives developed by the Innovation Center is LIVE Classes, experiential learning sessions that are integrated into regular courses. Created in consultation with faculty members, the projects are designed specifically to help students apply the concepts they learn in class to real-world challenges.
"I find a partner organization that has a problem that it would like to solve in an area that the faculty is teaching so students can have a real-life example of how to apply what they're learning to a real-life situation," said Graziela Fusaro, the center's director. "The external partner videoconferences into the class many times throughout the semester to work with the students on that specific problem."
Nearly 180 students, including those majoring in history, nursing and data analytics, participated in the LIVE Classes in the fall. Students work with business and nonprofits—including the American Cancer Society and Network Support Services, which helps formerly incarcerated individuals find work and housing.
Graduate students in the machine learning class taught by Juan Jaramillo, PhD, associate professor of analytics, participated in LIVE Classes with the Corona corporation, one of the largest manufacturers of ceramics in the Americas.
"My students worked on developing forecasting methods to predict sales for one of Corona's companies," Dr. Jaramillo explained. "They did such great work that the corporation's director of innovation invited them to present their ideas to him and other top-level executives."
For the Spring 2021 semester, the Innovation Center is looking forward to increasing the number of LIVE Classes. "We have more than 12 LIVE Classes that we're sourcing at this point, so we're constantly in contact with companies designing the scope for the projects," Fusaro said.
Keep up with the latest from the Innovation Center on its Facebook page.