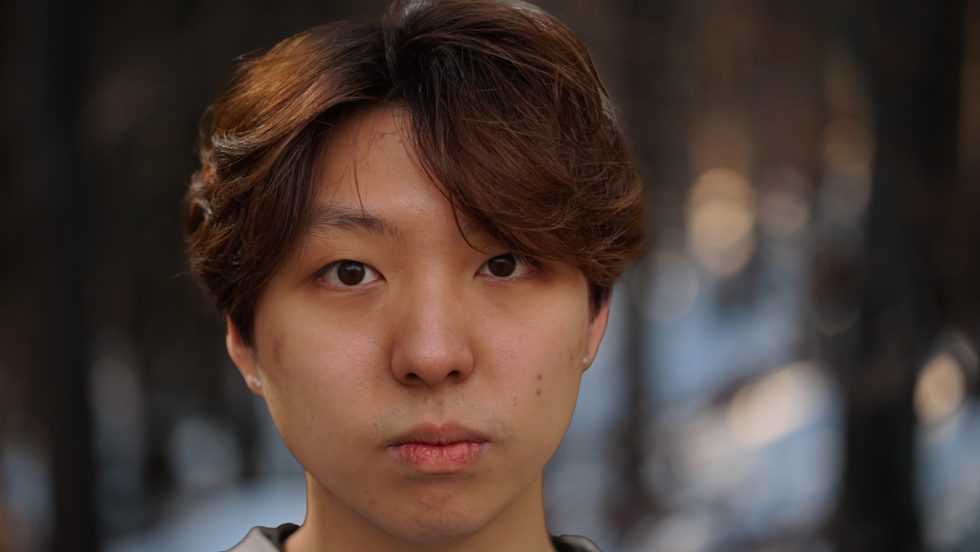 Adelphi senior Samuel Kang is the winner of two national honors at this year's Kennedy Center American College Theater Festival for his play, what we will be. He reflects on the continued leadership of Adelphi's theater program.
Sam Kang, a senior majoring in acting, has always wanted to work in the arts and enjoyed performing in high school.
But he quickly realized that the work of great American playwrights like Arthur Miller and Tennessee Williams didn't represent him and his experience as a Korean American from Queens, New York. When performing those classics, "It felt like I had to try to find a way to alter my voice in order to fit those roles," Kang said, "because there really weren't a lot of Asian roles in theater."
Instead of waiting for a story like his to be told, Kang wrote it himself. His 90-minute play, what we will be, which unpacks generational trauma and the concept of the American dream, recently won the National Undergraduate Playwriting Award and the Paul Stephen Lim Playwriting Award at the Kennedy Center American College Theater conference.
"I pivoted from acting to writing because I wanted to perform without feeling like I had to sacrifice who I was," Kang said. "I wanted to use my words to amplify the Korean American experience and give back to the community that made me who I am."
Kang will receive his honors at the Kennedy Center American College Theater Festival (KCACTF), where his play will be workshopped. He will also receive a summer residency at a national theater to be announced.
"Past recipients of these awards have been playwrights that I look up to immensely—playwrights like Julia Izumi, whose play is currently being produced at Playwrights Horizons, and Lauren Yee," Kang said. "I'm incredibly blessed to even be on the same list as those writers."
Adelphi theater students are no strangers to recognition, with a legend among them. Jonathan Larson '82, the late Pulitzer Prize-winning creator of musicals like RENT and tick, tick… BOOM! honed his skills while at Adelphi. The Larson Family Trust recently announced a million-dollar estate gift to benefit future actors and playwrights on Adelphi stages.
More recently, the Adelphi Alumni Playwrights Group (AAPG), led by Megan Lohne '04 and Brittany Mills '20, launched two new virtual theater festivals. And Adelphi students have received numerous honors at the KCACTF, where tens of thousands of theater students from hundreds of colleges and universities showcase their work.
In fact, that's where Kang first won regional and national recognition for what we will be in 2021, when it was just a 10-minute short play. The play was inspired by a conversation Kang had with his father, who had spent time in prison. He took that conversation and turned it into a piece about leaving behind a previous life in pursuit of the American dream.
"The American dream, especially in the ecosystem of American theater, has generally been presented through the lens of a white, suburban worldview," Kang said. "I wanted to put it through the lens of a Korean American who's chasing that same kind of illusion of wealth, and what it means to sacrifice your family in pursuit of it."
Kang wrote the short play in two days on the advice of his roommate, playwright Fernando Mercado '22, and Lohne, adjunct faculty member at Adelphi. "Megan Lohne has been my writing mentor since I was a sophomore, and she really pushed me to submit to the KCACTF," Kang said. "Without her, I wouldn't be in the position I am right now."
Next, Kang will be participating in the national Irene Ryan Acting Scholarship finals with his acting partner, Kimmarie McCrann '22. After he graduates this year, he plans to take a gap year to work on his writing. Kang then hopes to attend graduate school for playwriting and continue submitting works to playhouses at the regional level and even off-Broadway.
"While I've been successful at the college level, I'm anxious to see if I can navigate the professional world of playwriting and have my voice be heard in that space," Kang said. "It's nerve-racking, but I'm incredibly excited to see what these opportunities will bring."