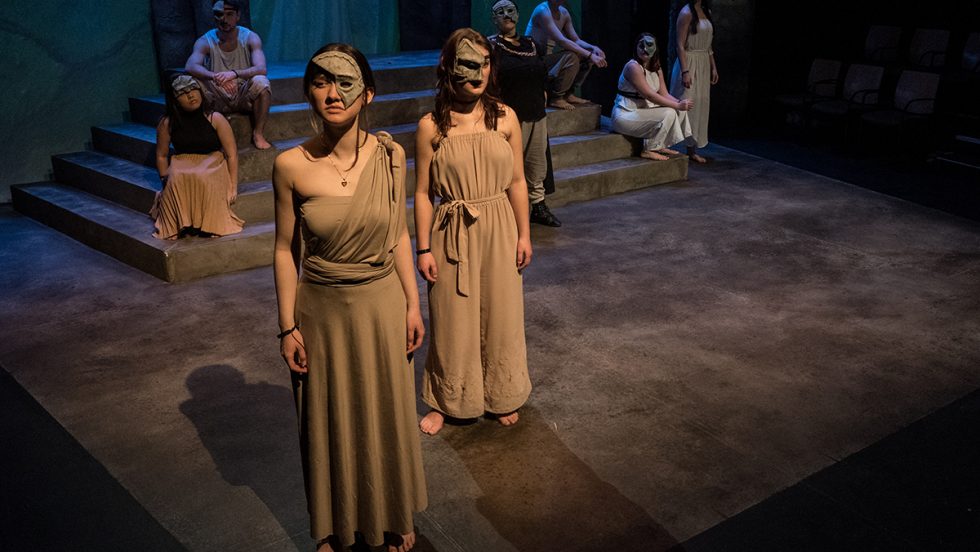 The prestigious experience and honors achieved by our gifted students in acting, directing and design/tech are a powerful springboard for their future careers.
Every year, Adelphi University students compete in the Kennedy Center American College Theater Festival, going up against 18,000 theater students from hundreds of colleges and universities around the country. They hone their monologues, put the finishing touches on their set designs, and complete lengthy dramaturgical analyses. Students from Adelphi have received numerous honors at the festival over the years.
This year, two students—current senior Kimmarie McCrann and Fernando Mercado '22—won the regional competition and proceeded to the national festival as finalists. A third student, Nicole Sponaugle '22, joined them as a national finalist.
McCrann won the Stage Directors and Choreographers award in the Region 2 festival. Sponaugle was a national finalist in the Scenic Design category. Mercado—whose entries included a scene from Cloud Tectonics by José Rivera—performed with Emma Isabel '22—won the coveted Irene Ryan Acting Award in the regional festival. Isabel placed second. Mercado then placed second in the national festival, an honor that included a $2,500 prize.
Matthew Pezzulich's thesis production of Antigone was awarded four certificates of merit, including one for direction. Pezzulich, who graduated in May 2022, was also invited to Washington, D.C., this summer to participate in the Kennedy Center Directing Intensive.
These accolades are only the latest examples of Adelphi's annual strong showing at the Kennedy Center American College Theater Festival. Haley Franke '21 won the prestigious Musical Theater Intensive Fellowship in 2021. Also that year, This Odd Geometry of Time, an original work produced and performed virtually, was an official pick to be performed at the Region 2 festival. Written by Megan Lohne '04 and directed by Shoshanah Tarkow '06, both of whom are adjunct faculty members, the production won several honors. Certificates of merit were awarded to students in four categories, including design and stage management. Four students were nominated for the prestigious Irene Ryan Acting Award, twice the usual number of nominees from a single production.
And those were not the only awards won in 2021. The regional 10-minute-play contest was won by current senior Samuel Kang, who went on to the nationals, and McCrann won a Kennedy Center Directing Intensive scholarship.
The importance of the festival
"The American College Theater Festival is a great bridge between the academic and professional theater worlds," said Maggie Lally '82, associate dean of faculty programs in the College of Arts and Sciences and an associate professor in the Department of Theatre. "Connections made there have led to paid employment and paid internships for our students in major regional theaters."
The events associated with the festival, including numerous professional development opportunities, networking and award presentations, are a significant part of the entire experience. Finalists in each discipline are eligible for honors, residencies and scholarships.
The students also get seen. Mercado's performance at the festival earned him a role in a professional reading in Washington, D.C., this summer.
"We literally just swept everything this year!" Mercado said. "If you had told me six years ago I'd be here right now, getting paid to do what I love and winning an award at the national level, I wouldn't have believed it! I hope to be able to pay it forward, to be able to do what Megan has done for me, what Maggie Lally, Nick Petron, all the professors at Adelphi, and the Kennedy Center, have done for me."
Masterful mentoring matters
Lohne serves as one of the Department of Theatre's festival coordinators. She also mentors the festival acting and directing students, along with Tarkow. John Mcdermott, associate professor in the department, mentors the design and technical students and coordinates the festival with Lohne.
Their work with the students is an essential part of the department's extraordinary success at the festival over the years.
Lohne knows the power of a mentor because of her experience as an Adelphi undergraduate. "I never would have written a play if it weren't for the festival. Maggie Lally, who was my mentor in school, told me to write a play. I submitted it when I was a freshman acting major."
Lohne, whose play was chosen along with works by theater graduate students, had grown up thinking she couldn't write. "And then I had this mentor and professors say, 'Why not? What's wrong with trying something?' I did it. And as a result, I ended up getting an MFA in playwriting. I found this alternate career and life path."
The faculty are the secret to Adelphi's theater program, said Nicholas Petron, MA '70, professor and chair of the department. "We've had just great faculty that care deeply about our students and want them to succeed. Some have been with us for a long time and some for a short period of time, but all care deeply about the department and the University—and particularly the students."
As for Mercado, he has been auditioning every chance he can, and getting many callbacks and good feedback. Lohne, who owns her own talent management company, is now his manager. "He's one of the hardest-working students I've ever met," she said. "He's just so organically talented."
"I put my whole life into this and I'm doing everything I can," Mercado said. "Whatever way it happens, I just want to be working, to make a life out of this. Everything else is extra on top of that."