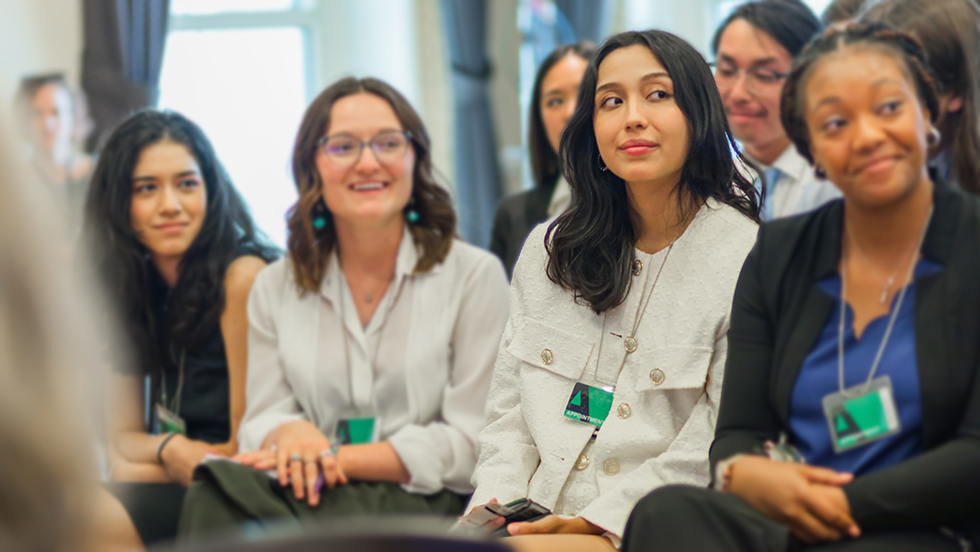 The U.S. Digital Corps, a program launched in 2021 by the White House to bring civic-minded early-career technologists to serve in the federal government, has selected Adelphi alum Lylybell Teran '22—one of just 4 percent of applicants chosen for this honor. Meet Teran and hear why this project is so important for her career and the veterans who will benefit from her work.
Adelphi computer science and mathematics alum Lylybell Teran '22 has been selected for the U.S. Digital Corps, a prestigious two-year fellowship that recruits diverse recent graduates for careers in government tech.
One of the top 4 percent of applicants selected (48 were chosen from a field of 1,355 applicants nationwide), she is part of an elite group helping to bring the latest developments in data science to 13 federal agencies.
Teran, who entered Columbia University's MS in Data Science program upon graduation from Adelphi and will earn her degree in December 2023, is working at the National Artificial Intelligence Institute at the U.S. Department of Veterans Affairs to use artificial intelligence (AI) and data science to help veterans get better healthcare.
"With our extensive healthcare dataset, we aim to improve efficiency, accuracy and personalized treatment, ultimately enhancing veterans' healthcare experiences and outcomes," Teran said.
AI and data science have the potential to revolutionize healthcare. The technologies can be used to analyze data rapidly, find patterns and make predictions on medical outcomes. These tools will make it easier for doctors to diagnose illnesses and customize treatments.
Harnessing AI and Data Science to Serve the Public
The U.S. Digital Corps was launched in 2021 by the White House to bring early-career software engineers, data scientists and other technologists to federal service. With a name that echoes former President John F. Kennedy's Peace Corps, the Biden administration wants those who sign up for the Digital Corps to see their work as a path to use technology to change government for the better.
"In an environment where developments in data science and artificial intelligence are happening daily, it's crucial we have a wide array of technical perspectives at policy tables to ensure these developments benefit all Americans and protect against potential harms," said Dominique Duval-Diop, PhD, U.S. chief data scientist at the White House Office of Science and Technology Policy, in a press release.
Teran wanted to join the U.S. Digital Corps because she likes the idea of harnessing AI and data science for good.
"I want to contribute to projects with real-world impact," Teran said. "I want to drive positive governmental change through technology, specifically for the benefit of the American public. I am excited to collaborate with like-minded professionals and utilize my skills in data science to make a meaningful difference in society."
A First-Gen College Student Finds Success
Teran, a Long Island, New York, native, was a first-generation Hispanic college student. She got a full scholarship to Adelphi, which she says was critical to her success. "This financial support not only alleviated the burden of tuition costs but also provided me with the peace of mind to focus on my studies and personal growth," Teran said.
She also credits Adelphi's commitment to fostering diversity for helping her succeed in college. "Programs like CSTEP provided me internships at research institutions like the Lawrence Berkeley National Laboratory and Brookhaven National Laboratory, where I enhanced my skill set in data science research, further fueling my passion for the field," she said. "These experiences have not only shaped my academic and career journey but have also reinforced my commitment to breaking down barriers and making a difference as a first-generation college student."
Teran said that Sung Kim, JD, assistant professor of mathematics and computer science at Adelphi, mentored her through undergrad courses in computer science that helped her become a programmer. And Carl Giuffre, PhD, assistant professor, who taught a course in statistics and data analytics, made her realize how much she loved data science. "Professor Giuffre's expertise and passion for the subject inspired me to pursue a career in the field," she said.
Adelphi's STEM programs have garnered national recognition for their success in promoting diversity. INSIGHT Into Diversity magazine has given its Inspiring Programs in STEM award to several Adelphi initiatives in each of the past six years. The most recent award was this year when INSIGHT honored Adelphi's MS in Business Analytics program for creating female leaders in the growing data industry.
Teran is one of those leaders. "I am excited to leverage AI and machine learning for the greater good. Whether it's through research, innovation or collaborative efforts, I am committed to making a meaningful difference in the world by harnessing the potential of these technologies to create a more inclusive and equitable future."