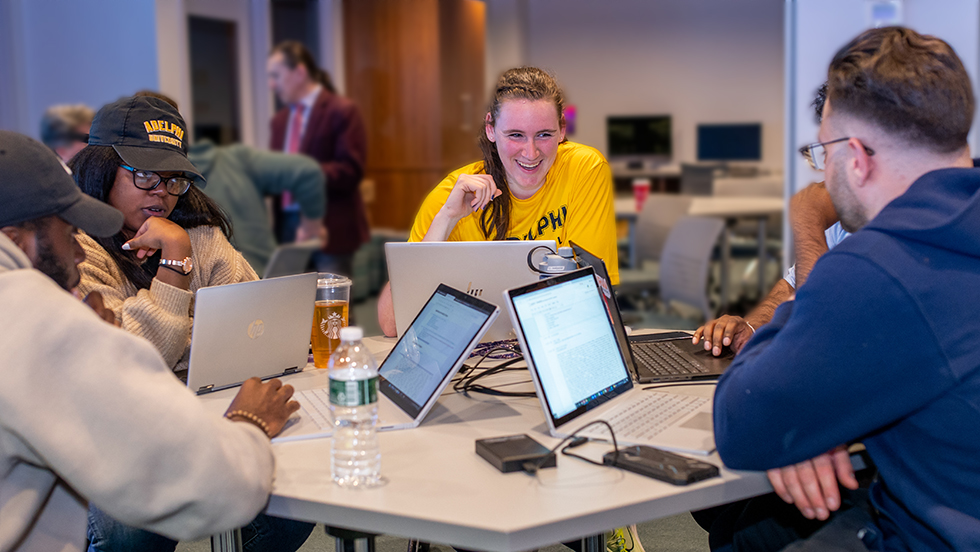 The STEM-designated MS in Business Analytics program at the Robert B. Willumstad School of Business creates female leaders in the growing data industry—giving them an edge in leadership and strong business careers. This program is now being honored by INSIGHT Into Diversity for building equity for women who are still underrepresented in tech fields.
Bringing more women into the technology field is a priority nationwide. It is at Adelphi, too, as the University has developed graduate programs over the past few years to prepare women not only to enter the field but to become leaders in it.
Adelphi's MS in Business Analytics program has been notably successful in preparing women for careers in technology. Approximately half of its students are women, and there are five women on the faculty of the Robert B. Willumstad School of Business decision sciences and marketing program.
The program was recognized nationwide this summer when INSIGHT into Diversity magazine selected it as a winner of a 2023 Inspiring Program in STEM Award for its success in promoting diversity. The award is given to innovative programs that help students in underrepresented groups enter science, technology, engineering and math fields.
Analytics Is a Cutting-Edge Skill
Analytics is where it's at in the business world. The art of wrangling information to guide decisions is to the 2020s what computer programming was to the 1990s—a cutting-edge technological skill that adds rocket fuel to a career. But women still trail in attaining these skills and filling these positions.
A recent LinkedIn study found that while women comprise nearly half the overall workforce, they account for only a third of the U.S. workforce in the technology, information and media industries. Those numbers get bleaker when it comes to the percentage of women in leadership roles. In the nation's overall workforce, women hold 35 percent of the leadership roles. In technology fields, they hold just 32 percent of leadership positions. "This lack of diversity not only limits organizations' potential to thrive but also reinforces gender biases," noted Matthew Baird, PhD, a senior staff economist at LinkedIn.
A Mathematics-Focused Curriculum
Adelphi's MS in Business Analytics program is addressing that inequity with a mathematics-focused curriculum that prepares its women to be competitive in the fast-moving sector of the financial industry. The program unlocks the secrets of data science, covering four dimensions of the end-to-end analytics process: data management as well as descriptive, predictive and prescriptive analytics.
The program focuses on real-world business situations, preparing students to tackle the industry's biggest challenges. Students work on projects with corporate partners and present their findings directly to company contacts.
Adelphi also offers an advanced certificate in business analytics that includes courses taught in the degree program. Credits from the certificate programs can be applied to the master's program for students who later decide to pursue the degree.
The result is students who get great jobs. Adelphi business analytics graduates have gone on to work at BDIPlus, CH Global Capital, NBCUniversal, Northwell Health, S&P Global and Southern Telecom.
Isaura Cabrera, MS '21, received her degree from Adelphi and is now an assistant vice president of fraud analytics at Citi, a subsidiary of financial services multinational Citigroup. Sarah Deyo, MS '21, MS '22, is working as an associate internal auditor for toy maker Hasbro. And Barbara Quagliardi '22, who received her MS this spring, is now a financial analyst at Royal Bank of Canada.
"When I entered the program as an international female student-athlete, I thought I would have difficulties fitting in," said Quagliardi, who is from Istanbul, Turkey. "But when I started my classes, I saw the diverse group of men and women of different races, nationalities, ages and backgrounds that were taking classes with me, which was very exciting to me. I think this diversity, especially in business analytics, helped me get out of my comfort zone and learn from different perspectives."
Adelphi Has Won Six of These Awards in a Row
This is the sixth consecutive Inspiring Programs in STEM Award that Adelphi has won in the past six years. Previous winners include:
Horace G. McDonnell Science Research Fellowship program (2018) awards outstanding science students a stipend to spend 10 weeks in the summer conducting original research in University labs. Two-thirds of McDonell Fellows have been women.
Adelphi University's New York Noyce STEAM Pipeline: Preparing Next-Gen Science Teachers (2019) recruits, supports and prepares students from underrepresented groups to be science teachers in grades 7 through 12.
Lab 4 Kids program (2020) inspires students of color in high-needs schools to aspire to STEM careers by bringing 30 ninth graders from local schools to campus each year for a day of physics experiments with Adelphi Physics Club members.
Collegiate Science and Technology Entry Program/Science and Technology Entry Program (CSTEP/STEP) (2021) – The University's CSTEP offers enrichment opportunities and support for students from underrepresented groups in Adelphi STEM programs. STEP provides educational opportunities to local high school students from underrepresented groups in six school districts. The program includes summer courses, field trips and work in University labs.
Inclusive Computer Science Curriculum (2022) – Adelphi restructured its computer science program's undergraduate curriculum to be more inclusive of women, people of color and others who are underrepresented in the field. Changes included adding an orientation seminar, reducing the number of required courses and allowing more electives. The new program doubled the number of women in the program and increased the percentage of students of color from 49 percent to 72 percent.