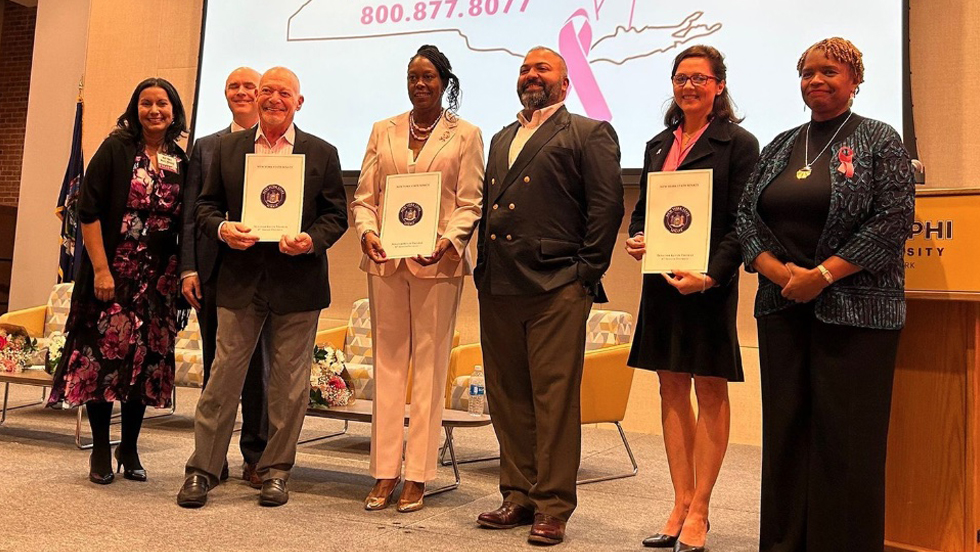 Every October, during Breast Cancer Awareness Month, the Adelphi NY Statewide Breast Cancer Hotline & Support Program celebrates survivorship—and being there for those affected by breast cancer.
The Thomas Dixon Lovely Ballroom in the Ruth S. Harley University Center usually sports Adelphi brown and gold. But everything from the decor to the attire of attendees was pink on October 19, 2023: the Adelphi NY Statewide Breast Cancer Hotline & Support Program's annual Celebration of Survivorship.
The hotline, the oldest breast cancer hotline in the United States, was established under the School of Social Work in 1980 to offer emotional support and information to people with and/or concerned about breast cancer.
Joanne Corbin, PhD, dean of the School of Social Work, provided opening remarks, along with Christopher Storm, PhD, Adelphi provost and executive vice president, New York State Senator Kevin Thomas and Reyna Machado, executive director of the breast cancer program.
But the stars of the event were the three breast cancer survivors who shared their stories.
Tanya D. Crawford was diagnosed in 2020 at the age of 52 with stage 3 triple-negative breast cancer. She had six months of IV chemotherapy, four months of immunotherapy, a double mastectomy with DIEP flap reconstruction, 27 sessions of radiation therapy and eight months of oral chemotherapy. Crawford utilized services offered by the Adelphi NY Statewide Breast Cancer Hotline & Support Program and now volunteers with the program.
Sabine Hairabedian was diagnosed in 2014 at the age of 41 with high-grade DCIS. She had two unsuccessful lumpectomies, then opted for a double mastectomy with immediate reconstruction. She says her twin boys, who were six at the time, were the reason for her to get better fast. She now serves as co-chair of the Manhasset Women's Coalition Against Breast Cancer and works closely with the Adelphi breast cancer program team.
Tim Hott was diagnosed in 2020 at the age of 71 with advanced-stage 3a breast cancer. He had surgery to remove his breast and roughly half of his lymph nodes in his left armpit, followed by five months of chemotherapy and five weeks of radiation therapy. He received support from the Adelphi hotline and now volunteers by providing outreach at community events and raising awareness of male breast cancer.
Attendees were greeted by Sergeant Gerry Lennon of the Adelphi University Department of Public Safety and Transportation at a table displaying a special pink version of the department's patches. In 2020, Lennon, a public safety officer, brought the Pink Patch Project, a national campaign, to Adelphi to raise awareness about breast cancer and raise funds for the hotline in honor of his mother, Anne Lennon, a survivor of breast cancer, and his sister, Kathy Fallon, who passed away from the disease in 2015.
In addition to those who participated in person, the event was recorded and posted on social media channels to reach patients who are immunocompromised or who would prefer not to attend an in-person gathering.
The hotline can be reached at 800.877.8077.