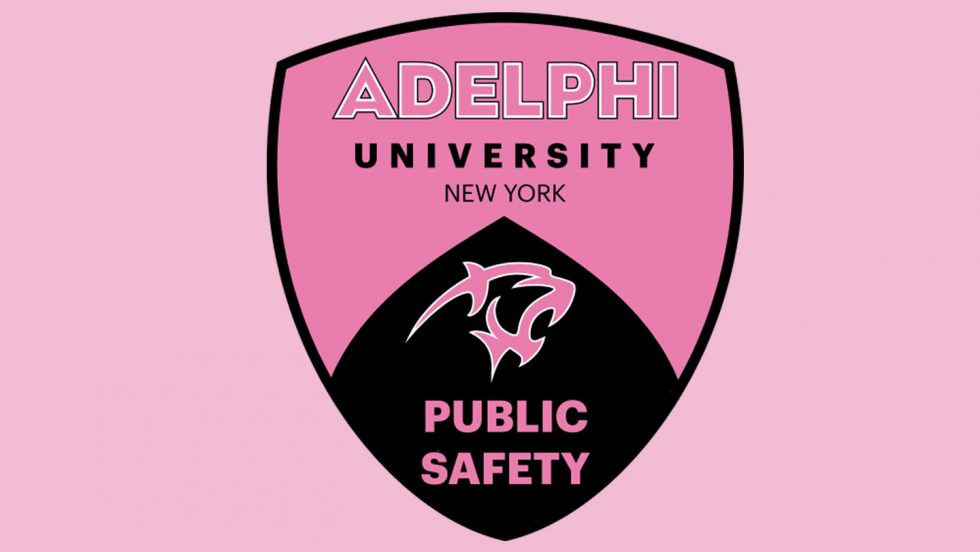 When Sergeant Gerry Lennon of the Adelphi University Department of Public Safety and Transportation heard about the national Pink Patch Project breast cancer effort, he knew that was something he could launch right here on campus to help women suffering with breast cancer by raising money and awareness about the Adelphi NY Statewide Breast Cancer Hotline & Support Program.
The Pink Patch Project originated in 2013 with the Seal Beach Police Department in Southern California. Members of the department wore pink patches on their uniforms during October's Breast Cancer Awareness Month. Over the years, it expanded and today includes several hundred partner agencies throughout the world, from police, sheriff, fire, EMS and federal departments.
With the total support of his department, Sergeant Lennon initiated the Pink Patch Project at Adelphi. Breast cancer has hit his family hard. His mother is a breast cancer survivor of 18 years, and his sister, Kathy Fallon, succumbed to the disease in 2015 at age 56. Sergeant Lennon said that after his sister was diagnosed with advanced breast cancer, he went to the hotline and talked with one of the social workers there, Erin Nau. She helped him cope with his fears and concerns. "I've seen what they do there," he said, "and it's amazing."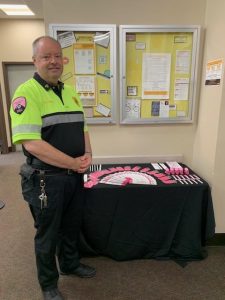 Michael McGuinness, associate director of administration and investigations in the Department of Public Safety and Transportation, said the department "is honored to be sponsoring this campaign and we stand in solidarity with the families of those affected by this terrible disease. Sergeant Lennon's efforts demonstrate a sense of compassion and empathy shared by all of our public safety professionals toward those who have been affected and their families."
The patches will be shared with the University community for any donation, and all funds will go to the Adelphi NY Statewide Breast Cancer Hotline & Support Program. To make a donation, visit the Department of Public Safety and Transportation in Levermore Hall, Room 113, and learn more at Adelphi's Pink Patch page.