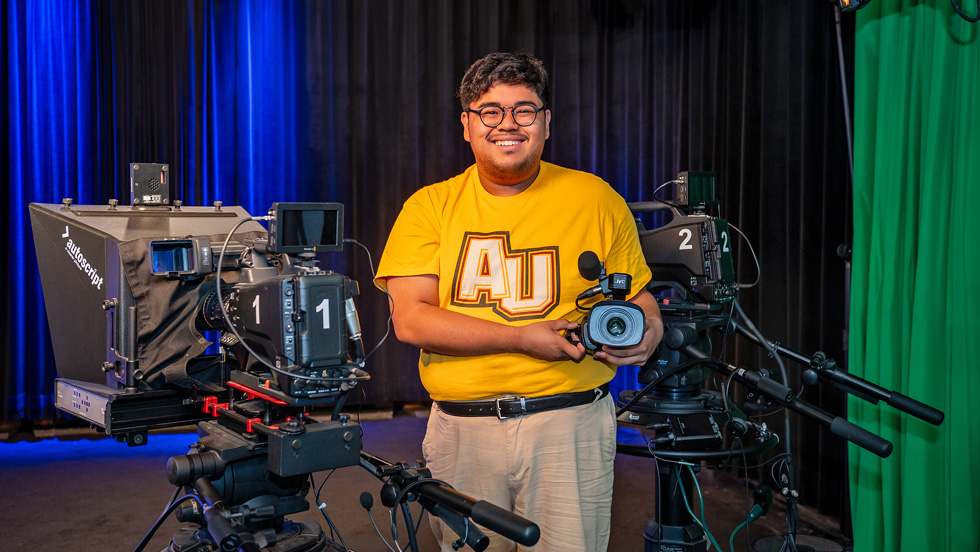 Senior Kennie Dionísio is a computer science major and communications minor, but his focus has shifted after interning at North Shore TV.
Kennie Dionísio, now in his senior year, began college as a computer science major and communications minor. But at Adelphi, he's found himself gravitating more toward the communications field. He's a co-features editor for The Delphian, a social media intern for the Office of University Communications and Marketing and public relations manager of the Adelphi Math Organization. He also is the president and founder of Asian Students International and holds leadership positions with five other campus organizations. This summer, he took his communications interest a step further by interning at North Shore TV in Lake Success, New York. He began in June and has been continuing throughout the fall semester.
At North Shore TV, Dionísio works in advertising. He also operates cameras and teleprompters and creates graphics. His internship experience has deepened his love for communications and inspired him to pursue the field as a future career.
"Communications requires more creative enterprise as opposed to computer science," he said. "I enjoy how working in the media involves more innovative ideas and attention to people skills than working in the tech industry [does]."
Dionísio was raised on Long Island by parents who'd immigrated from the Philippines. A first-generation student, he is connected to his roots and said, "The most rewarding part of this internship was being able to give back to my community. Public access TV is a great way to televise ideas for those who cannot afford cable. I've filmed numerous productions, from parenting shows to campaign videos for local legislators. Networking and collaboration are a huge part of working on a TV set."
He received this opportunity through the Jaggar Community Fellowship Program, which provides students with 10-week paid internships with nonprofit organizations in Long Island and New York City, administered by the Center for Career and Professional Development. He says the career center was instrumental in helping him prepare for the internship, as was the Internship Preparation Seminar, a 1-credit course offered at Adelphi.
Alongside his undeniable leadership presence on campus, Dionísio has truly found his place through Jaggar. He said, "My current internship allows me to make people's dreams come true. People come into our studio all the time with ideas for TV shows, and it's been nothing short of gratifying being able to watch their visions come to fruition."