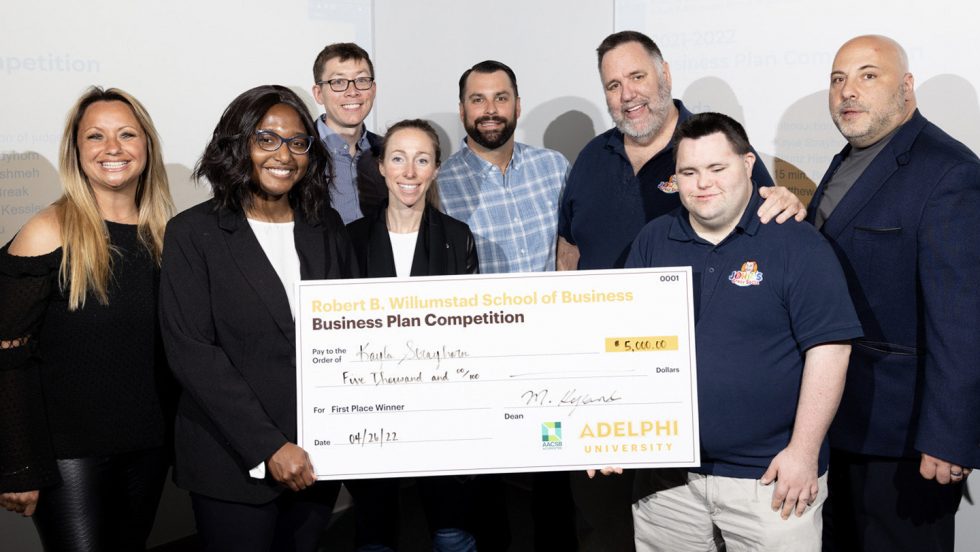 Four promising student entrepreneurs pitched original business plans to a panel of judges on Tuesday, April 26, at Adelphi's annual Business Plan Competition. The challenge, which took place in the Adelphi University Innovation Center, is a yearly opportunity for competitors to win $11,000 in prizes.
The work began in the fall semester, when students—who could work individually or as part of a team—submitted preliminary business proposals for a new, innovative venture. From the initial proposals, a smaller group of finalists subsequently developed their own business plans that came to include an analysis of the prospective consumers and competitors; how the product or service will be created, distributed and sold; sources of finance, projection of revenues and profits; and attraction to potential investors.
The competitors and their projects were:
Kayla Strayhorn—BU Rooftop Farming, a rooftop farming operation using urban farming techniques to address increased available fresh food, using the "Internet of Things" (which transmits farm data) as well as various substances for soil
Shuriz Hishmeh '21—Black Soldier Fly Composting, will sell poultry feed while simultaneously trying to reduce methane emissions from landfills
Ruiqin Fu—Boom I Rang, a new type of dental practice with hours to accommodate shift workers, particularly in healthcare, and later hours for emergencies
Matthew Kessler—Type Mental Health, an artificial intelligence journal that references clients' therapeutic media and services based on users' journal entries
This year's judges were:
After the judges deliberated, the winners were announced. Ruiqin Fu won the third-place prize of $2,000; Shuriz Hishmeh '21 won $3,000 for second place; and Kayla Strayhorn won $5,000 for first place and $1,000 prize for Environmental, Social and Governance. All students received a one-year Wix professional website plan that can be used to launch their enterprises.
"The judges were impressed with the efforts and intellect of all of the competitors, but were particularly enthusiastic about Kayla's proposal, which represents a synthesis of profit and societal benefits," said Zachary Johnson, PhD, interim associate dean of undergraduate students and an entrepreneur.
Offered by Adelphi's Robert B. Willumstad School of Business, the competition is made possible by support from alumnus Kevin Mahony, senior vice president of wealth management and financial advisor at UBS Financial Services, Inc.
"The annual business plan competition remains very successful in facilitating entrepreneurial activity and attitude among our students," said Murat Sakir Erogul, PhD, associate professor.
The competition was organized by Dr. Erogul, Dr. Johnson and Lori Cary, MBA '20, interim director for student success. The event was moderated by Matthew Gornstein, senior accounting major.
See more about Adelphi's Business Plan Competition. Persons interested in supporting similar activities, please consider donating to the Willumstad School of Business Student Success Fund.