Welcome to Adelphi University, Vice President Kline. As our new vice president of University advancement and external relations, can you please share how this vital position impacts the lives of our students, faculty, staff and beyond, and what it is that you hope to achieve in this role?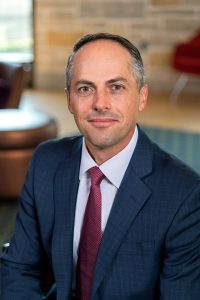 I have the best job on campus. I have the privilege of leading a team of dedicated staff who connect with and engage successful alumni, parents and friends with the goal of advancing the mission of the University, usually by giving generously of their resources of time, talent and treasure. I am inspired on a daily basis to see the impact of our work, such as a donor-funded scholarship that enables a student to afford Adelphi, an event such as the Women's Leadership Conference that promotes empowerment and engagement, or a grant that enables faculty members to do their amazing work.
My intention is to develop a best-practice office that builds on the great work of the past to take our fundraising and engagement to even greater heights. We have launched the quiet phase of a comprehensive campaign, and we have ambitious goals to raise $100 million over the next five years, which is no small feat.
You've achieved several milestones during your brief time here at Adelphi. Can you please elaborate and tell us how you were able to make such phenomenal progress here in such a short period of time?
The work of fundraising and engagement is entirely a team sport. My team has done a terrific job on many fronts, especially when navigating the ever-changing and ambiguous nature of the pandemic. I am so proud of our recent successes in setting records with our recent Giving Day and having more than 350 people attend the Women's Leadership Conference, the University's first in-person, mask-optional event in two years.
Additionally, our work is cumulative, and we benefit from the work of those who have come before us. For example, we have realized a number of large bequests recently that are the result of work done many years ago. And we are doing work today that will benefit our successors, which is also meaningful.
I am particularly proud of recently establishing two endowments, one for women's leadership and the other for scholarships for first-generation students. An endowment will live on in perpetuity and benefit the University and our students for generations to come. As we conclude the celebration of our 125th anniversary this year, I am inspired to think that these funds will still be here and making an impact in another 125 years!
Do you see the role of advancement as being limited to the work of your office, or is your vision more holistic? Where does the synergy reside between the Office of Diversity, Equity and Inclusion and University Advancement and External Relations?
Our work touches every corner of the University, and we are eager partners in supporting the important work of diversity, equity, inclusion and belonging. From a fundraising perspective, we have already established a number of funds and will continue this work going forward. Some of these funds include support for multicultural students, the Bridges to Adelphi program, first-generation students, LGBTQIA+ programs, international students, veterans, women's leadership, and the Truth, Racial Healing and Transformation initiative.
From an engagement perspective, our office partners with many alumni and campus organizations to help promote DEI in our community. These groups include the Adelphi University Board of Trustees, President's Advisory Council, Alumni Council, Multicultural Alumni Chapter, Pride Affinity Group, Women's Giving Circle, and many others.
Finally, we have enjoyed our partnership with the Office of Diversity, Equity and Inclusion on many cultural events and speaker series, such as the Great Minds, Great Conversations and Great Books, Great Conversations series. As a former professional musician, a personal highlight for me was Chuck D's ['84,'13 (Hon.)] exhibition and artist talk!
We look forward to continuing our partnerships that bring greater cultural understanding and celebration to Adelphi.
What is the importance of strong leadership and direction when it comes to the work of external relations?
As with any organization, leadership is important for setting a vision, enacting a strategic plan and aligning resources to achieve our goals. I am dedicated to building our ADVEX [advancement and external relations] team, establishing a culture of collaboration, positivity and creativity, and positioning each member for success. Finally, I always try to lead by example, which means as chief fundraising officer for the University, I need to be externally focused on connecting with and bringing major donors closer to Adelphi.
We have ambitious goals for the next five years as we launch a comprehensive campaign that helps bring our next strategic plan, Momentum 2, to fruition.
What exciting news can we look forward to from the Office of University Advancement and External Relations?
A fundraising colleague once gave me the simple, yet sage, advice: In our work, more is always better! We will launch a comprehensive campaign that I anticipate will double our annual fundraising production, we will engage more alumni in events, and we will help build pride in our community. In the process, we will have a lot of fun, which I hope is infectious within our community. Finally, I would make a humble request to the Adelphi community: We cannot do this work alone. We hope to see everyone at events, participating in some way on Giving Day, or expressing their Panther pride in some other way. This is no trivial matter—I am asking everyone in our community to join the team and fall in love with Adelphi.
It is a privilege to do this work at Adelphi and to inspire others to live generous lives. It is incredibly fulfilling to be connected to something bigger than myself, and connected to a mission that is transforming our community and the next generation of young professionals. Like I said, I have the best job on campus!