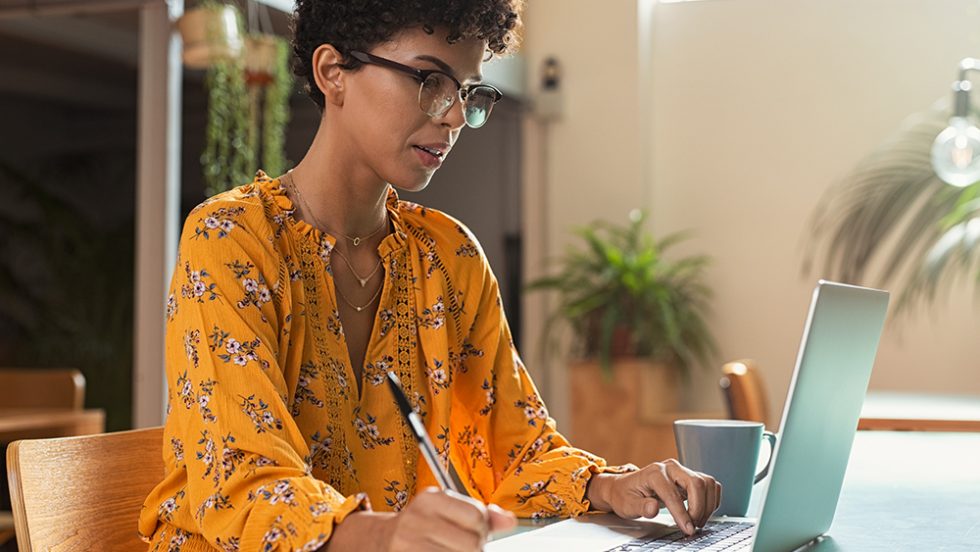 Opening the doors of college education to nontraditional students is an important initiative at Adelphi. More than 60 continuing education workshops will help them advance their professional skills, and we offer them affordability and easy online access.
Adelphi's continuing education programs were ranked in the Top Adult Degree Programs for 2021 according to Abound, a college guidance platform for adults. With this ranking, Adelphi joins just 10 percent of New York colleges recognized for their ability to support adult students with accessible, affordable and advanced programs.
"We build out our programs so that they're convenient for adults," said Andy Atzert, dean of the College of Professional and Continuing Studies. "Oftentimes, adults want to complete their bachelor's degree program while they're working and taking care of family and community obligations. So we try to make it possible for them to proceed steadily and finish while balancing the other parts of their lives."
Adelphi offers a unique approach to continuing education, with flexible online and on-campus programs, noncredit certificate programs, and workshops for building specific skills. Advisers also work with each student to transfer credits from other institutions and to gain credit for work and life experiences.
"The bottom line is we try to help people find the fastest and cheapest path to getting a rigorous bachelor's degree," Dean Atzert said. "And that's a custom approach; there's not a cookie-cutter approach to it."
Adelphi faculty are even selected specifically for their ability to work with and guide adult students.
"For an adult who's career-focused and knows what it's like to work with other people, they really want to apply what they're learning directly in the work they're doing," Dean Atzert said. "Professors who have experience in the workplace and industry are able to bridge that gap between academic theory and practical application."
A Student and Full-Time EMT
Senior RoeMechia John, 31, is completing her bachelor's degree in natural sciences while working full time as an EMT for the National Park Service at the Statue of Liberty National Monument.
"The natural science program not only allows me to take the science classes that I am interested in, but it's more flexible for my current work schedule," John said.
After graduation in May, she hopes to use her degree to apply for research jobs in the National Park Service or another federal agency, such as the Centers for Disease Control and Prevention or the Federal Bureau of Investigation.
"Adelphi has helped me tremendously, especially with my writing skills and teamwork," John said. "I've been able to take a balance of courses to fulfill the curriculum but understand the importance and methods of drafting a well-written paper."
Noncredit Certificate Programs Build Skills
Outside of Adelphi's degree programs, continuing education students can choose from noncredit certificate programs and à la carte workshops in areas such as finance, graphic design and business leadership.
"They're basically bite-sized opportunities for people to learn a very specific set of knowledge and skills that people can use in their workplace and their personal lives," Dean Atzert said. "These kinds of noncredit programs are probably the most popular thing happening right now in higher education, so it's exciting to be in this space."
In fact, Dean Atzert believes the future is bright for continuing education opportunities—especially online—as the employment market continues to shift as a result of the pandemic.
"New types of jobs are going to be created at the same time that others will go away, and people are going to have to make shifts and learn new things," he said. "They're going to turn to places that they trust to be able to deliver that education. Adelphi is in a good position to serve adults who are looking to better position themselves in a very quickly changing world of work."