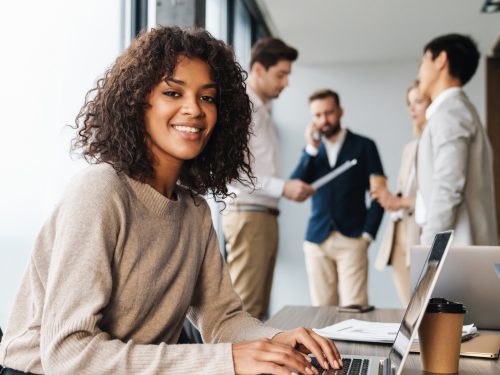 Continuing Education: Workshops
Workshops are courses of short duration, either single or as a series, leading to a digital badge.
Healthcare (Palliative Care)
Diversity, Equity and Inclusion Workshops
Educational Leadership Workshops
Register here for October 2021
Register here for November 2021
In this interactive online course, consisting of three 2-hour workshops, you will learn the skills you need to develop a successful commercial relationship with your bank. Learn how a commercial bank is organized, how it views risk, and how its loan products and credit facilities can be accessed to help your business. Learn how you—as a business owner—can manage your balance sheet and income statement to have a healthy financial relationship with your bank. You'll come away with new skills and techniques for business banking.
Who can benefit?
Small or Mid-Size Business Owners
Financial Professionals in any business
Entrepreneurs
Business Owners who need to expand or access capital
Session 1: Overview of Banks and Banking Services
Starting with the basics, you'll learn about commercial services offered, banking trends and the impact of government on banking. You'll learn why banks are regulated and who these regulators are.
Session 2:  Business Organization
You'll learn to understand the different ways businesses are organized: sole proprietorships, partnerships and corporations. You'll learn the importance of managing your financial statements, and you'll develop skills to create strong balance sheets and income statements.
Session 3: Types of Credit   
Learn about the different types of credit available to businesses: credit lines, term loans, commercial mortgages and letters of credit. You'll learn about the ACH (Automated Clearing House) electronic network for financial transactions, and learn to understand credit scoring, risk, underwriting, loan yield, pricing, collateral and personal guarantees.
Graphic Design and Creative Works Workshops
Management Skills/Business Leadership Workshops
Stress Management/Personal Development Workshops
Register here
In this series of workshops held over a three-week period, you'll tackle chronic stress and learn how to retrain your mind and body to help you think, feel and act in healthier ways. You'll explore scientific findings on mind/body issues, develop relaxation techniques and learn how nutrition, meditation and other lifestyle changes can restore damage done by stress. This three-week program encourages interaction and skill building.
Who can benefit?
Professionals in the Wellness Field: Add to your skill set to assist those dealing with stress, poor eating habits and negative behaviors
Individuals Interested in Fitness: Learn lifestyle behaviors that will directly enhance your goal of mind and body fitness
Individuals Dealing with Stress: Learn to undo stress-creating behaviors, achieve relaxation and restore damage that stress has caused
Seminars include:
How Adverse Childhood Experiences Affect Brain Chemistry (1 hour)
Learn how childhood abuse, neglect and family dysfunction affect a child's developing brain and body, and how this can negatively affect adulthood. Learn methods of healing through improved self-care, lifestyle and the relaxation response.
Nutrition and Exercise 101 (1 hour)
Looking for ways other than medication to elevate mood and improve brain chemistry? Learn how nutrition and exercise are two of the most effective, nonprescription medicine methods to lift your mood, change brain chemistry, and enhance overall well-being.
Creating Individualized Nutrition and Exercise Programs (2 hours)
Learn how to develop and maintain eating and exercise plans—and stay motivated to follow the plans and reach your goals. Specific guidelines for diabetes, high cholesterol, hypertension and obesity will be discussed.
Mind/Body Medicine (90 minutes)
Understand the body's response to stress, the role it plays in disease and a variety of ways to heal. This interactive class includes the exercise of mind illusions to help you build mind/body healing skills.
Guided Meditation (30 minutes)
Put all your new stress-management skills together and experience a relaxing, guided meditation incorporating many of the lessons learned from this certificate course.
An Adelphi Badge Gives You a Career Edge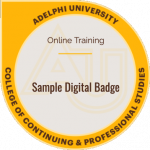 Badges and certificates on your résumé help you stand apart, and prove to employers that you have advanced learning in a particular field. Adelphi's continuing education badges and certificates are awarded digitally, and can easily be added to your résumé, posted to social media or a LinkedIn account. All our courses award you with either a badge or certificate.