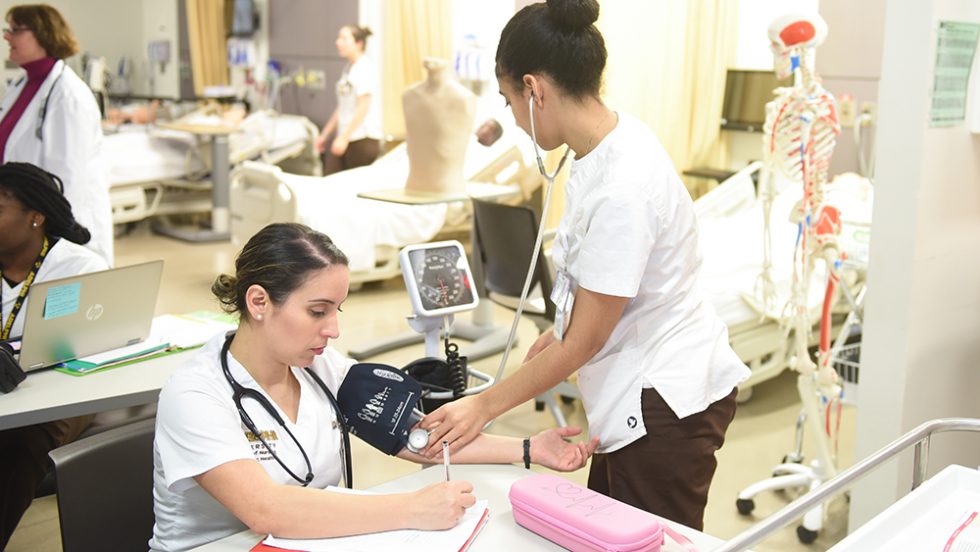 The Niche Best Colleges for Nursing in America rankings have just been released, and Adelphi's nursing program landed fifth in the state and in the top 15 percent nationwide. Hear insights from our students and faculty—and meet our remarkable pediatric simulator, Hal.
What goes into a top ranking for a nursing school? Expert faculty. A state-of-the-art simulation lab. Rigorous coursework. Clinicals at leading hospitals. Stellar job placements. All are qualities of Adelphi's College of Nursing and Public Health, and all contribute to the nursing program's new 2021 ranking by Niche as the fifth-best in New York state—and in the top 15 percent nationally.
Niche is not alone in giving Adelphi nursing high marks. College Factual rates it as No. 4 in the nation, and U.S. News & World Report puts its nursing master's degree programs in the country's top 20 percent. The National League for Nursing designated the College as a Center of Excellence in Nursing Education, recognizing it for Advancing the Science of Nursing Education.
"The core value of the University is to really provide a personalized education to our students," said Elaine Smith '78, MS '88, EdD, dean of the College of Nursing and Public Health. "We are able to do that in the nursing program by keeping our class sizes small. So students get a great deal of individualized attention in both the classroom and clinical settings."
Real-World Training and Top Patient Simulators

Adelphi also has direct relationships with more than 150 community partners, including Northwell Health and NYU Langone Health, where many students complete their clinical training and begin working after graduation.
Before they even pursue jobs in their field, however, students gain practical, real-world experiences right on campus in Adelphi's Clinical Education and Simulation Lab. The 80,000-square-foot center is equipped with 22 patient beds, seven clinical exam rooms, two fully wired classrooms for testing and web conferences, and several high-fidelity manikins.
One is HAL, the world's most advanced pediatric patient simulator, capable of simulating lifelike emotions through facial expressions, movement and speech. HAL helps nursing students learn to communicate with, diagnose and treat young patients. Victoria is the world's most lifelike childbirth simulator, and she regularly "gives birth" to two baby manikins, allowing students to participate in realistic obstetric simulations.
"Everything that a human does, they can do, except get up and walk," said Anthony Egan, director of the Clinical Education and Simulation Lab. "You can take a penlight and put it into their eyes and their pupils adjust. When their oxygenation goes below 70 percent, their lips turn blue. They have heart sounds, sounds in the five different lobes of the lungs, and abdominal sounds in all four quadrants."
With these manikins, students can learn how to respond in emergency situations, such as a mother hemorrhaging after giving birth or a patient suffering a heart attack.
"Engaging students in high-fidelity simulation scenarios allows them to really develop that clinical judgment, which is a high-level cognitive skill," said Maryann Forbes, PhD, associate dean for academic affairs in the College of Nursing and Public Health. "They have to respond on the spot, and they can do it in a safe environment where they can make mistakes and reflect on their practice."
An Expert, Caring Faculty
Throughout their experiences, students are guided by expert, interdisciplinary faculty, many of whom are working clinicians.
The National League of Nursing "wanted to see that faculty are creating environments for students that advance the science of nursing education," Dr. Forbes said. "We really have our own way of educating students, and that's what we were recognized for. It's a very prestigious honor."
And Adelphi's nursing faculty is noted for more than its expertise and experience. It has a well-earned reputation for going the extra mile for students.
Like other nursing students, Jocelyn Molina was forced to study online when the pandemic hit. Unlike most of her classmates, she had just transferred to Adelphi and was working 30 hours a week as a patient care associate at a local hospital while also caring for her mother, a cancer patient. Molina was nervous about studying online, especially about her course in healthcare informatics. "I was at a new school, using new technology, and I didn't know anyone," she said. "It was intimidating."
But Molina persevered, helped by her instructor, Edmund J.Y. Pajarillo, PhD, associate professor and department chair. "His kindness and teaching methods were wonderful," Molina said. "He made it less scary because he was always willing to take the time to help me one-on-one on Zoom, phone or email."
Molina made an A-plus in the class and is now on her way to earning her degree later this year.
Going forward, Adelphi will continue to provide nursing students with cutting-edge equipment and real-world learning experiences, preparing them to enter a constantly growing and evolving field. The Clinical Education and Simulation Lab, for example, has a home care suite with remote monitoring equipment to help students deliver telehealth services, which have become increasingly important during the pandemic.
"Students not only learn how to care for patients in hospital environments, but also outside of the hospital, where a large percentage of their future career will be spent," Dean Smith said. "So we're providing them with really powerful skills to be successful."