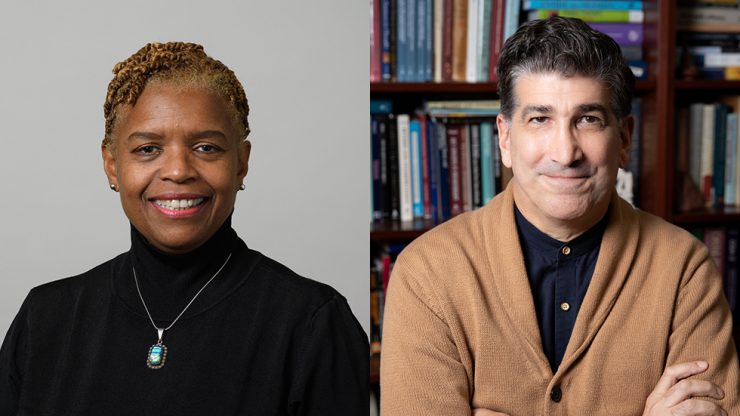 Two new deans, Joanne Corbin, PhD, and J. Christopher Muran, PhD, are ushering in an era of change, fresh perspectives and new initiatives at Adelphi. Meet them both, and see what's ahead for our high-ranking social work and psychology schools.
Joanne Corbin, PhD, is now dean of the School of Social Work, and J. Christopher Muran, PhD, has taken over as dean of the Gordon F. Derner School of Psychology. Dr. Corbin and Dr. Muran both intend to take Adelphi's environment of excellence to the next level by promoting diverse perspectives and interdisciplinary collaboration, and by emphasizing social justice issues.
Joanne Corbin, PhD
Dr. Corbin came to Adelphi from the University of Connecticut, where she was professor and associate dean for academic affairs in the School of Social Work. Previously, she held several roles in the School for Social Work at Smith College, directing its PhD program and serving as a professor, associate professor and chair of the Research Sequence. She began her career at the Yale Child Study Center, where she held clinical and academic positions.
She has an ambitious list of goals in her new position.
"My overarching goals are to increase and leverage relationships for research and practice, grow and diversify the student body, increase interdisciplinary partnerships, and increase fundraising, all in support of the mission of preparing the next generation of social work practitioners and scholars," she said.
She also plans to focus attention on increasing connections with community partners and other schools of social work, and on giving students new practice opportunities and additional ways to engage with faculty on research.
Dr. Corbin was drawn to Adelphi by its diversity. "One aspect that differentiates Adelphi from other schools of social work is the diversity of the faculty and student body, which enhances the points of view that faculty and students bring to their studies," she said.
Dr. Corbin earned her doctorate and Master of Philosophy from the School of Epidemiology and Public Health at Yale University, where her studies focused on the influences of parent involvement in public schools and health policy. She also earned a Master of Social Service from the Graduate School of Social Work and Social Research of Bryn Mawr College, where she specialized in clinical social work, and a Bachelor of Arts in Psychology from Wellesley College.
J. Christopher Muran, PhD
Dr. Muran is a familiar face at Adelphi. He has been associate dean and director of the PhD in Clinical Psychology program at Derner for the past 14 years. He recently served as interim dean of Derner, leading the School through the COVID-19 pandemic.
He is also widely known throughout the field of psychology for both his research on the therapeutic alliance and his leadership of professional organizations. He has published 10 books and more than 170 papers, received multiple grant awards from the National Institutes of Health, and been recognized with lifetime achievement awards from the National Register of Health Service Psychologists and the Society for Psychotherapy Research. He is a fellow of the American Psychological Association and serves on its Advisory Steering Committee for Development of Clinical Practice Guidelines. He is also past president of the International Society for Psychotherapy Research and past editor of its journal, Psychotherapy Research, and serves on several editorial boards.
"I feel very honored and privileged to be the seventh dean of our storied school," Dr. Muran said. "Derner is positioned more than ever to better realize our overall identity as an integrative, empirically informed school of psychology with a long psychoanalytic tradition and commitment to social justice."
Dr. Muran has set improving cohesion among Derner's undergraduate, graduate, doctoral and postgraduate programs as one of his goals as dean. Achieving this requires an emphasis on community and inclusion.
"My goals align perfectly with our University's strategic goals regarding academic distinction and inclusive community," he said. "For me, these goals are interdependent: The pursuit of one will advance the other. Our academic excellence, for example, is best served by promoting greater community among our faculty and students."
Community, he believes, is enhanced by dialogue about differences.
"Knowledge is advanced by fostering dialogue among a plurality of perspectives," he said. "By confronting other perspectives and coming to understand them, we can clarify differences (in addition to similarities) in a more nuanced way and learn to enrich our point of view.
"This is relevant for how we negotiate interdisciplinary differences," he continued, "but also how we negotiate individual differences—ultimately, how we can understand and help the human condition."