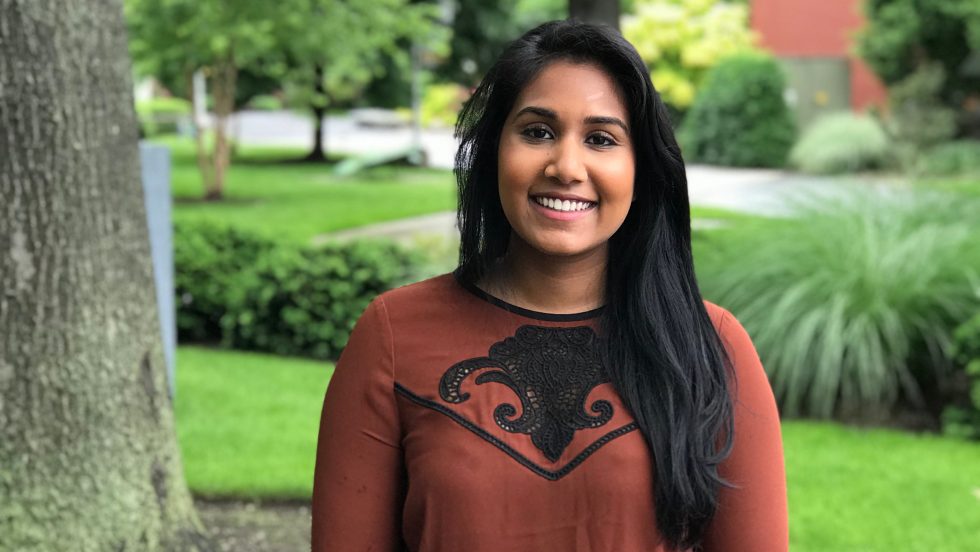 Every year, Adelphi honors four exceptional employees with a President's Award for Excellence and one employee with the President's Award for Diversity, Equity and Inclusion. According to President Christine M. Riordan, the honorees "have won the admiration of their peers and colleagues by providing an extraordinary level of service to the University, and working to advance our shared values and goals."
Candidates are nominated by their colleagues, and these nominations are reviewed by committees that are representative of our community. After reviewing the nominations, the committee submits final nominees to the president.
We congratulate Adelphi's 2021 President's Award for Diversity, Equity and Inclusion honoree:
Meenakshi (Meena) Elango, Residence Hall Director and Co-Adviser of the Caribbean Student Union
Meenakshi (Meena) Elango is currently the residence hall director of Chapman Hall, where she is responsible for a staff of five resident assistants as well as a community of about 75 residents. Along with her effective leadership of Chapman Hall, she has been instrumental in diversity, equity and inclusion efforts in the Adelphi community. In her three-year tenure as residence hall director, she has worked to create a safe and welcoming community within her building—contributing to Adelphi's goal of becoming a model of diversity and inclusion at the student, faculty and staff levels.
Upon learning that she was a 2021 President's Award for Diversity, Equity and Inclusion honoree, Elango said, "I feel so honored to be recognized for such a prestigious award. As a first-generation Asian American, I know firsthand the importance of diversity, equity and inclusion. Working in Residential Life and Housing, my colleagues and I work nonstop to help our students advocate for themselves and work through adversities that they have to face every day when they step into society."
Programs such as Chapman in the City, where international students learn about the history of New York City; Raise Your Voice: National Coming Out Day; and the I AM program have evolved into large-scale events that give residents the space to connect with other members of the community with similar identities.
Elango has shown her guiding principles in life are to be honest, genuine, thoughtful and caring. She revised and implemented an entirely new recruitment and selection process in order to make the on-campus hall attendant and resident assistant position more inclusive for the student population. Not only is she committed to her mission of improving all students' experiences and opportunities at Adelphi—especially students of color—but she is an active listener who has given students an opportunity to voice ways, through a survey, to make the residence halls more inclusive. In addition, she has successfully created the Residential Life and Housing Roommate Agreement, to help students develop better communication and conflict resolution skills.
Elango is committed to sharing her experience with the people around her. She is a mentor to young women of color through the Caribbean Student Union. In her role as the co-adviser since Spring 2020, she assists the executive board in their mission to elevate and educate the Adelphi community about the different regions of the Caribbean, for instance, through special events like rhythmic dances, different cuisines, festivities, music and discussing issues affecting the Caribbean community. In the aftermath of the killing of George Floyd in Spring 2020 and upon the Fall 2020 campus reopening, the Caribbean Student Union's executive board sought to bring awareness to police brutality and injustice within the African American community.
With Elango's help, the Caribbean Student Union organized and facilitated the first-ever drive-in event promoting awareness of Black Lives Matter. Due to COVID-19 restrictions, clubs and organizations were not permitted to have in-person events or programming. Still, since the issue was of great importance to the students, Elango worked tirelessly to help the organization put on a very successful and meaningful event.
"In a time like today," Elango said, "it is now more than ever important that we continue making strides to create an inclusive community here at Adelphi University. I will always do my part every day in everything I do to promote the well-being of my students. I hope to continue my work and influence others to put out more kindness and support in the world."
Elango has successfully completed Adelphi's Diversity Certificate and Diversity Certificate Program 2.0 and has been an active co-adviser on our campus, serving on other committees and organizations such as National Residence Hall Honorary, Phi Mu, Assessments and Outcome Team and Leadership Development Team. Additionally, she has attended conferences related to diversity, equity and inclusion—most recently the Northeast Association of College and University Housing Officers (NEACUHO): Equity, Diversity and Inclusion Retreat in March 2021. She is also on the Professional Development Committee for NEACUHO, attended the DEI Benchmarking with SUNY Geneseo and received the Leader of Tomorrow Award through Miss Long Island 2021.