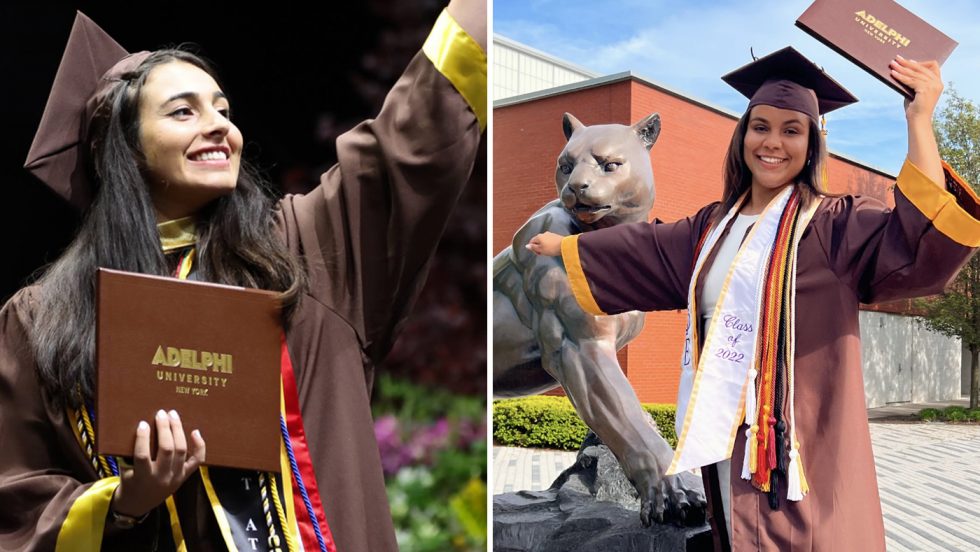 Students who graduated from the Robert B. Willumstad School of Business in May received much more than a solid education and a bachelor's degree. They were the first Adelphi undergraduates in four years to have had access to the business school's innovative Willumstad Winning Edge program—giving them the skills, credentials, connections and real-world experiences critical to career success. Students were able to participate in as few, or as many, offerings as they wished beginning their first year. More than 90 percent of this year's seniors engaged in at least one activity, while 68 percent participated in three or more.
Launched in 2018 to provide students with "an edge over others when applying for internships or jobs, the Willumstad Winning Edge program aligns with the business school's personalized, supportive approach to teaching and learning," said MaryAnne Hyland, PhD, dean of the school. It delivers on this pledge by focusing on career readiness, software proficiency, leadership training, professional networking, personalized attention from faculty and staff and other enhancements that extend beyond the classroom.
Promise Fulfilled
"I got everything they promised from Winning Edge," said Carla Crump '22, who earned a BBA in Accounting and will return to Adelphi in the fall to pursue a master's degree through the 4+1 program. Thankful that she "took advantage of almost every opportunity available through Winning Edge," Crump was able to job shadow at the Office of the Nassau County Comptroller and serve two internships—one at a midsized accounting firm and another at Ernst & Young (EY). Her performance in back-office operations at EY last summer resulted in her being offered another internship this summer, in a client-facing role.
Crump also appreciated the leadership workshops, networking events, intensive Excel training and professional communication skills-development opportunities offered through the Winning Edge program. She credits Adelphi's business faculty—especially associate professors Arthur Leibowitz and Ganesh Pandit, DBA—with "challenging their students and always wanting the very best for them." Crump said the personal attention provided by Willumstad's director of internships, Laura Black, and director for student success, Lori Cary, MBA '20, was "invaluable" in enabling her to take advantage of every opportunity.
In addition to exceling academically, Crump was involved in a number of cocurricular activities. She was on the executive boards of the University's Accounting Society and Resident Student Association, a member of the Beta Alpha Psi accounting honor society, a sister in the Delta Phi Epsilon sorority and served as a resident assistant. "I knew it was important to maximize my Adelphi experience," said Crump, who advises others to do the same.
Exceptional Opportunities
For Barbara Quagliardi '22, a native of Turkey who transferred to Adelphi from another New York college in her sophomore year, being able to take advantage of the Willumstad Winning Edge program "made all the difference." Graduating with a BS in Finance and a minor in economics, Quagliardi will return this fall to pursue an MS in Business Analytics.
Quagliardi's name may be familiar to those who follow college athletics, as she is a top-ranked tennis player who won the Northeast-10 Conference Sport Excellence Award in spring of this year. She also worked on campus and was involved in student government.
"Talking to friends studying business at other schools made me realize just how lucky I was to be at Adelphi," Quagliardi said. "They didn't have access to the seminars, speakers, networking events, internships and other opportunities the Winning Edge offers." She found the comprehensive Excel classes particularly valuable, helping her land an internship last summer in the finance department at ING headquarters in Manhattan, where she worked with complex spreadsheets. "It was an unbelievable experience," she said. This summer she is interning at a small financial consulting company.
Quagliardi—who is fluent in Turkish, English, Italian and Spanish—says the Willumstad faculty and staff made her "love" finance and business. She especially enjoyed James F. Bender Clinical Professor of Finance Robert Goldberg's Student Investment Fund class, which gives students the opportunity to manage approximately $500,000 of the University's endowment. "We made $45,000 in one semester investing in stocks and bonds," she noted. The course started in 2008; with gains reinvested to be managed by subsequent classes.
One of 10 seniors named a Willumstad Leadership Scholar, Quagliardi was on a team that proposed the installation of reverse recycling vending machines on campus that issue a refund of a few cents when users deposit an empty recyclable bottle. The University is considering implementing the plan.
Faculty and Staff Support
Like Crump, Quagliardi said staff members Black and Cary were critical to her positive experience with Winning Edge. "We were in touch all the time," she said, "and they were really involved in making sure we were successful."
"The intentional focus on preparing students for their life/careers post-graduation allows them to have a roadmap for success while in their undergraduate years," Black said. "The offerings through the Winning Edge are guided by feedback from employers, best practices in the higher education world, and the school's mission of preparing our diverse student body to be data-driven, socially responsible, and resilient future leaders in the business world."
"There are so many opportunities available through the Winning Edge initiative," Cary added, "and students that get involved really see the advantages and rewards. We also have incredible partners like the Center for Career and Professional Development and support from our amazing business faculty and administration. Our faculty members encourage participation and incorporate some requirements into their curriculum."
Thomas J. Ward Jr. '93, Adelphi's assistant vice president for career development and strategic partnerships, notes that "the synergy between the Willumstad Winning Edge team and the Center for Career and Professional Development is a hallmark of the University's steadfast commitment to student success." He adds, "Working together, we are able to give our students an outstanding level of support, helping them build the business skills, leadership qualities and work experience they need to jump right into their career upon graduation."