Beginning September 30, the Adelphi University community will come together to "take a stand" during its annual Fall Arts Festival. Take a Stand: Your Voice Matters, is a series of virtual events, spanning more than a month, focused on voting and diversity and equality, ahead of the 2020 presidential election and during the continuing observance of the 100th anniversary of women's suffrage.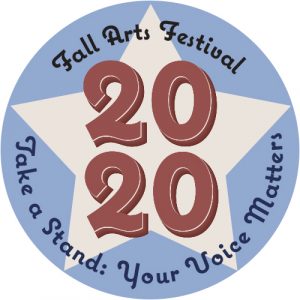 The series will showcase the talent of Adelphi's students, faculty, staff and alumni through digital art installations, photography, poetry, music, dance and theater performances, interactive games, and more, all emphasizing the importance of voting, representation, racial and social justice, diversity, and empowerment. Virtual seminars, panels and film screenings will also be held.
With a majority of events taking place online this year due to the coronavirus, the organizers—Adelphi faculty, staff and alumni—are taking the opportunity to innovate and be creative, ensuring that the engaging spirit of the festival is alive and well, even virtually.
"This year presents us with new opportunities to think outside the box with regard to interdisciplinary collaborations and projects that would translate to the virtual world," said Maggie Lally '82, associate dean of the College of Arts and Sciences and a co-organizer of the festival. "We'll be doing some things we couldn't do live, which speaks to the initiative and creativity on the part of the participants."
In addition, leading up to the presidential election on November 3, Adelphi's political science department will also hold several virtual events, including watch parties, discussions and debates.
Last year, the Fall Arts Festival celebrated the life and work of American writer and poet Walt Whitman, in the spirit of his 100th birthday, through art installations, performances and more.
"We are building on the success of last year's Fall Arts Festival and continuing the tradition of coming together as a University community to celebrate the arts," said Kellyann Monaghan, associate professor and chair of the Department of Art and Art History and a co-organizer of the festival. "This year, our virtual festival will be centered on speaking up on important social justice issues during this poignant moment in history and momentous election year."
Learn more about the 2020 Fall Arts Festival and register for events.