A collaboration between College of Arts and Sciences students, faculty, staff, alumni and others in our community promoting voters' rights. We're creating projects, performances and events celebrating different voices — especially in underrepresented communities.
Prepare yourself before voting. Celebrate women's right to vote. Discuss racism and diversity issues. Explore the arts. It's all at our Fall Arts Festival—with most events taking place online this year due to the coronavirus.
Raise Your Voice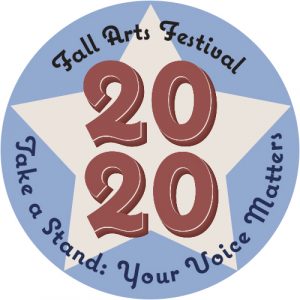 It is vital to create space for voices to be heard, particularly in the current social climate.
"This year presents us with new opportunities to think outside the box," said Maggie Lally, College of Arts and Sciences associate dean and festival co-organizer, by "doing some things we couldn't do live."
Our festival "will be centered on speaking up on important social justice issues during this poignant moment in history and momentous election year," said Kellyann Monaghan, art and art history chair and festival co-organizer.
Fall Arts Festival Highlights
Art In Public Spaces
Cast Your Vote Election Simulator
Dance Film
Diverse Voices Project: This past July, Adelphi students took quotes from primary sources written by persons of color about voting. Check out @adelphicsi's Instagram story to hear from your peers.
Raising Voices USA
Sculpture Installation: The Piñata Project Addressing Issues of Voter Rights and Societal Rebirth During COVID-19
Go to the Interactive Experiences
Adelphi Votes
Adelphi University is committed to provide students and staff the opportunity to register to vote. Voter registration and absentee ballot applications are available for all 50 states.