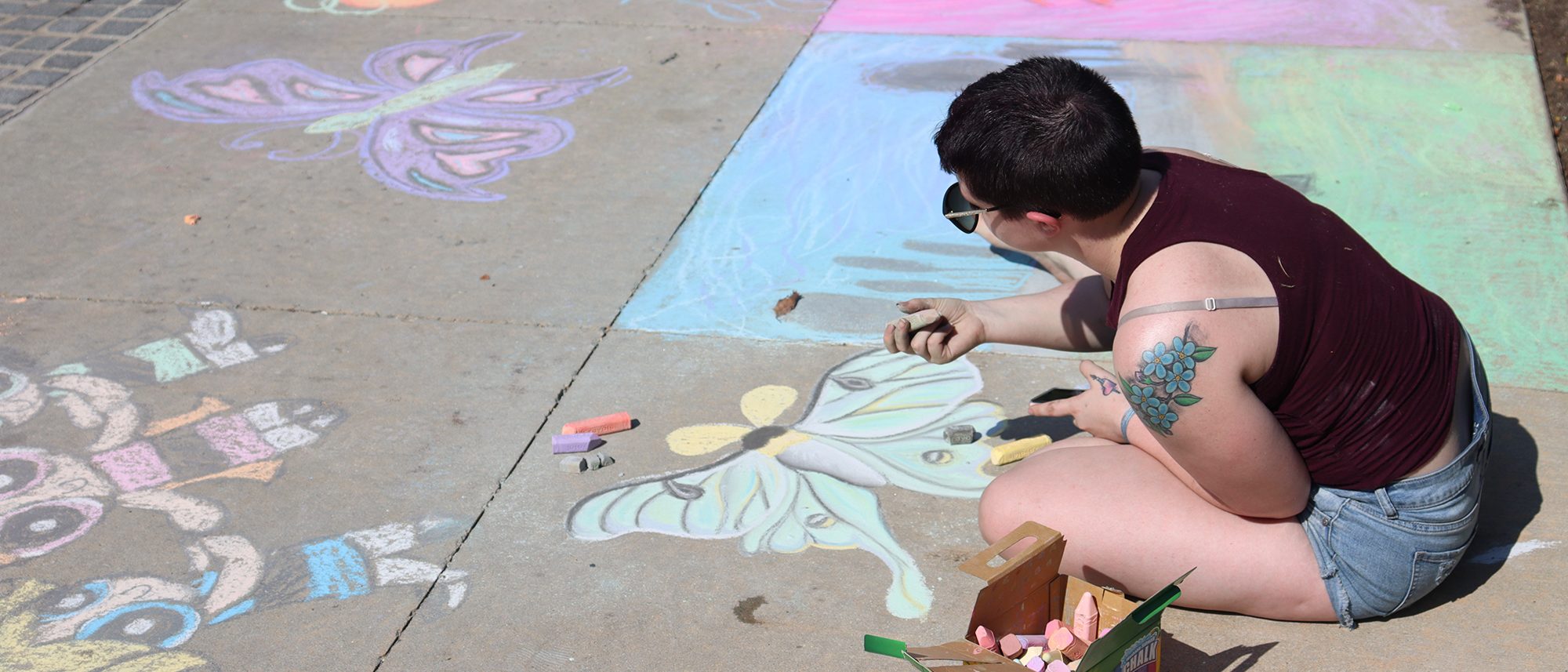 Adelphi's annual Fall Arts Festival is an opportunity for the University's arts departments to collaborate various sectors of the University community to reflect on and illuminate a particular theme.
2022 Fall Arts Festival Preview
From live performances to chalk drawings on the campus walkways, Adelphi's Fall Arts Festival brings our campus to life. Adelphi artists collaborate with students from other departments across the University to address a common theme. Stay tuned for fall dates and details.
Last year's theme was "Resilience, Reflection and Rebuilding Connection: Healing through the Arts."
Striving to honor the resilience of our community in moving through the COVID-19 crisis and everything that was experienced around it, the festival reflected on the ongoing issues of racial, gender and identity injustice we continue to experience or witness, and seek to find a way to rebuild our connection as human beings living in tumultuous times. The goal was for the University to come together to use arts as a tool for social connection and change through creative translation and collaboration.
Inspiration for creative translation exists in the words of creative writing alumna Gabrielle Deonath '18's anthology: untold: defining moments of the uprooted. Other alumni invited to create original pieces for Fall Arts Festival included:
Dori-Jo Guttierrez (Music)
Marlee Koenigsberg (Theatre)
Samantha Dominik (Visual Art)
Sol Esther Mejia(Communications)
Akua Mireko-Bass (Communications)
Kait Estevez (English)
Michelle Yakubov (English)
Gabrielle Deonath (English)
Hannah Franz (Dance)
Studio Art faculty Hannah Allen and Christopher Saucedo led students in collaborative art installations and experiences on campus. Artivism: The Power of Art for Social Transformation hosted a roundtable discussion, coordinated by alumna Carolina Cambronero, and John Bunn presented his story, "Culture of Compassion: The Work of the Exonerated Mr. John Bunn."
All students were invited to participate in Chalk Up, an interactive and communal art-making with chalk drawing throughout campus.
In addition to the departments mentioned above, other University collaborators included Sociology, Criminal Justice, Levermore Global Scholars, Bridges to Adelphi, Center for Student and Community Engagement, Student Government Association, The Performing Arts Center, General Studies, Peace Studies and History.
Honoring Adelphi's resilience in powering through the ongoing coronavirus pandemic and reflecting on the issues of racial, gender, and identity injustice in the country. It showcased musical theater, dance, poetry, film screenings and visual art presentations by Adelphi faculty, students and alumni.
View the flyer designed by Olivia Sasso for the 2021 Fall Arts Festival events.
Student Dance performance with Alumna, Choreographer, Hannah Franz

Student Music performances with Alumna, Dori-Jo Gutierrez

Creative Writing Event with Creative Writing Alumna, Gabrielle Deonath, untold: defining moments of the uprooted, including open mic readings
Live outdoor theatre event performed by Adelphi students directed theatre Alumna Marlee Koenigsberg

Interactive sculpture installations by current Adelphi students coordinated by Studio Art Alumna Samantha Dominik

Film screenings of student work from the Communications Department
Chalk Up, an interactive Chalk Drawing event across the campus walkways, with all students and Adelphi community invited to participate

Large-scale interactive pin-hole camera coordinated by Professor Hannah Allen

Large-scale outdoor installation of piñata sculptures by current Adelphi Art students coordinated by Professor Christopher Saucedo.

Artivism Round-Table, coordinated by Art and Languages Department Alumna: Carolina Cambronero. A 90-minute round-table conversation with four artivist panelists, a moderator and audience members. Part of the

Artvism: The Power of

Art for Social Transformation

initiative.

Join the Center For Students and Community Engagement for a screening of A Ballerina's Tale. 
A series of virtual events, spanning more than a month, focused on voting and diversity and equality, ahead of the 2020 presidential election and during the continuing observance of the 100th anniversary of women's suffrage.
Ongoing Interactive Experiences
Art In Public Spaces
Cast Your Vote Election Simulator
Dance Film
Diverse Voices Project: This past July, Adelphi students took quotes from primary sources written by persons of color about voting. Check out @engageadelphi's Instagram story to hear from your peers.
Raising Voices USA
Sculpture Installation: The Piñata Project Addressing Issues of Voter Rights and Societal Rebirth During COVID-19
Fall Arts Festival Highlights
We're creating projects, performances and events celebrating different voices — especially in underrepresented communities.
Launch Gallery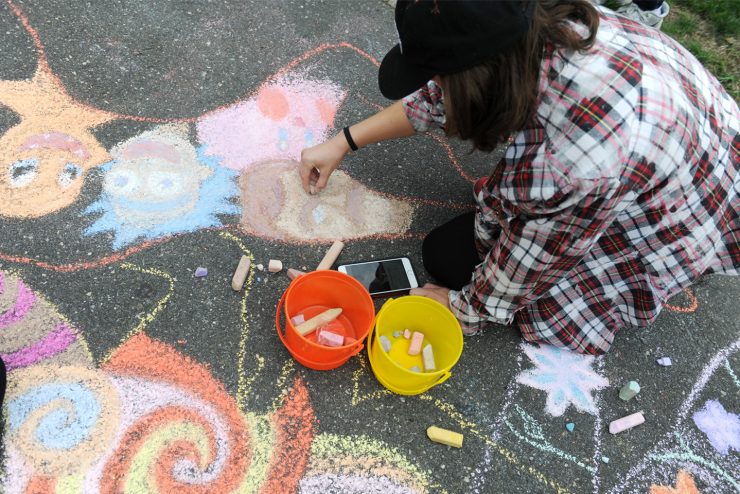 7 Photos
Fall Arts Festival Highlights
We're creating projects, performances and events celebrating different voices — especially in underrepresented communities.
7 Photos