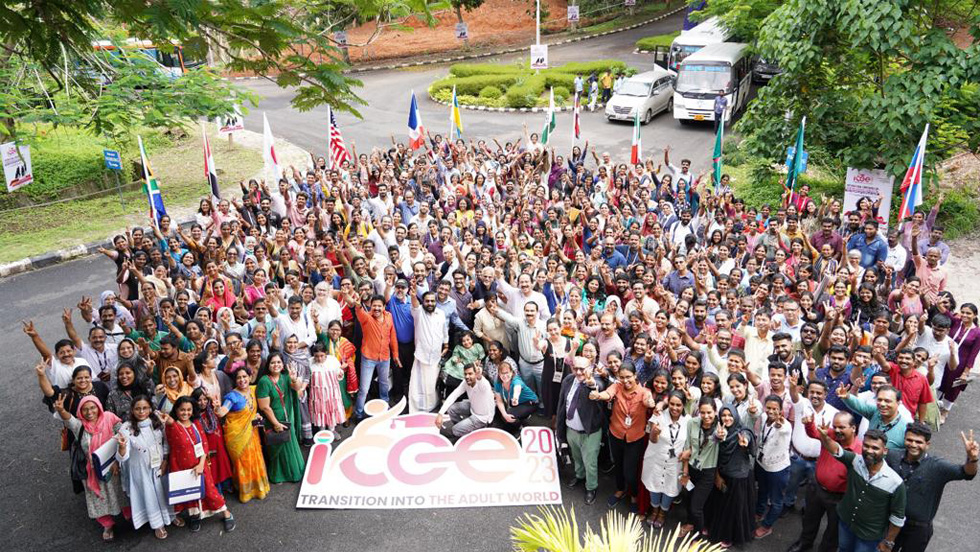 Professor and three Adelphi colleagues initiate and organize a conference to address how to help young adults with disabilities transition to life after high school.
It started with a little magic and ended with a conference that could change the futures of young adults with disabilities in India.
In the summer of 2022, Pavan John Antony, EdD, professor of special education in the School of Education, Ruth S. Ammon College of Education and Health Sciences, invited Gopinath Muthukad, magician and founder of the Different Art Centre in Kerala, India, to campus. Muthukad's center educates and empowers children with various disabilities through art forms such as music, dance, drama and painting, all blended with magic.
When Muthukad visited Adelphi's Learning Resource Program, Bridges to Adelphi and the Student Access Office as well as Gersh Academy, he shared with Dr. Antony that in Asian countries like India, there's a lack of programs and evidence-based practices like these for children with disabilities past high school.
Dr. Antony suggested a conference that brought together a group of professionals—including three of his Adelphi colleagues—parents, individuals with disabilities and practitioners to a common venue in India to address the need for a transition plan.
"Group homes are still a new concept; it's families who care for their children with disabilities," Dr. Antony said.
A Conference on Disabilities Is Launched
So Dr. Antony initiated and organized the inaugural International Conference on Comprehensive Education for Children With Special Needs in Kerala, India, to share knowledge about these transition plans with educators and parents and ultimately help these young adults develop the skills to be more self-sufficient. Adelphi University's approach to transitioning students with disabilities to college was highlighted at the three-day conference. Nearly 800 people from over 15 countries attended.
"The overall goal of the conference was to educate and help parents, professionals, practitioners and individuals with disabilities understand the importance of preparing individuals with disabilities for life after high school through proper transition plans," Dr. Antony said, adding that the conference was geared to address the needs of "individuals with any disabilities who can consider going to college, being hired for a job or who can benefit from counseling or therapy."
An Adelphi Contingent Lends Their Expertise
Dr. Antony brought three of his colleagues with him: Stephen Shore, EdD, clinical associate professor of special education, and Anita Frey, clinical associate professor, both from the Ruth S. Ammon College of Education and Health Sciences, and Ionas Sapountzis, PhD, associate professor and program director of school psychology in the Gordon F. Derner School of Psychology. They were joined by Joel B. Geller, executive director at Gersh Driver Education in Hempstead, who spoke about the Gersh Driver Education Extended Program, which is currently offered to students in the Bridges to Adelphi program.
Conference sessions addressed employment, higher education, relationships, sexuality, housing, psychotherapy interventions and even driving skills.
Making an Impact
Muthukad thanked the Adelphi professors for helping to create a conference that got the attention of the Indian government. "We got very good feedback from the secretary for the disability sector, Rajesh Aggarwal, who said this is the first of its kind in India and it was very helpful and he submitted that to the prime minister of India. … we would like to continue the collaboration with Adelphi University and conduct this type of conference again."
The July conference may be just the beginning. Dr. Antony hopes to host a conference in which individuals with disabilities would be the main speakers. Dr. Antony said he's now following a few colleges in India that are interested in implementing a project similar to Adelphi's Bridges program. Meanwhile, he hopes that eventually Adelphi students can also attend so they learn what life is like for many individuals with disabilities outside of the University.