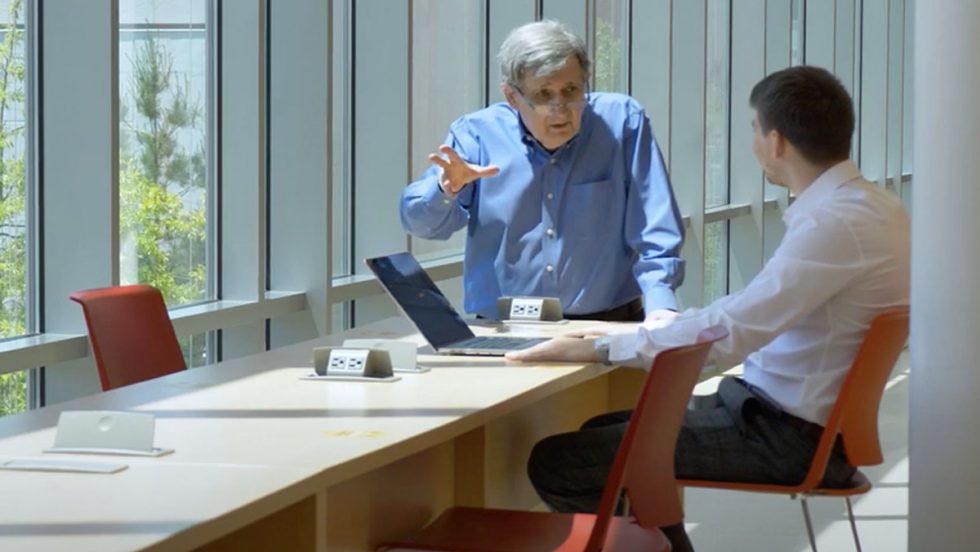 After years of work dedicated to fostering understanding between people of different cultural backgrounds and increasing awareness of the horrors of the Holocaust, David Machlis, PhD, associate professor of finance and economics in the Robert B. Willumstad School of Business, has been named a recipient of the 2023 Long Island Business News Diversity in Business Award.
In more than five decades with Adelphi, Dr. Machlis has distinguished himself as both a professor and a global leader in the fight against prejudice and bias. Dr. Machlis' extensive humanitarian efforts resulted in his receiving the inaugural President's Humanitarian Award at Adelphi's 21st Annual President's Gala in 2021. The event also marked the official launch of the Diversity, Equity and Inclusion Fund, an endowment fund to combat hatred, intolerance, antisemitism and systemic racism. A 2018 recipient of Adelphi's Teaching Excellence Award, Dr. Machlis is known for giving his cell phone number to his students and inviting classes to his home for brownies and cookies he makes himself. Unsurprisingly, he is routinely nominated as an outstanding professor by his students.
Raising Understanding and Awareness of the Holocaust
Dr. Machlis is also co-founder of an innovative program bringing diverse communities of people to Poland to study the Holocaust and examine the roots of antisemitism, prejudice and intolerance.
That initiative—the March of the Living, which he co-founded in 1988, and the associated March of Remembrance and Hope, which he co-founded in 1999—has attracted thousands to study and remember the Holocaust. Participants of diverse religions and backgrounds have visited Holocaust-related sites such as Auschwitz-Birkenau and Treblinka to bear witness to the dark history of intolerance. Special delegations to the annual events have included commissioners of education, heads of state boards of education, and deans of law schools and schools of education, as well as thousands of high school students from Austria at a time when the country did not have any Holocaust education.
The 2012 delegation to the March of the Living included 16 World War II concentration camp liberators, including one who had unlocked the gates of Buchenwald. "It was my dream to identify the liberators, create a program and see to every detail, such as having a physician and an ambulance on tap, or renting uniforms for those who didn't have their own," he said at the time. "They were looked upon by thousands of youths as heroes and led that year's march."
In 2022, after a two-year hiatus due to the pandemic, the annual sojourn returned with 2,500 participants from 25 countries, including a delegation of refugees from the conflict in Ukraine—a delegation organized through Dr. Machlis' evangelical contacts in Poland.
Two Museums Trip: Helping Today's Students Understand Hate and Intolerance
Last week, Dr. David Machlis and Joseph Celentano, MBA '04, Willumstad senior adjunct faculty member, accompanied approximately 20 Black and Jewish students on a two-day trip to Washington, D.C., to visit the National Museum of African American History & Culture and the United States Holocaust Memorial Museum. Joining them on the trip were Fabian Burrell, MS '17, coordinator for programing and community engagement for Adelphi's Center for African, Black and Caribbean Studies; Rabbi Yankel Lipsker, director of Chabad on the Garden City campus; and R. Sentwali Bakari, PhD, vice president for student affairs.
Other Initiatives to Encourage Diversity
Dr. Machlis served as executive producer of the 2021 television special Medicine and Morality—Lessons from the Holocaust and COVID-19, which featured top medical and Holocaust scholars including Albert Bourla, DMV, PhD, CEO of pharmaceutical company Pfizer, and Anthony Fauci, MD, then director of the National Institute of Allergy and Infectious Diseases. The 2022 program Let There Be Light: Kristallnacht Initiative, which Dr. Machlis also produced, commemorated 1938's Kristallnacht with segments originating in Dubai, Vienna, Düsseldorf, Jerusalem and Toronto. Dr. Machlis was also central to facilitating TV host Oprah Winfrey's historic broadcast with Holocaust survivor and Nobel laureate Elie Wiesel at Auschwitz-Birkenau in 2006. No detail escaped Dr. Machlis' attention—from picking up Wiesel at the airport and spending a memorable day with him, to having friends shovel snow off the train tracks entering Birkenau so that the tracks were visible in the film.
Dr. Machlis' work has been commended by former minister of justice and attorney general of Canada Irwin Cotler; former U.S. Department of Justice Office of Special Investigations director Eli M. Rosenbaum, JD; Steven T. Katz, PhD, the Alvin J. Slater and Shirley Slater Chair in Jewish Holocaust Studies at Boston University; and John Farmer, JD, director of the Eagleton Institute of Politics, Rutgers University, and former New Jersey attorney general.