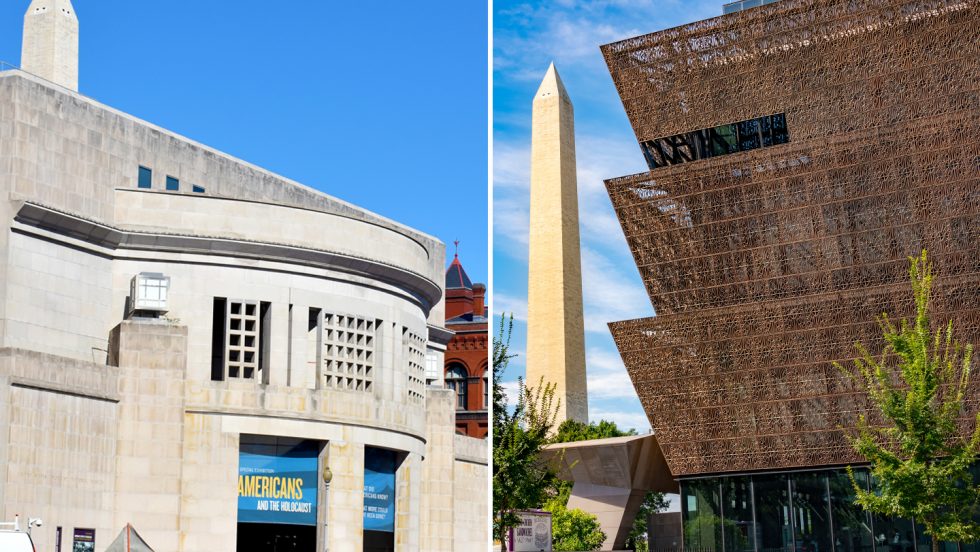 For David Machlis, PhD, an associate professor of finance and economics at the Robert B. Willumstad School of Business and inaugural recipient of Adelphi President's Humanitarian Award, "fighting hatred is a team game and can't be done alone." As a national leader in this fight, he is piloting an exciting new program that will bring Adelphi's Black and Jewish students together to make a difference in the world.
Sponsored by the Adelphi University Division of Student Affairs in affiliation with the International March of the Living, the Two Museums Program: United We Stand is an initiative of the Robert B. Willumstad School of Business Diversity, Equity and Inclusion Council.
In March, Dr. Machlis and Joseph Celentano, MBA '04, Willumstad senior adjunct faculty member and project partner—along with Fabian Burrell, MS '17, coordinator for programing and community engagement for Adelphi's Center for African, Black and Caribbean Studies; Rabbi Yankel Lipsker, director of Chabad on the Garden City campus; and R. Sentwali Bakari, PhD, vice president for student affairs—will accompany 20 Adelphi Black and Jewish students on the program's two-day trip to Washington, D.C., to visit the National Museum of African American History & Culture and the United States Holocaust Memorial Museum.
Marsha J. Tyson Darling, PhD, special assistant to the president for strategic initiatives and adjunct faculty member in the Center for African, Black and Caribbean Studies, has been involved in planning the "visionary initiative" from the get-go. She said the program will give student participants the opportunity to "engage in conversations about the root causes and unjust consequences of hate, antisemitism, racism and intolerance," adding, "This program is a crucial undertaking at this time when hate speech and hate behaviors are on the rise."
Making a Difference in the World
The fully funded pilot program's goal is to inspire the two student groups to stand united against racism and antisemitism. "The Holocaust is not just a Jewish issue, and racism is not just a Black issue," Dr. Machlis insisted.
"We must learn from the past so a more tolerant and just society will emerge. And we must join together, or we will fail," he added. "We all have a platform, and we must use it to fight intolerance. We want students to be boots on the ground and become leaders in reducing the impact of the hatred and intolerance."
The International March of the Living is an annual global education program that brings students, Holocaust survivors, educators and distinguished leaders from all over the world to Poland, where, on International Holocaust Remembrance Day they march in memory of the victims of Nazi genocide and against hatred. As a cofounder, Dr. Machlis has established relationships with renowned leaders in the fight against intolerance.
John Farmer, Jr., JD, former New Jersey attorney general and current director of the Rutgers University Eagleton Institute of Politics and its Miller Center for Policing Excellence and Community Resilience, is one such leader. He noted that, "a deep current of common culture and mutual interest runs between the African American and Jewish American communities. They share a history of persecution, struggle and liberation. By visiting both the Holocaust Museum and the African American heritage museum, this program will underscore those common ties and the commitments to end racism and bigotry that are the core values of both communities."
Learning From Experts
In Washington, the group will be joined by Steven T. Katz, PhD, the academic adviser to the Holocaust Museum and founding director of the Elie Wiesel Center for Jewish Studies at Boston University, where he holds the Alvin J. And Shirley Slater Chair in Jewish and Holocaust Studies for a tour of the Holocaust Museum.
Additional distinguished participants, including a Holocaust survivor, are expected to join the group in D.C.
An Extensive Orientation
Dr. Machlis has scheduled an on-campus orientation on February 10 featuring virtual presentations from such luminaries as Carl Wilkins, the one-time head of the Adventist Development and Relief Agency International in Rwanda; Eli Rubenstein, the International March of the Living director of education; and Abe Foxman, author and presidential appointee to the Holocaust Museum Council and former national director of the Anti-Defamation League.
Dr. Darling, Dr. Machlis, Rabbi Lipsker and others will also address the group.
Two short films will be screened, including United We Stand, with footage from a concentration camp liberation and Martin Luther King, Jr.'s historic march from Selma to Montgomery, Alabama, which was attended by Rabbi Abraham Joshua Heschel. And actress and activist Ani Djirdjirian '16, who will sing "Lay Down Your Arms," is among the scheduled performers.
Dr. Machlis, who hopes this program will be the first of many, quoted Eli Rubenstein, who said, "When young African American students join hands with young Jewish students and take a stand against racism and injustice, we know the future of both our communities is in good hands. The Two Museums Program is the perfect vehicle to bring our two communities together, as we try and build a better world for all humanity."