Every year, Adelphi honors four exceptional employees with a President's Award for Excellence and one employee with the President's Award for Diversity, Equity and Inclusion. According to President Christine M. Riordan, PhD, the honorees "have won the admiration of their peers and colleagues by providing an extraordinary level of service to the University, and working to advance our shared values and goals."
Candidates are nominated by their colleagues, and these nominations are reviewed by committees that are representative of our community. After reviewing the nominations, the committee submits final nominees to the president.
We congratulate Adelphi's 2022 President's Award for Excellence honoree:
Charles (Charlie) Kulins, Manager of Customer Experience, Office of Information Technology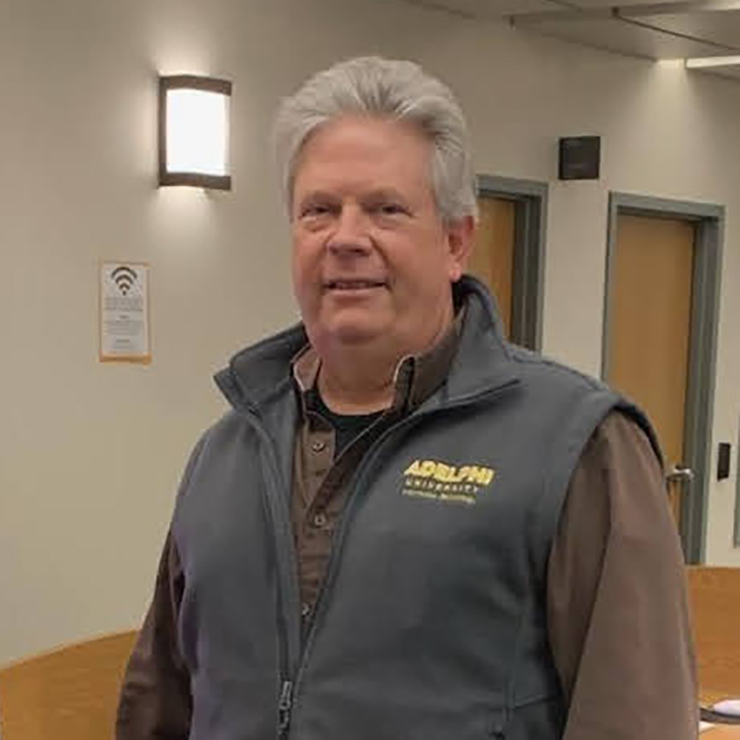 During his 12 years as the Office of Information Technology manager of customer experience, Charles (Charlie) Kulins has played an outsized role in supporting the technological needs of the entire campus community—and developed a true passion for Adelphi.
Before landing at Adelphi, Kulins held service, support and training roles in technology-related companies ranging from start-ups to worldwide conglomerates. "The opportunity to serve the Adelphi community as customer experience manager has provided me with more job satisfaction than I have ever experienced," he said. "I get a lot of personal satisfaction from helping others."
Small wonder, his staff often comments that "Charlie bleeds brown and gold."
Kulins' level of service is truly remarkable: He has developed and trained more than 20 full- and part-time staff, 300 student employees and 10 interns and led workshops benefiting the professional development of members of the Adelphi community.
"Charlie touches just about every project at Adelphi and is truly the pillar of IT," his nomiator said.  "If he's not directly involved, he's behind the scenes directing the campus support, advising on technological issues and solutions, and ensuring success every way he can."
But it is as a collaborative team player that Kulins excels, according to his nominator. "This was seen in his actions and response to the onset, and continuance, of the COVID-19 pandemic. Charlie never forgot the humanity part of the customer experience."
This should come as no surprise, as Kulins himself readily admitted that what he most enjoys about his role are the "day-to-day interactions we have with just about everyone and everything on campus." It's a role that has allowed him to form connections and partnerships that he said let him "help others when people are looking for something."
He takes particular pride in the many ways the IT Help Desk team positively impacts Adelphi students. "We run the Help Desk support operation with a staff of 20 to 25 student employees. The team works tirelessly to mentor and train them to become the type of people we would want to hire when they are ready to graduate," he explained.
"As a result, the student employee staff are high-performing, confident individuals. They can leave here knowing they have highly desirable and valuable skills that will serve them well when they are faced with situations in the real world."
Receiving the President's Award for Excellence has been a humbling experience for Kulins. "It was completely unexpected, but I am honored to have been awarded this year," he said. "It means a lot to me that my efforts can make a difference to others. To be recognized for this is very rewarding."