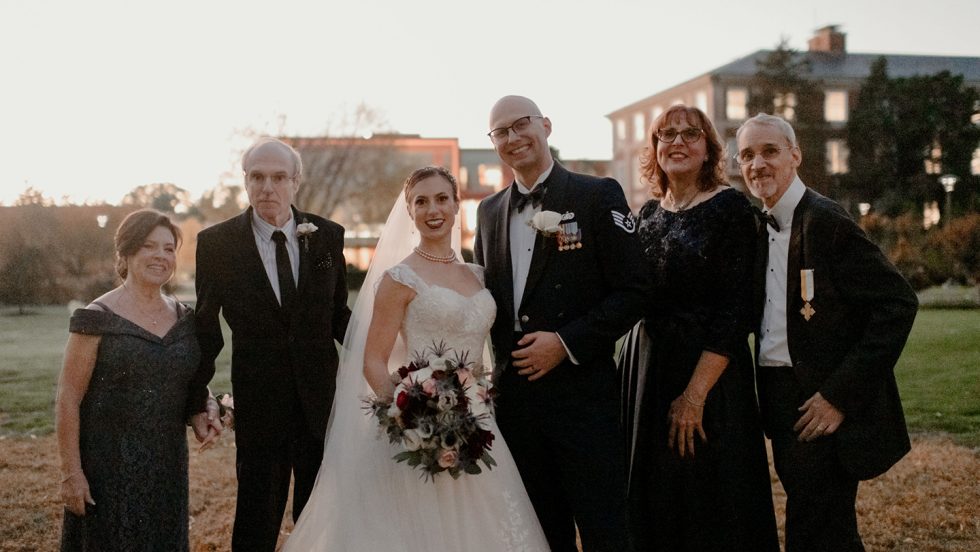 One late night in April of 2013, Amy Coonan '16 was walking the floor of the Center for Recreation and Sports (CRS), one of the many students raising funds for the American Cancer Society at Relay for Life, held annually at Adelphi. While she walked with her fellow members of the equestrian team, Chris Coen '16 was in the CRS as well, participating with his Pi Lambda Phi brothers. "As the crowd dwindled and the night began to wind down, the stars aligned," Coonan said. She and Chris sat down to take a break, started to talk, and "in that first moment, we knew we would never date anyone else but the person in front of us, again."
Over their next three years, Coonan and Coen's romance blossomed. But they found out their Adelphi roots go deeper.
Amy is the daughter of Patrick Coonan '78, EdD, dean emeritus of what is now the College of Nursing and Public Health, and Anita Coonan '75, MS '79, MA '09, a reading specialist at Maurice W. Downing Primary School in Malverne, New York. Coen's parents are also Adelphi lovebirds: Anne Coen MS '82, a retired special education teacher, and Joseph Coen, MS '83, archivist for the Roman Catholic Diocese of Brooklyn.
As Amy Coonan put it, "Our story was written out in the stars long before either of us had realized it, and Adelphi is the center of it all."
Love Overcomes Adversity
After graduating with a psychology degree, Coonan went to the West Coast to work as an AmeriCorps team leader, supervising 12 young adults for a year of community service.
In 2017, her father suffered a heart attack that resulted in brain injury. She came home to care for him full time. "I realized I had missed my calling," she said, and returned to Adelphi in 2020 to earn her BS in Nursing. She anticipates graduating this spring, after which she hopes to work in emergency medicine.
Meanwhile, Coen, a physics major, joined the Air Force to work in computer engineering. He's been stationed in South Carolina and Colorado and was deployed to the Middle East. He's currently in New Jersey serving as a staff sergeant. "We've been in a long-distance relationship for five years," he said.
In September of 2017, Coen came home from basic training and proposed. The two initially planned to marry in 2019, but when Coen was deployed, they postponed the wedding until 2020. Due to the pandemic, they postponed it again. The stars finally aligned again on November 12, 2021, when the wedding took place at Garden City's Cathedral of the Incarnation.
A Campus Photo Shoot
On their wedding day, the couple, along with both sets of parents, came back to where it all began to pose for photos. They were joined by Christopher Storm, PhD, provost and executive vice president.
"Adelphi University has played such an integral part of our lives, by both giving us a start to our careers and allowing me to continue my education and change the direction of our lives," Coonan said. "We wanted to celebrate where it all began and honor the legacy that came before."