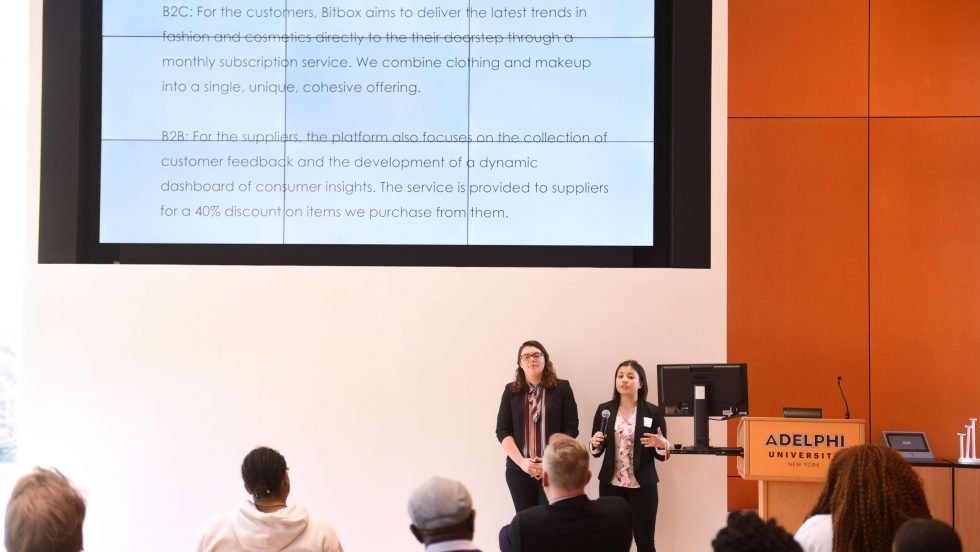 Adelphi University's 2022 Business Plan Competition will take place on Tuesday, April 26.
The annual Shark Tank-style contest is part of Adelphi's approach to experiential learning and the Robert B. Willumstad School of Business (WSB) approach to providing students with a competitive edge to advance their careers. The competition puts students' entrepreneurial skills to the test while also giving them the opportunity to win $11,000 in prizes to help fund their businesses.
Adelphi University's 2022 Business Plan Competition
Tuesday, April 26
Innovation Center at Swirbul Library
9:00 a.m. – 11:30 a.m. – Introductions and presentations
12:30 p.m. – 1:00 p.m. – Announcement of winners
Offered by WSB, the competition is made possible by support from alumnus Kevin Mahony '83, first vice president of wealth management and financial advisor at UBS Financial Services.
"Over two semesters, students worked independently and with the advice of faculty mentors to develop their unique businesses," said competition director and associate professor of management Murat Sakir Erogul, PhD, who has provided mentoring, structure and advising throughout the planning process since launching the competition a few years ago—with support this year from Lori Cary, MBA '20, interim director for student success.
All Adelphi students were eligible to submit a preliminary proposal either individually or in teams. Students have been working on their proposals and presentations since the contest opened in November 2021. Out of 15 submissions, the finalists who will be competing in this year's event are Shuriz Hishmeh '21, an MBA student from Dix Hills, New York; Matthew Kessler, a senior nursing major from Brooklyn, New York; Ruiqin Fu, a biology graduate student from Suzhou, China, and Pittsburgh, Pennsylvania; and Kayla Strayhorn, a senior speech-language pathology major from Brentwood, New York.
Prizes include $5,000 for first place, $3,000 for second, $2,000 for third, and $1000 in prizes for Environmental, Sustainable, and Governance (ESG). Cash prizes are funded through Mahony's contributions. Finalists also receive a one-year Wix Business Basic Premium Plan subscription to start their corporate websites, in addition to mentoring and coaching from Adelphi faculty.
Each finalist will present their business plan to a panel of judges of Long Island business founders and owners. The panel will review student proposals, provide feedback and determine the winners. This year's judges include CEO of Evolution Real Estate & Renovations Jennifer DeVito, co-founders of John's Crazy Socks Mark X. Cronin and John Cronin, alumnus and head of Vision Long Island Eric Alexander '92, owner of The Anne Brower School and Camp ABC Lisa Marie George, and co-founder and CEO of Guac Shop Mexican Grill and Adelphi alumnus Matt Tesoriero '07.
"We identified a panel of business leaders who are transforming their industries and have met requirements related to sales, sustainability, employees and/or commitments to Adelphi," said Zachary Johnson, PhD, interim associate dean of undergraduate students for the business school and co-founder of a small business, ProfVal. He added, "Each of these entrepreneurs represents the type of entrepreneurial leaders we hope our students will become."
The finalists' proposals include:
Shuriz Hishmeh: Black Soldier Fly Composting will sell poultry feed while simultaneously trying to reduce methane emissions from landfills
Ruiqin Fu: Boom I Rang, a new type of dental practice with hours to accommodate shift workers, particularly in healthcare, and later hours for emergencies
Matthew Kessler: Typ Mental Health, an artificial intelligence journal that references clients' therapeutic media and services based on users' journal entries
Kayla Strayhorn: BU Rooftop Farming, a rooftop farming operation using urban farming techniques to increase available fresh food, using the Internet of Things (which transmits farm data), as well as various substances for soil
2022 Judges
See more about Adelphi's Business Plan Competition. Activities similar to the competition can be supported via contributions to the WSB Student Success Fund.
"The Robert B. Willumstad School of Business offers career-focused curricular and cocurricular opportunities that immerse students in real-world projects," said MaryAnne Hyland, PhD, interim dean. "We are grateful to Kevin Mahony for his generous support for this competition and we thank each of our judges for participating in this year's program."