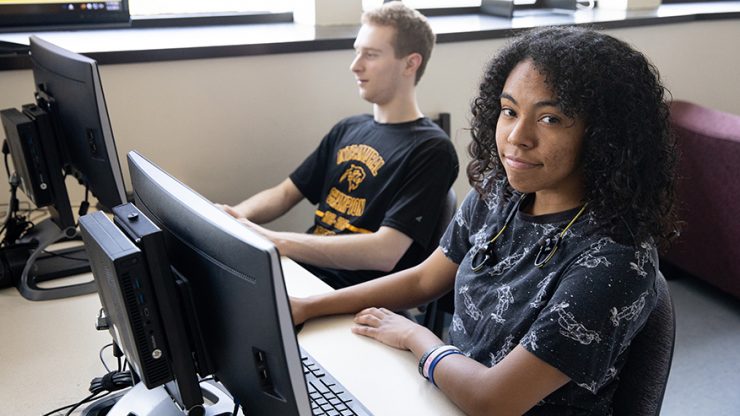 Kees Leune, PhD, assistant professor of mathematics and computer science, believes everyone benefits when a classroom is more diverse. It's a belief he shares with Salvatore Petrilli '05, EdD, now associate dean for academic operations and general education in the College of Arts and Sciences, and that led them in 2016 to rethink the undergraduate computer science curriculum.
Their work, together with input from the entire faculty of the Department of Mathematics and Computer Science, came to fruition in Fall 2017 with the launch of a new, reimagined and restructured program.
The new curriculum has been remarkably successful, doubling the number of women in the program and increasing the number of Black students by 150 percent. This August, that success was recognized nationally with an Inspiring Programs in STEM Award from INSIGHT Into Diversity magazine. The award is given to college programs that "encourage and support the recruitment and retention of women and underrepresented students into all STEM fields."
"We worked hard on this program, and the data shows the work has been successful," Dr. Leune said. "It's great to be formally recognized for what we've accomplished."
Surpassing Diversity Goals—and Growing Enrollment Overall
They have accomplished a lot. Women now account for 19 percent of computer science students, Black students make up 15 percent, and Hispanic students, whose numbers have gone up 63 percent, now account for 25 percent. Overall, students of color now account for 72 percent of Adelphi's computer science students, compared to 49 percent five years ago.
And the reboot did even more than increase diversity in the program. It grew the number of majors to its highest level ever. Before 2017, an average of 10 new students joined the program each fall. Last year, 93 first-year students signed on."That's crazy, because not too long ago there were just 100 students in the entire major," Dr. Leune said.
Introducing a Bundle of New Innovations
So how did the department pull this off?
It created a mandatory first-year computer science orientation seminar.
One of the challenges facing computer science programs is that students often enter them without a clear understanding of what the program entails. This is particularly true for first-generation students and students from diverse backgrounds, who may not have had equal access to coding or computer-related enrichment opportunities at home or in high school.
The new one-credit seminar is helping solve that problem, introducing students to what they will learn and what kind of jobs they can expect when they graduate. It is also helping students who might realize too late that they've chosen the wrong major by introducing them to alternate courses of study like the new information systems major, a joint program with Adelphi's Robert B. Willumstad School of Business.
The orientation program serves a second purpose as well—to inspire a sense of community. "We are bringing students directly into the department," Dr. Leune said. When female students see how many faculty members and teaching assistants are women, they can see themselves succeeding in the program. "There's a lot of research that shows female students in particular look for a sense of community," Dr. Leune says. "This class is designed to start building community from day one."
They made the program more flexible so students could customize their track.
"As we redesigned the program, we knew it was important to make sure that students get what they want out of their education," Dr. Leune said. So the department lowered the number of required courses to make room for more electives that students can use to create specialized tracks that suit their interests. Besides the new information systems major, the program also launched new minors in cybersecurity, video game design and scientific computing and even the option to pursue a second major.
They established programs for women.
With the computer science field criticized as one dominated by men, Dr. Leune and Dr. Petrilli worked to attract more women to Adelphi's program. They helped establish a chapter of the Association for Computing Machinery just for women, ACM-W. ACM is the largest worldwide organization for professionals and academics in the field. "We'd had a student chapter for some time, but we made one for women," Dr. Leune said. "We want to build a sense of community for women entering the field."
They also starting bringing in successful alumnae of the program to speak to students, including ones who work in cybersecurity and other computer-related fields at IBM, Apple, Google, Deloitte, Amazon and the FBI.
The result? "We have some computer science classes now that are majority women," Dr. Leune said, adding that most of the leadership positions in student clubs and department events are held by women. Significant changes have come to the faculty, too. Women account for nearly a third of the computer science faculty. There were no women on staff just a few years ago.
So why has Dr. Leune dedicated himself to diversifying the University's computer science curriculum and attracting more Black students, Hispanic students and women? "Having more diversity in the program leads to better outcomes for everyone," he says. "Our program has grown in size and quality since we restructured the curriculum to be more inclusive."
And his final reason: "It's the right thing to do."