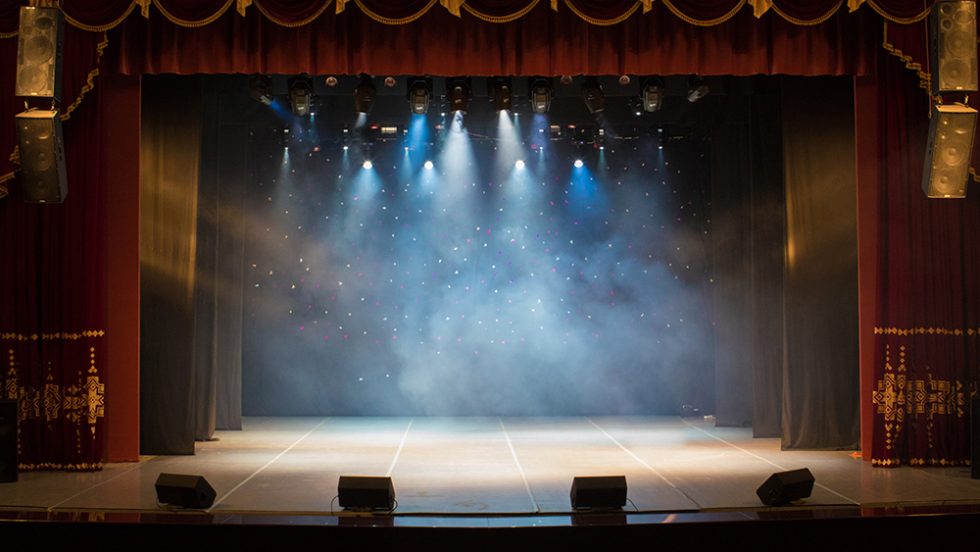 We continue to lead in the performing arts community. Adelphi alumni are contributing to the Broadway show Pass Over by Antoinette Chinonye Nwandu and Disney's Winnie the Pooh off-Broadway. And an early work of Jonathan Larson '82, creator of the musical RENT, is heading to Netflix.
"Am I ever going to make it?" That's the question posed by Jonathan Larson '82 in his autobiographical musical, Tick, Tick… BOOM!, a cabaret-style exploration of the existential struggles he faced as an artist on the cusp of his 30th birthday.
Larson—the composer and playwright of classic Broadway musical RENT—did make it, though his untimely death in 1996, before the show opened, prevented him from savoring the Pulitzer Prize and Tony Awards it won. This fall, a movie version of Tick, Tick… BOOM!, directed by Lin-Manuel Miranda, will premiere on Netflix.
Like Larson, many fellow Adelphi alumni can answer "Yes" to the question above as they successfully build their careers in theater. In fact, with strong programs in arts and humanities, Adelphi is playing a leading role as Broadway and Off-Broadway reopen this year, putting its students and arts heritage in the spotlight.
Obie Award-winner Sarafina Bush '12 is the costume designer for Pass Over, the award-winning play by Antoinette Nwandu and the first play staged on Broadway since the pandemic prompted a shutdown. Inspired by Waiting for Godot and set on a city street corner, Pass Over "crafts everyday profanities into poetic and humorous riffs, illuminating the unquestionable human spirit of young men looking for a way out," according to Broadway.org.
"For me, my approach to design is always coming back to the characters' humanity," said Bush, who also created costumes for the 2018 production of the play at Lincoln Center. "It's about prioritizing the story and using humanity to prioritize the story."
Bush, who received her Obie in 2020 as part of the creative team behind Heroes of the Fourth Turning by Will Arbery, will also be designing costumes for new musical Afterwords at the 5th Avenue Theatre in Seattle, Washington, and Our Town at the Shakespeare Theatre Company in Washington, D.C. She is also a founder of The Bridge, an alumnae-led group devoted to connecting Adelphi theater students with alumni and theater professionals.
Off Broadway, Sebastiano Ricci '20 landed his dream job designing puppets for Disney's Winnie the Pooh: The New Musical Adaptation. Set to premiere in October, the show will feature the iconic characters from the Hundred Acre Wood as life-sized puppets telling a new tale.
At Adelphi, Ricci created his own interdisciplinary major in communications and puppetry, having been inspired by the art form since he was a child.
"It's a dream come true to be working on a show like this, with all these incredible artists," Ricci said. "It's a ton of fun and I am incredibly blessed to be given this opportunity straight out of college."
Also hitting the stage this upcoming season, Matthew Hancock '10 will play the lead in the West Coast premiere of Brandon Jacobs-Jenkins' An Octoroon at The Fountain Theatre in Los Angeles. Khalil Munir '05 received a $75,000 grant from Black Public Media through the PitchBLACK Forum for his autobiographical documentary film, What's in a Name? Michele Traina '03 performed her solo improv and stand-up show Divorce Diaries in Las Vegas and Los Angeles this summer. And This Odd Geometry of Time, an award-winning virtual production featuring Adelphi student actors and written by Megan Lohne '04 and directed by Shoshanah Tarkow '06, streamed at the 2021 Edinburgh Festival Fringe in August.
Larson's legacy also lives on at Adelphi. The bench from the real Life Café from New York's Lower East Side, where Larson often wrote, sits in the lobby of the Adelphi University Performing Arts Center, surrounded by RENT memorabilia. His director's chair, which he used while writing RENT, sits in the office of Nick Petron, MA, '70, chair of the theater department and Larson's professor while at Adelphi. It will remain there, inspiring other students and alumni, until it moves to the Smithsonian with other objects and manuscripts from Larson's life.
Meanwhile, Petron looks forward to Broadway and Off Broadway returning, offering new opportunities for Adelphi artists to hone their craft and career.
"Now, with live theater coming back, there will be more work," he said. "So I'm very hopeful, and the business is very hopeful as well."