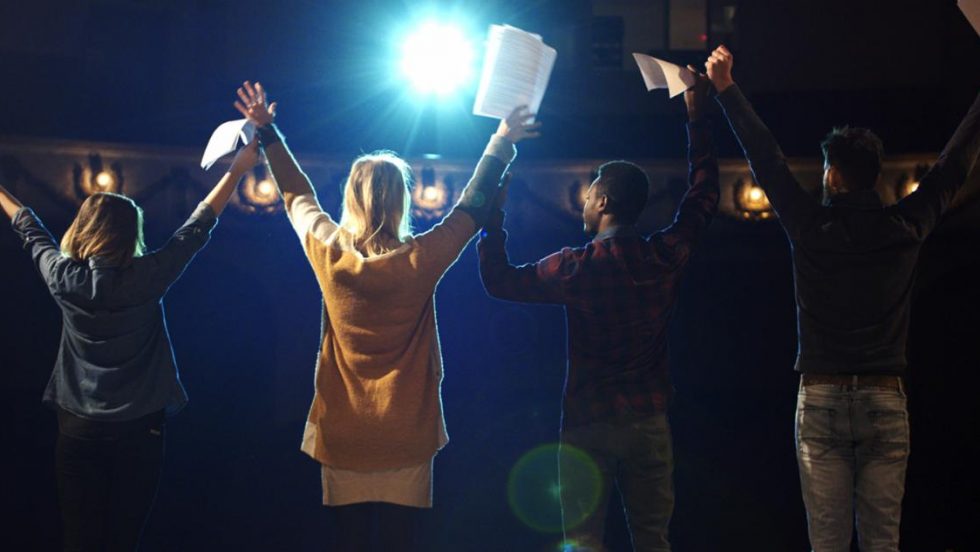 The Bridge was founded by a group of seven Adelphi alumnae with a mission to create deeper, more enriching and sustainable relationships between Adelphi Theatre students and alumni and industry professionals. By serving as a conduit for conversation, perspective and opportunity and operating as a sounding board and team of creative community consultants, the collective seeks to ensure the educational community's continued success.
Our founding members have a combined wealth and diversity of theater experience:
Lauren Brickman '09 is an educator and a member of the Upright Citizens Brigade improv comedy company.
Sarafina Bush '12 has done costume design for numerous shows, including productions at the American Repertory Theater and Lincoln Center.
Tesiana Elie '12 has appeared in shows on both coasts, including the popular Schoolhouse Rock Live.
Brittany Laurelle '09 is an actress and storyteller who recently collaborated on Staying Home: A 2020 Retrospective, a meditation on isolation told through story and dance.
Kate McLeod '15 has written 22 plays that have been performed in New York, throughout the Northeast, and in London and Alaska.
Polina Minchuk '12 is a scenic designer and production manager whose credits include Lincoln Center and The Public Theater.
Mirirai Sithole '12 has acting credits including Black Mirror and Russian Doll on television and numerous off-Broadway shows.
What is The Bridge and what is your mission?
The Bridge, an alumnae-led responsive initiative, was created to work with Adelphi University and theatre department students (both past and present) to support the creation of a more inclusive curriculum with a clear stance on global issues, while developing deeper, more enriching and sustainable relationships within the dramatic and performing arts industry.
What were some events and activities you sponsored last semester and how did they relate to your mission?
First, we hosted a panel of the creative team from Lincoln Center Theater's Pass Over by Antoinette Nwandu. This was to expose students to more inclusive work that resonated with contemporary issues. This play felt relevant after the murders of Breonna Taylor, George Floyd, and Ahmaud Arbery, to name a few, as it examines this crisis. Nwandu depicts a world like our own, where the unjustified killing of Black people is commonplace.
Our Pajama Party focused on community building—both students and alumni were invited to get to know one another around guided conversation starters and a pajama fashion show/dance party.
Do you have events and initiatives planned for this semester? If so, what are they and how do they relate to your mission?
We have a few events planned for the Spring 2021 semester. We are looking to do a reunion panel of Topdog/Underdog, a play written by the Black playwright Suzan-Lori Parks that was produced at Adelphi University in 2010 while several of The Bridge members were students. We aim to bring back the Adelphi University production cast and production team members, and invite them to discuss where they are now, the significance of the show and what it took to make the production happen.
We are also in the process of developing a Safe Rehearsal Space workshop for current students and faculty. This workshop will share best practices for creating safe and inclusive rehearsal environments for all.
In addition, we are creating another community-building event between alumni and current students.
Is there anything, in particular, you'd like the Adelphi University community to know about you?
We are a team of leaders who have a strong commitment to the arts, philanthropy and activism.
We are seeking to connect and collaborate with other individuals who are passionate about these themes.
With a strong community that is dedicated to active listening and creative problem-solving, we are confident that we can be successful in having our better tomorrow, today.
If you would like to learn more about the Bridge Affinity Group or want to get involved, please email thebridgeforau@gmail.com.